Unleash the Party Vibes with iGear X-BASS 100. Looking to elevate your party experience? Look no further than the iGear X-BASS 100, a powerful party speaker that promises to take your gatherings to the next level. Packed with impressive features, this speaker is designed to deliver a booming 100W output, making it a formidable addition to any event or entertainment setup.
buy here – https://www.flipkart.com/igear-x-bass-100-100w-monstrous-pro-sound-upto-6hrs-playtime-built-in-powerbank-100-w-bluetooth-party-speaker/p/itm66fa8195166bc
Sleek Design and Contents:
The iGear X-BASS 100 comes neatly packaged, and the unboxing experience provides a glimpse of what's in store. Inside the box, alongside the main speaker, you'll find a VHF microphone, a power cord, a wireless microphone, and a remote control. While batteries for the microphone and remote are not included, the setup is straightforward, and the user manual provides clear instructions.
Feature Highlights:
Bluetooth 5.3 Technology: The speaker utilizes the latest Bluetooth technology, ensuring a seamless and stable connection with your devices.
TWS Support: Take advantage of True Wireless Stereo (TWS) support by connecting two X-BASS 100 speakers simultaneously. This creates a stereo effect that enhances the audio experience.
IPX4 Certification: The speaker is IPX4-certified, making it resistant to splashes and allowing you to use it outdoors without worrying about water damage.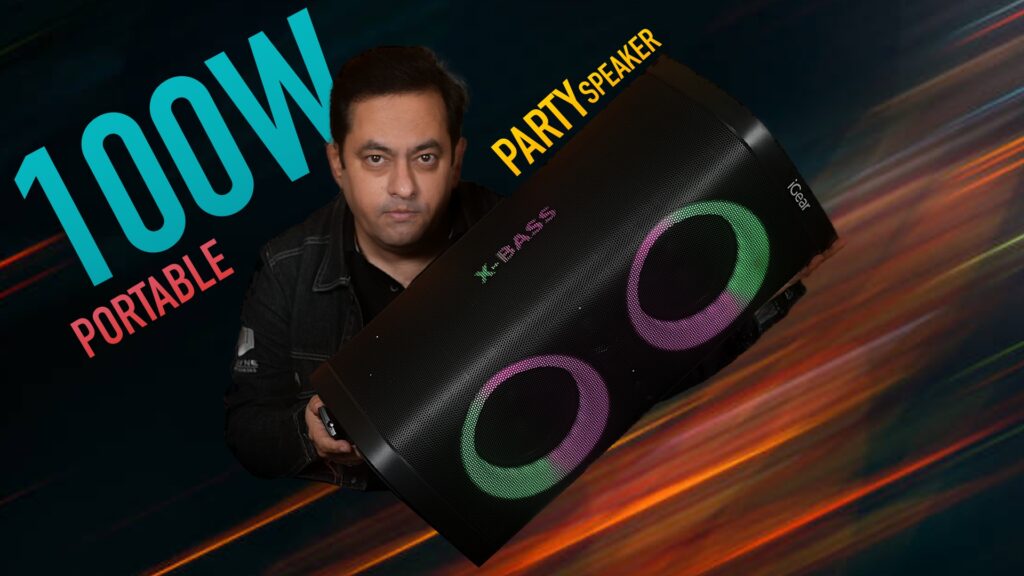 Multifunctional Connectivity: The X-BASS 100 offers various connectivity options, including Bluetooth, auxiliary input, USB, micro SD card slot, and external microphone/guitar ports.
7 Lighting Modes: Create an immersive atmosphere with seven dynamic lighting modes that sync with your music, adding a visual dimension to your party.
Built-in FM Radio: Enjoy the convenience of a built-in FM radio, providing additional entertainment options.
Power Bank Functionality: In a pinch, use the X-BASS 100 as an emergency power bank to charge your smartphones.
Performance and Controls:
The X-BASS 100 impresses not only with its features but also with its performance. The 100W output ensures a powerful and clear sound, making it suitable for various settings, from parties to presentations. The top-mounted controls, including volume rockers, equalizer options, lighting effects, and mode selection, offer convenient access to the speaker's functions.
Microphone and Karaoke Mode:
The inclusion of a VHF microphone with an equalizer mode adds a karaoke element to your gatherings. Adjust the echo levels to your liking, making it perfect for impromptu sing-alongs and karaoke sessions.
Battery Life:
Equipped with a 5400mAh battery, the X-BASS 100 provides a commendable 8 hours of usage on a full charge, making it ideal for extended events without worrying about running out of power.
Conclusion:
The iGear X-BASS 100 stands out as a versatile and powerful party speaker with a range of features that cater to various entertainment needs. With its impressive sound output, dynamic lighting effects, and TWS support, it offers a compelling option for those looking to amp up their audio experience. Priced at ₹15,999, it's available on Flipkart, providing an accessible solution for those seeking a high-quality party speaker. Overall, it receives a rating of 4.5/5, making it a strong contender in the realm of portable party speakers.