Elevate Your Entertainment: Redmi Smart Fire TV 4K 43 Inch. In the world of smart TVs, the Redmi Smart Fire TV 4K 43 Inch is a true game-changer. Packed with features that enhance your viewing experience, this television is here to revolutionize the way you enjoy your favorite content. Let's dive into what makes this TV stand out.
Buy here – https://www.mi.com/in/product/redmi-smart-fire-tv-4k-43
Breathtaking 4K HDR Picture
Get ready to be blown away by the stunning visuals of the Redmi Smart Fire TV. With a 4K resolution and HDR support, you'll enjoy crystal-clear, lifelike images with vibrant colors and sharp details. Whether you're watching movies, playing games, or streaming your favorite shows, the picture quality will leave you mesmerized.
Metal Bezel-Less Design
The TV's design is a work of art. Its metal bezel-less design not only adds a touch of elegance to your living room but also maximizes your screen real estate. Say goodbye to bulky bezels that distract from your viewing experience and hello to a sleek, modern look.
Immersive Audio
The Redmi Smart Fire TV is not just about visuals; it also delivers exceptional audio. Equipped with powerful 24W speakers and Dolby Audio, it creates an immersive soundstage that enhances your overall entertainment experience. Whether it's dialogue, music, or action scenes, you'll hear every detail with clarity.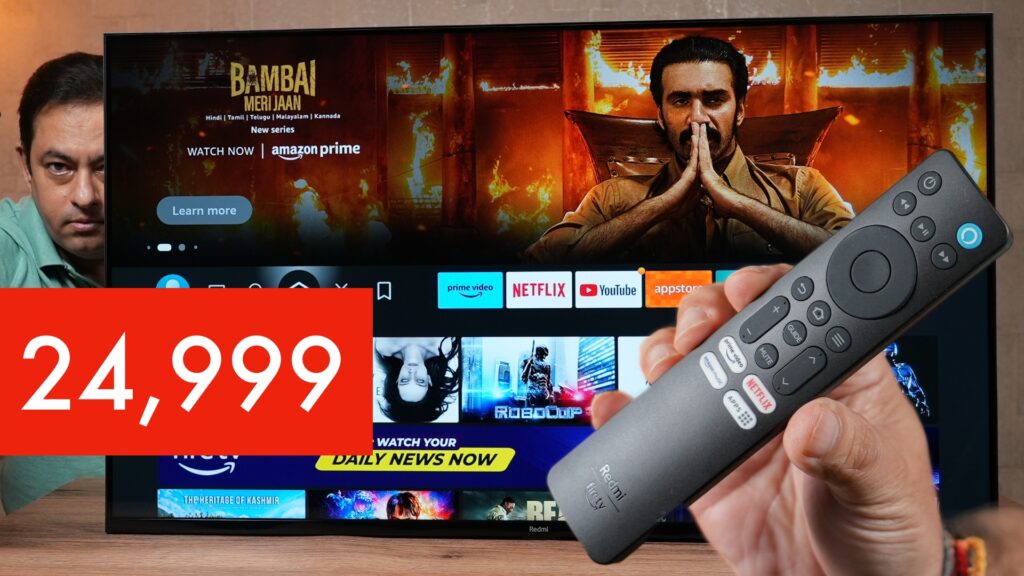 Additionally, the TV supports DTS Virtual:X and DTS-HD, further elevating your audio experience to cinema-like levels. Seamless Connectivity
This TV is all about connectivity options. With Bluetooth 5.0, Wi-Fi support, Airplay 2, and Miracast, you can effortlessly connect your devices to the TV and enjoy content from your smartphone, tablet, or laptop. No more hassle with cables and adapters.
Powerful Performance
Under the hood, the Redmi Smart Fire TV is equipped with a Quad-Core Cortex A55 CPU and a Mali G52 MC1 GPU. With 2GB of RAM and 8GB of storage, it delivers smooth performance and ensures that your apps and games run without a hitch.
Extensive Ports
Whether you have gaming consoles, soundbars, or other peripherals, this TV has you covered. It comes with multiple HDMI ports (including one with ARC support), USB ports, Ethernet, and more. You can easily connect all your devices for a complete entertainment setup.
Smart Features
The TV comes with Fire TV built-in, giving you access to a vast library of over 12,000 apps, including popular streaming services like Netflix, Amazon Prime Video, Disney+, and more. Plus, you can set up multiple user profiles and enable parental controls for a family-friendly experience.
Voice Control
The included remote features an Alexa button, allowing you to control your TV with voice commands. Whether you want to search for content, adjust the volume, or launch apps, Alexa makes it easy.
Affordable Excellence
With all these impressive features, you might expect a hefty price tag. However, the Redmi Smart Fire TV is priced at just Rs. 24,999 in India, making it an affordable option for those who demand excellence in their entertainment.
Upgrade your home entertainment setup with the Redmi Smart Fire TV 4K 43 Inch and enjoy a world of immersive visuals and captivating sound. Say goodbye to ordinary TV experiences and embrace the future of entertainment.