Traveling has just become a whole lot easier and more stylish with Mokobara's latest luggage offering. As someone who values quality and convenience, I recently ordered two of these fantastic suitcases, and I'm here to share why they're a game-changer for travelers.
Buy here – Mokobara official site – https://mokobara.com/collections/explore-luggage-by-mokobara/products/the-transit-check-in-large-luggage?variant=40655174041670
Amazon – https://amzn.to/3PMBPoZ
Impressive Capacity and Lightweight Design
Each Mokobara suitcase boasts an impressive 100-liter capacity. That means you can pack your essentials, clothing, and more, without worrying about running out of space. It's the perfect solution for extended trips or when you want to bring back a little extra something from your travels.
Despite its ample capacity, these suitcases are incredibly lightweight, weighing in at just 4.6 kgs. This lightweight design ensures that you can maximize your packing while staying well within airline weight restrictions. You can comfortably carry about 22 to 23 kgs of luggage in this, making it an ideal travel companion.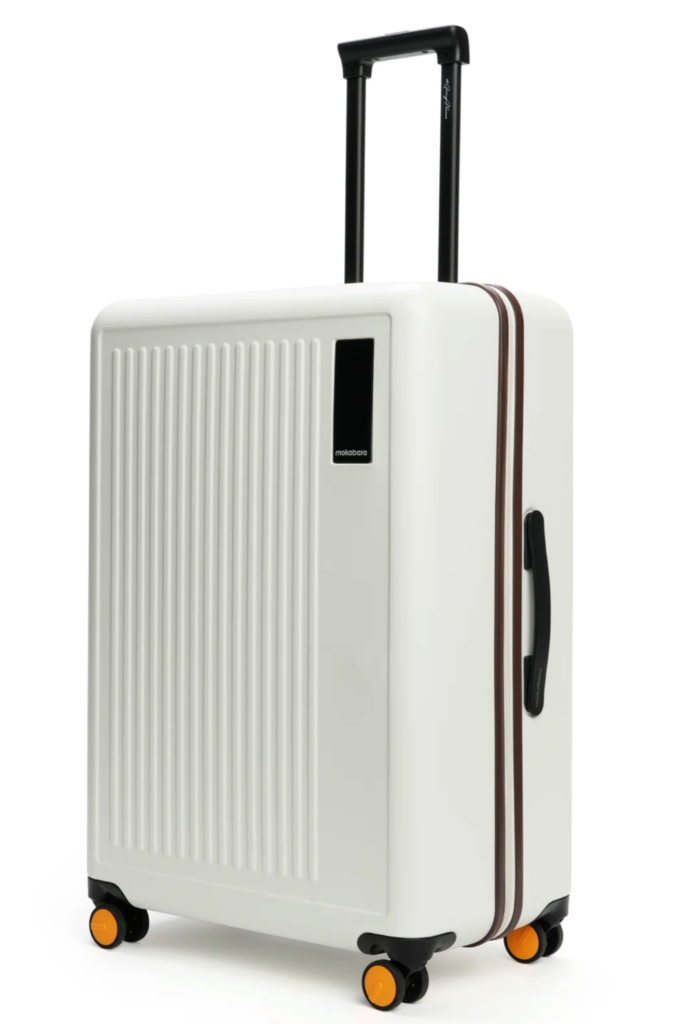 TSA-Approved Lock for Added Security
Security is a top priority when traveling, and Mokobara understands that. That's why they've equipped these suitcases with TSA-approved locks. This means that airport security personnel can easily access your luggage using a special key, ensuring your belongings are safe and secure throughout your journey.
Vibrant Color Options and Smooth Mobility
Who says luggage has to be boring? Mokobara offers a range of exciting color options to suit your personal style and make your suitcase stand out on the luggage carousel. Traveling has never looked this good!
Mobility is key when it comes to luggage, and Mokobara has nailed it with their suitcases. They feature 8 silent halo moto wheels that glide effortlessly, offering a noise-free and incredibly smooth riding experience. Say goodbye to those clunky, noisy wheels that make navigating airports a hassle.
Durable and Unbreakable
Mokobara knows that luggage needs to withstand the rigors of travel, and that's why they've crafted these suitcases from unbreakable and durable polycarbonate material. It's designed to handle the bumps and knocks of travel without a scratch.
Thoughtful Design Details
The multi-layer structure ensures that your belongings stay organized and protected during your journey. With two spacious compartments, zip sections, and convenient side and top handles, you have easy access to your items when you need them.
For ease of use, Mokobara has incorporated an aviation-grade telescopic handle with three-level height adjustments. This means you can comfortably roll your suitcase no matter your height.
Where to Get Yours
Mokobara's new luggage is a game-changer for travelers who seek style, convenience, and durability. If you're ready to upgrade your travel experience, you can find the link to purchase these fantastic suitcases in the video description.
Don't settle for less when you travel. Choose Mokobara for luggage that combines functionality, style, and quality. Your next adventure awaits with Mokobara's new luggage by your side. Happy travels!