Unveiling the Natural Titanium Beauty of iPhone 15 Pro – As a longtime iPhone lover, I've witnessed the incredible evolution of Apple's flagship devices. From the groundbreaking iPhone X to the impressive iPhone 14, I've eagerly embraced each new release. Now, it's time to explore the magnificence of the iPhone 15 Pro in its Natural Titanium variant. Join me on this exciting journey as we delve into the device's remarkable features.
Buy here with discount offers – https://amzn.to/3POVhkT
Elevating Your Video Experience
One of the standout features of iPhones has always been their ability to capture professional-grade videos. With the iPhone 15 Pro, this capability reaches impressive new heights. But first, let's dive into the camera settings. The "Photographic Style" option allows you to select your preferred style and witness real-time output changes. Additionally, the video capture options are extensive, including Apple ProRes support and Log ProRes encoding, giving you ultimate control over your video content.
Seamless Sharing with iOS 17
iOS 17 introduces a game-changing sharing feature that simplifies content transfer between iPhones. With just a tap, you can effortlessly share photos, contacts, and more with other iOS 17-equipped devices. This innovation is a game-changer for convenient data transfer.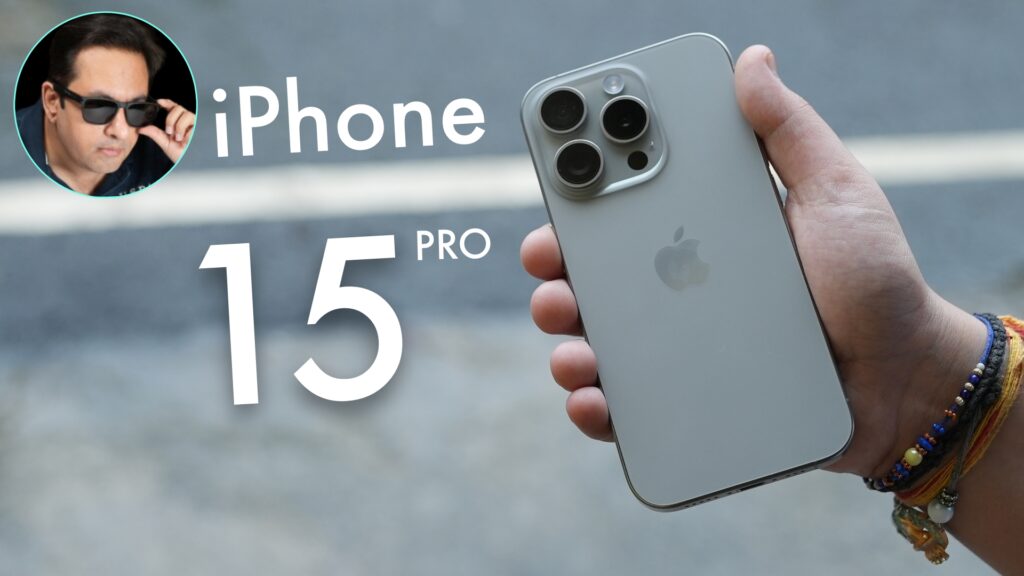 Marvel of Titanium Construction
The iPhone 15 Pro showcases a stunning titanium frame, offering exceptional durability without compromising on weight. Being stronger than stainless steel, it's perfectly suited for everyday use. However, do remember that even titanium has its limits, so it's essential to handle your device with care.
Unboxing the Future
Let's now open the box and unveil the iPhone 15 Pro. Inside, you'll find the smartphone itself, along with booklets, stickers, a SIM tray ejector pin, and a premium-quality Type-C to Type-C cable. It's worth noting that Apple has followed the trend of excluding the charger, emphasizing sustainability.
Embracing the Type-C Advantage
One of the noteworthy features of the iPhone 15 Pro is its inclusion of a Type-C port. Why is this significant? Beyond its functional benefits, it's generating conversations and earning praise. Some Android users have long argued that iPhones lag in adopting this standard. With the Type-C port, Apple is bridging that gap, silencing the critics, and providing users with more flexibility.
Smartphones Built to Last
iPhones are renowned for their longevity, receiving software updates for several years. Even the iPhone X has been upgraded to iOS 17, showcasing Apple's commitment to continuous software support. Investing in an iPhone means choosing a device designed for the long haul.
Resale Value and Reliability
The durability and consistent performance of iPhones contribute to their high resale values. These devices are built to withstand the test of time, ensuring a reliable user experience year after year. Owning an iPhone guarantees a device that holds its value and delivers a trustworthy performance.
In conclusion, the iPhone 15 Pro in its Natural Titanium variant represents more than just a smartphone. It's a symbol of innovation and quality that sets new industry standards. While some may debate the practicality of certain features, there's no denying the enduring value of owning a device that continues to push boundaries. If you're considering an iPhone, choose the latest version with confidence, knowing you're investing in a device engineered to stand the test of time.
Stay tuned for more insights and videos, as I delve deeper into the performance and capabilities of the iPhone 15 Pro. Together, let's uncover its true potential.
iPhone 15 Pro specs
6.1″ Super Retina XDR Display
2556 x 1179 Pixels resolution
All Screen OLED Display
Dynamic Island, Always-On Display, ProMotion Technology with Adaptive Refresh Rates Upto 120Hz, HDR Display, True Tone, Wide Colour (P3), Haptic Touch, Contrast Ratio: 2,000,000:1 (Typical), 1,000 nits Max Brightness (Typical); 1,600 nits Peak Brightness (HDR); 2,000 nits Peak Brightness (Outdoor), Fingerprint-Resistant Oleophobic Coating, Support for Display of Multiple Languages and Characters Simultaneously
Operating System
iOS 17
Processor Type
A17 Pro Chip, 6 Core Processor
Processor Core
Hexa Core
48MP + 12MP + 12MP primary camera
12mp front camera
Apple ProRAW, Wide Colour Capture for Photos and Live Photos
5G
Nano SIM and eSIM support
stereo speakers
USB Type C port