Motorola Edge 40 Neo: Where Innovation Meets Style and Sustainability. In a world where innovation meets style and sustainability, the Motorola Edge 40 Neo stands out as a beacon of technological excellence. It's not just a phone; it's a statement of your commitment to a brighter future. Let's dive into the world of the Motorola Edge 40 Neo and discover what makes it a standout choice.
Buy here – https://www.flipkart.com/motorola-edge-40-neo-black-beauty-128-gb/p/itm01cc46d96a79f?pid=MOBGQFX6JGTWFSGD
Unparalleled Design with IP68 Underwater Protection
Designed for those who lead active lives, the Motorola Edge 40 Neo is engineered to withstand the elements. It boasts an IP68 rating, meaning it's dust-tight and can be submerged in 1.5 meters of fresh water for up to 30 minutes. Rainy days won't stop you from enjoying your adventures.
Premium Vegan Leather Finish
Crafted in collaboration with the renowned Pantone Color Institute, the Motorola Edge 40 Neo offers a trio of distinctive options. Choose from the sleek and durable Pantone Black Beauty, the vibrant Pantone Caneel Bay, or the calming Pantone Soothing Sea, each featuring a vegan leather finish for a soft and comfortable grip. Express your style uniquely.
Stunning 10-bit pOLED Curved Display
Immerse yourself in your favorite content on a 16.63 cm (6.55) pOLED display with a curved design that provides an edge-to-edge viewing experience. This display meets cinematic standards for color range, brightness, color accuracy, and contrast, ensuring that everything looks true to life. Enjoy over a billion shades of color with a buttery-smooth 144 Hz refresh rate and exceptional 1300 nits peak brightness. HDR10+ support enhances your content consumption.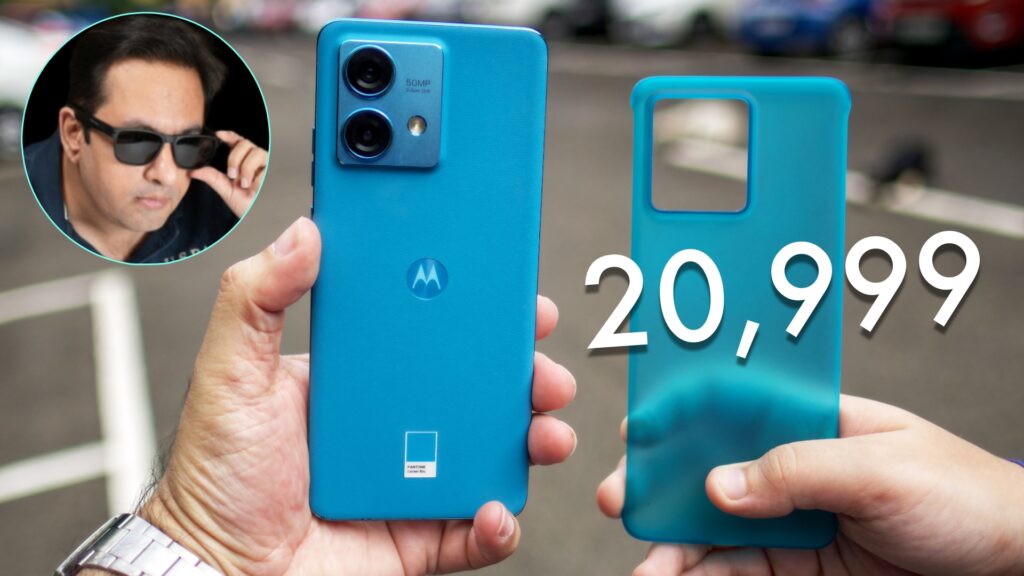 Mediatek Dimensity 7030 for Seamless Performance
Powering the Motorola Edge 40 Neo is the MediaTek Dimensity 7030 chipset, offering Wi-Fi 6 for incredible speeds. Experience cloud gaming without a hitch, multitask seamlessly, and enjoy up to 8 GB of RAM and 128 GB of storage for effortless app switching and ample storage space.
Long-Lasting Battery and TurboPower Charging
Stay connected all day with a 5000 mAh battery. With 68 W TurboPower charging, you can get up to 50% battery life in just 15 minutes. So go ahead, binge-watch, stay in touch, and capture memories without worrying about running out of power.
Commitment to Sustainability
Take a step towards sustainability with the Motorola Edge 40 Neo. The phone comes in a 100% plastic-free sustainable eco box, features natural soy ink printing, and uses recycled and recyclable materials. Motorola is dedicated to reducing its environmental impact and building a more sustainable future.
Impressive Camera Capabilities
Capture stunning photos in any light with the advanced 50 MP Ultra Pixel Night Vision Camera. It shoots low-light shots 16x faster, delivering sharper and vivid nighttime photos. Enjoy high-res day or night photos with 40% more detail thanks to the Ultra Pixel sensor. Explore your creativity with a 13 MP ultra-wide-angle lens and Macro Vision. Say goodbye to shaky photos with Optical Image Stabilization (OIS).
Lightning-Fast 5G Connectivity
Unlock new possibilities with 15 5G bands, offering lightning-fast speeds for downloading shows in seconds, buffer-free streaming, and lag-free video chats.
Seamless PC and Phone Integration
Elevate your productivity and entertainment with 'Ready For' and 'Moto Connect,' enabling seamless integration between your PC and phone. Enjoy lifelike video calls, extend your apps to a larger screen, and access your phone apps and PC files on one screen effortlessly.
Family Spaces for Enhanced Control
Create a 'safe space' on your phone where kids can learn and play. Set screen time limits, control app access, and create multiple profiles to tailor the experience for everyone.
Android 13 with MyUI
Personalize your phone with custom app colors, themes, and languages. With assured 2 OS upgrades and 3 years of security updates, you're in control of your mobile experience. My UX introduces fluid gestures for smoother interactions, and an array of style options ensures your phone always matches your style.
Immersive Stereo Speakers with Dolby Atmos
Dive into the world of multidimensional sound with Dolby Atmos. Experience shows, movies, and music like never before, with greater depth, clarity, and detail. Feel the emotion in your favorite songs as you get closer to the artists you love.
The Motorola Edge 40 Neo is a phone that not only meets your needs but also aligns with your values. Starting at just Rs. 20,999, it's a choice that combines style, sustainability, and cutting-edge technology. Make the future yours—choose the Motorola Edge 40 Neo.