Experience the ultimate in audio clarity and versatility with the Portronics Dash 2 wireless karaoke microphone, priced at Rs. 3,999. A perfect companion for music lovers, this device not only delivers crystal clear sound but also offers an array of features that will transform your music-listening experience.
Buy here – https://www.portronics.com/products/dash-2
With Dash 2, you can experience sound quality that parallels a live concert, thanks to its advanced audio technology. Whether you're belting out your favorite tunes or just enjoying a song, every note will be heard with pristine clarity.
One of the standout features of the Dash 2 is its vocal cancelling function. This feature allows you to turn any song into your very own backing track. Say goodbye to unwanted vocals and hello to a unique karaoke experience tailored just for you.
The Dash 2 is designed with broad compatibility in mind. It supports Bluetooth 5.3, FM transmission, an AUX cable, and wired headphone input. This wide range of connectivity options ensures you can enjoy your music without any hassle, regardless of the device or application you're using.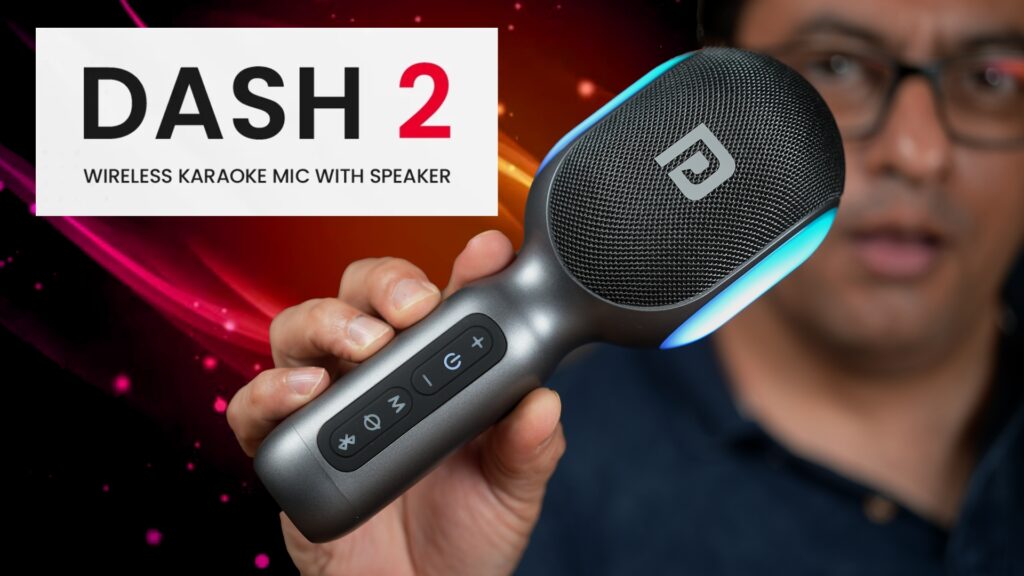 But the Dash 2 is more than just a microphone; it's a complete entertainment system. It functions as a Bluetooth speaker, loudspeaker, recorder, voice changer, and even a nightlight. Featuring four different sound modes – speech, karaoke, professional, and original – the Dash 2 is suitable for various occasions, from car karaoke sessions to classroom speeches and home parties.
To enhance your performance, the Dash 2 comes equipped with mesmerizing RGB lighting. Choose from flow, breathing, nightlight, and rhythm modes to create the perfect ambiance for your karaoke session. If you're looking to team up for an unforgettable duet, the Dash 2's Duet Mode (TWS) has got you covered.
One of the key benefits of the Dash 2 is its long battery life. With up to 10 hours of playback time on a single charge, you can keep the party going for longer. Plus, the microphone comes with a USB C fast charging cable, allowing you to fully recharge it in just three hours.
The Dash 2's design is versatile and user-friendly, making it suitable for users of all ages. Its ergonomic build ensures comfort when held, whether by kids or adults. Given its universal appeal and array of features, the Dash 2 makes an ideal gift for various occasions and holidays.
In conclusion, the Portronics Dash 2 wireless karaoke microphone offers a unique combination of top-notch sound quality, versatility, and convenience at an affordable price. It's an investment in pure, unadulterated musical enjoyment.