Blaupunkt, a prestigious German brand known for its advanced audio technology since 1924, has recently introduced its newest product in India – the TS120 Bluetooth Tower Speaker. Combining remarkable features and a stylish design, this speaker aims to take your audio experience to unparalleled levels.
Buy here – https://amzn.to/3BPYtoH
The Blaupunkt TS120's most notable attribute is its potent sound. With an astounding 120 watts of power, these speakers produce room-filling volume, deep bass, and extraordinary fidelity. Regardless of whether you're watching movies, listening to music, or indulging in other audio content, the TS120 guarantees a mesmerizing audio experience that will captivate you.
Featuring a chic and refined design, the TS120 Tower Speaker is an ideal complement to any living area. Standing at 24 inches tall, these floor-standing speakers exude elegance with their smooth surfaces and polished finish. Constructed with authentic wood, they possess a high-quality feel that distinguishes them from others. The wood construction not only enhances the audio quality but also adds to the visual appeal.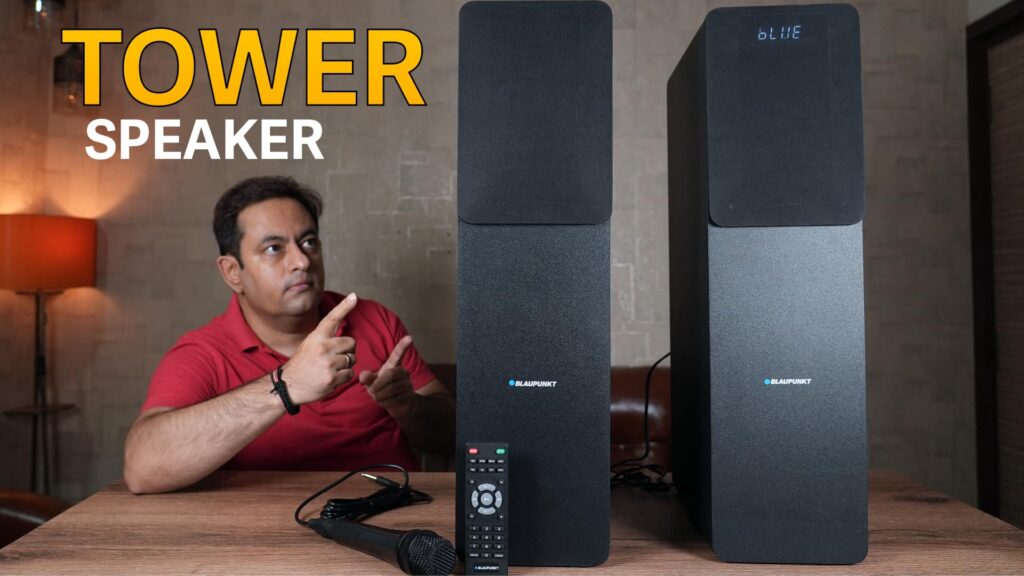 For karaoke aficionados, the Blaupunkt TS120 can transform your living room into a performance stage. Equipped with a karaoke mode and a wired microphone, you can exhibit your skills and entertain your audience. Revel in singing your favorite songs with improved audio quality that amplifies your performance.
When it comes to connectivity, the TS120 covers all bases. It offers HDMI ARC, Optical, USB, AUX, and FM capabilities, ensuring seamless connection and enjoyment of audio from various sources. The touch control panel and convenient remote control contribute to the user-friendly experience, enabling effortless customization of your audio settings.
As for the price, the Blaupunkt TS120 Bluetooth Tower Speaker is available at an appealing Rs. 9,499 in India, making it a persuasive option for those seeking a high-end audio solution without a hefty price tag. Combining power, design, and adaptability, the TS120 is set to become a popular choice among both audio enthusiasts and casual listeners.
Blaupunkt continues to excel in delivering exceptional audio products, and the TS120 Bluetooth Tower Speaker is no different. With its robust sound, sophisticated design, karaoke features, and affordable pricing, it's an investment that will enrich your audio experience for years to come. Discover the realm of immersive audio with Blaupunkt and unleash the full potential of your entertainment.