Experience the ultimate movie-watching and music-listening experience with Blaupunkt's latest SBWL100 Wireless Dolby Soundbar, now available in India. This German electronics and audio brand has launched a powerful soundbar that delivers a thumping bass and crisp audio, thanks to its RMS of 220 watts.
Buy here – https://amzn.to/3JmO8Uw
The soundbar is designed to provide a TRUE DOLBY AUDIO SOUND that delivers an immersive experience with its 360-degree cinema surround sound. The woofer is large and powerful, making its presence felt with its massive size, while the build quality and reliability of the product are of the highest order.
The Soundbar comes with the latest version of Bluetooth, which covers a wide range, making it easier to connect with different devices. It also offers INTELLIGENT CONNECTIVITY with HDMI, ARC, OPTICAL, COAXIAL, AUX- IN, BT & USB, giving you multiple options to connect and stream your favorite content.
The Blaupunkt SBWL100 soundbar also comes with a remote control that makes it convenient to operate. You can adjust the treble, bass, and EQ as per your preferences. The soundbar has an equalizer that balances and controls the audio with four sound modes to choose from – Song, Cinema, Dialog, and 3D.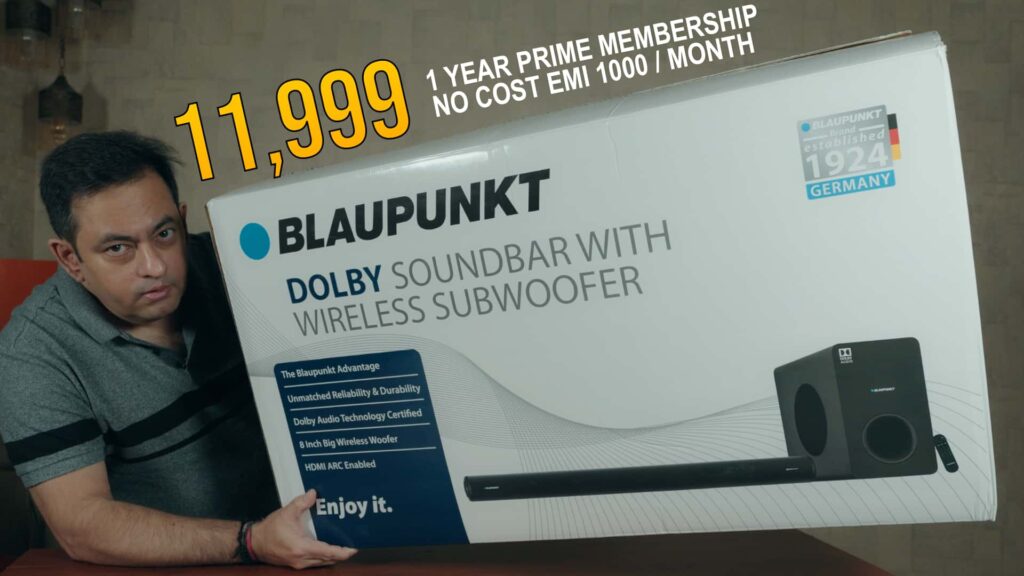 The soundbar is beautifully crafted with a premium edgeless design that adds a touch of elegance to your audio-visual experience. The materials used are of the finest grade, ensuring durability and longevity.
The Blaupunkt SBWL100 soundbar is priced at Rs 11,999/-, making it a great value for money option. It is already available on Amazon, and the first 100 users will get an Amazon Prime membership, making it an irresistible offer. Upgrade your home entertainment system with Blaupunkt's SBWL100 Wireless Dolby Soundbar and take your movie-watching and music-listening experience to the next level.