Elevate your home entertainment experience with the Wanbo TT Auto Focus Netflix Certified Dolby HDMI ARC Projector. In an era where streaming platforms like Netflix, Prime Video, Sony Liv, and Zee5 dominate our movie and TV show choices, this projector promises to transform your viewing pleasure.
Buy here – https://amzn.to/3q2nJFw
The Wanbo TT projector is India's first to receive official Netflix certification, ensuring seamless playback of your favorite Netflix content. Its Widevine L1 certified built-in system also enables full HD resolution streaming on other popular OTT apps like Prime Video, Sony Liv, and Zee5. Immerse yourself in crystal-clear visuals and bid farewell to pixelated images.
Audio quality is top-notch with the Wanbo TT projector, featuring Dolby support and powerful 5W*2 dual stereo speakers. Experience high-quality online movies and TV shows with hi-fi stereo surround sound that transports you right into the heart of the action.
Effortlessly set up and adjust the projector with its auto-focus feature and self-developed AI auto-focus algorithm. Instantly achieve focus in seconds and utilize the 4D/4P Keystone correction for horizontal angle adjustments up to ±30°. The projector also includes a zoom function to resize the image without moving the device, allowing you to tailor the size to any occasion.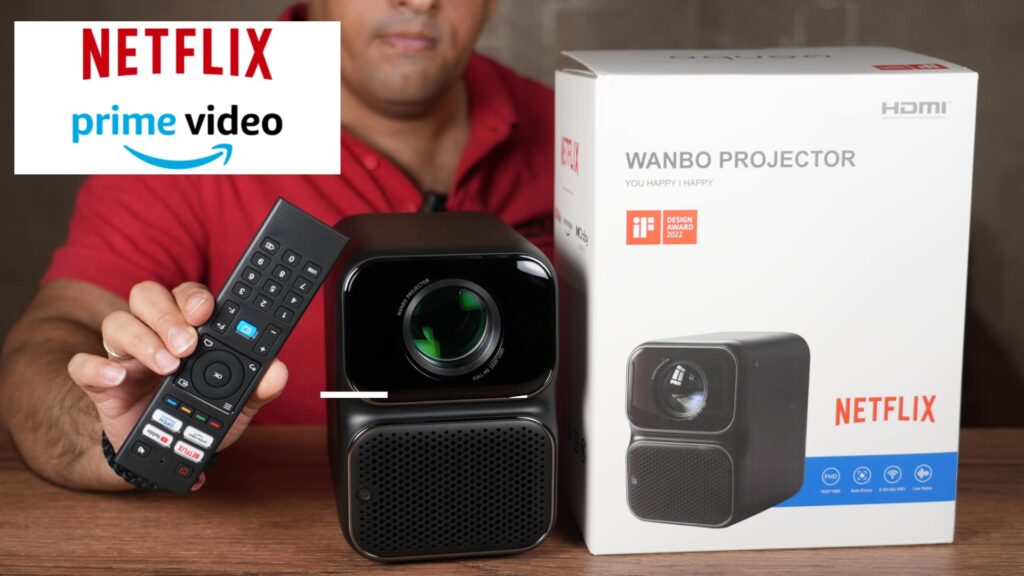 The Wanbo TT projector boasts native 1080P resolution and HDR10 technology, delivering stunningly detailed images with an enhanced dynamic range. With an impressive brightness of 650 ANSI lumens and UHD 4K resolution support, you'll enjoy vibrant visuals for a premium home cinema experience.
Stay connected with the Wanbo TT projector's 5G WiFi for lag-free streaming of online gaming and videos. Bluetooth 5.1 support enables effortless connectivity to headphones, speakers, or other audio equipment, while the wireless screen sharing function allows seamless content streaming from Android devices.
Designed for reliability and durability, the Wanbo TT projector features a fully sealed optical core to prevent dust accumulation and maintain image quality. Wanbo India offers a one-year warranty and professional support throughout the projector's life, with a dedicated team ready to assist you whenever needed.
Transform your living room into a private cinema with the Wanbo TT Auto Focus Netflix Certified Dolby HDMI ARC Projector. Experience immersive visuals, high-quality audio, and seamless streaming at an affordable price of Rs. 32,990. Don't miss this opportunity to upgrade your home entertainment setup and enjoy endless hours of entertainment with this feature-packed projector.