Foldable smartphones are relatively new and still considered a luxury product for most smartphone users. While Samsung has dominated the foldable phone market, OPPO has made its entry with the launch of Find N2 Flip. In this review, we will compare the features and specifications of the OPPO Find N2 Flip with the popular Samsung Galaxy Z Flip 4 5G.
Let's start by highlighting the most noticeable difference between the Oppo Find N2 Flip and the Samsung Galaxy Z Flip 4 – their cover screen sizes. Oppo focuses on this feature as one of the primary reasons to choose the Find N2 Flip over the Z Flip 4. The Find N2 Flip has a vertically-oriented 3.26-inch AMOLED screen that takes up most of the left-hand side of the closed phone. In contrast, the Z Flip 4 has a horizontally-set 1.9-inch screen that occupies a smaller space on the front of the phone.
Although the screens differ in size, their functionality is mostly the same. Neither screen operates as a phone, so you won't be able to view Android's menus or run any apps. Rather, both screens function as widgets that display the time, weather and notifications. The larger size of the Find N2 Flip's screen makes these visibility features much easier to see, and widgets are formatted to take advantage of the larger size, making buttons more accessible. With more space, you can read more of your messages.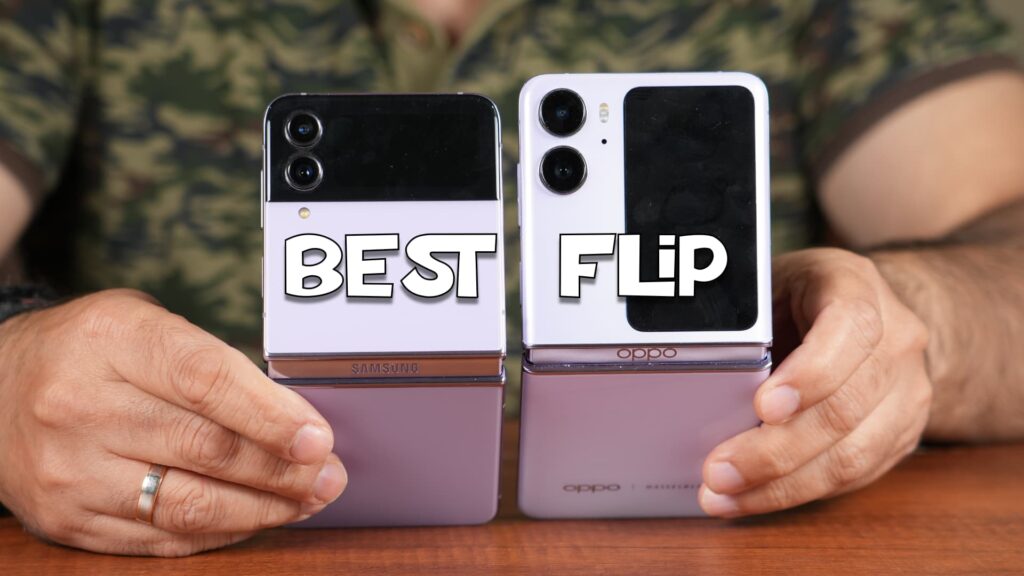 The Find N2 Flip's cover screen also has a familiar always-on look and has notification icons under the time display, while the Z Flip 4 shows the time, date, battery level, and orange dots when new messages are available. Users can also set different wallpapers, including custom interactive pets, on the Find N2 Flip's cover screen, while Samsung's phone allows you to match your Galaxy Watch 5's watch face.
Interestingly, the Find N2 Flip's cover screen is capable of being used as a viewfinder for the camera, though the Z Flip 4's camera app features a button to display the cover screen viewfinder. Both phones allow users to take selfies by showing their palm or pressing a volume key.
The Oppo Find N2 Flip and the Samsung Galaxy Z Flip 4 5G are two impressive foldable phones. The Find N2 Flip has a cleverly engineered hinge that offers less resistance and smoother motion than the Z Flip 4, but it lacks the precision of Samsung's design. Plus, its curved chassis means it takes more effort to open the phone. Meanwhile, the Z Flip 4 has an easier-to-find side-mounted fingerprint sensor and a more mature design overall.
In terms of battery life, the Find N2 Flip is a clear winner thanks to its whopping 4,300mAh battery capacity; with moderate use it will last around day and a half and charge very quickly via 44W SuperVOOC wired fast charging. On the other hand, the Galaxy Z Flip 4's 3,700mAh battery will only last a day with moderate use and comes without a charger in the box. Additionally, while it does have 10W wireless charging and reverse charging capabilities, this feature is missing on the Find N2 Flip.
Finally, both phones offer similar software updates — four years of Android updates and five years of security updates — but Samsung's device has an IP rating meaning it can withstand water better than Oppo's model.  All in all, if you're looking for longer battery life at lightning speed then OPPO's Find N2 Flip is your best bet — but if you need one that can survive splashes then consider investing in Samsung's offering instead.
As far as camera performance is concerned specs are better on OPPO N2 Flip and with hesselblad color science does a pretty good job, check the video to find out which phone camera does well.
OPPO Find N2 Flip is using the MediaTek Dimensity 9000+ chipset to power its impressive capabilities. The Samsung Galaxy Z Flip 4 5G takes things to a whole new level, featuring a Qualcomm Snapdragon 8 Plus Gen 1 chipset that makes it one of the most powerful foldable phones available today. Both devices offer an array of features and powerful performance, but the Samsung Galaxy Z Flip 4 5G stands out for its superior specs and advanced technology. It is an ideal choice for users who want top-of-the-line power and performance in a modern design.
When it comes to pricing both phones are priced at around the same and this gives advantage to Samsung, it is more of brand value i.e OPPO vs Samsung, then Mediatek vs Snapdragon, then the UI's. One could most likely go with the Samsung flip phone.