Samsung has revolutionized the TV industry with its Neo QLED 4K, a groundbreaking innovation that combines Quantum Matrix Technology with Shape Adaptive Light Control #collab. This cutting-edge combination offers an unparalleled viewing experience, promising the best brightness, colors, and deepest black along with sharper details and enhanced contrast. Let's dive deeper into the incredible features of this next-generation TV.
buy here – https://www.samsung.com/in/?cid=in_pd_social_
Quantum Matrix Technology and Shape Adaptive Light Control
The core of the Neo QLED 4K's exceptional picture quality lies in its Quantum Matrix Technology, which utilizes Quantum Mini LEDs that are 1/40th the size of normal LEDs. This technology, combined with Shape Adaptive Light Control, precisely analyzes various objects in the picture and controls lights accordingly. Additionally, the TV boasts 14-bit processing, ensuring extreme details in both dark and bright scenes.
Neural Quantum Processor 4K with Real Depth Enhancer
The built-in Neural Quantum Processor 4K uses AI-based deep-learning to optimize videos on a scene-by-scene basis, giving viewers impeccable clarity and depth no matter the content. Moreover, the processor can upscale any content to 4K quality, so you'll never have to worry about content availability.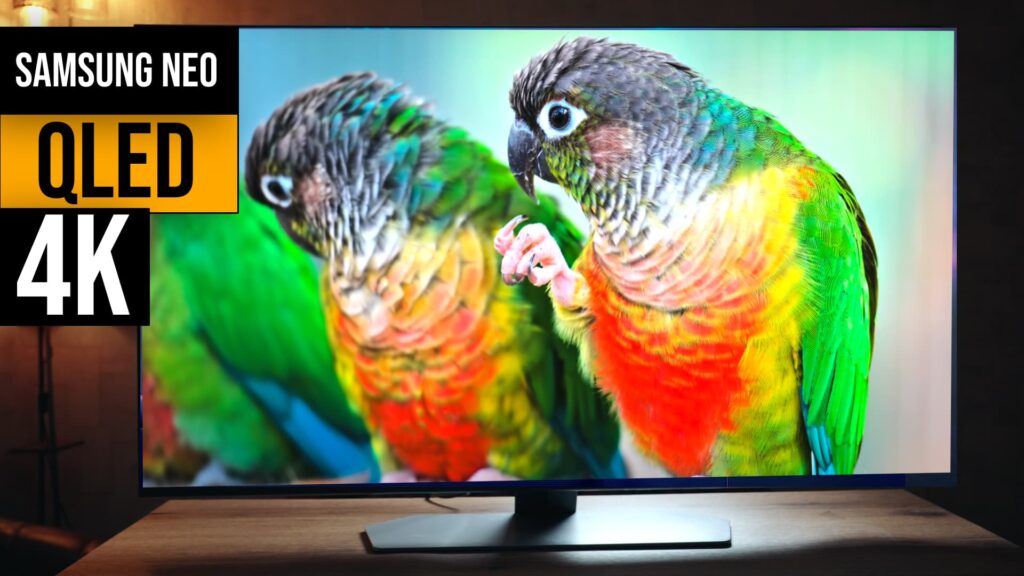 PANTONE Validated
Samsung's Neo QLED 4K is the world's first TV to receive PANTONE validation, a global indicator for color accuracy. With accurate expression of 2,030 PANTONE colors and 110 skin tone shades, viewers can enjoy lifelike colors and a truly immersive experience.
Auto HDR Remastering
This feature enhances SDR content, providing HDR-like picture quality and perfect details in bright and dark scenes. Although currently available only on Game Mode, it will be accessible on other modes at a later date.
Dolby Atmos
Get fully immersed in the on-screen action with 3D Surround Sound, thanks to Dolby Atmos. Multi-directional speakers are located on both sides, top, bottom, and even at the back of the screen for an encompassing audio experience.
OTS+ and Q-Symphony
Experience sound that follows objects on the screen with OTS+, which provides surround sound from speakers firing from the top, bottom, and sides. Additionally, Q-Symphony allows for powerful, synchronized sound from both the TV and soundbar.
Built-in IoT Hub with Calm Onboarding
Transform your home into a smart haven by easily monitoring and controlling connected devices such as smart refrigerators, washing machines, and air conditioners directly from your TV.
Best Gaming TV (144 Hz)
Enjoy smooth, lag-free gaming with the Neo QLED 4K's 144 Hz refresh rate. The Game Bar allows you to monitor gaming status and optimize game settings easily, while Zoom-in mode and Ultra-wide Multi View eliminate blind spots.
Design and SolarCell Remote
The slim, sleek design of the Neo QLED 4K allows viewers to focus solely on the picture without any distracting black bezel. The SolarCell Remote enables control of the TV and connected devices with minimalistic keys and easy one-hand operation. Eco-friendly solar cells power the remote, which also has dedicated keys for Voice, Netflix, Prime Video, Samsung TV+, and Disney+.
In conclusion, Samsung's Neo QLED 4K offers the ultimate viewing experience, combining Quantum Matrix Technology, Shape Adaptive Light Control, and a host of smart features. With its stunning visuals and innovative technology, this TV is set to redefine the way we watch and interact with our favorite content.