Smartphones have become a hotbed of innovation, with retro-styled flip phones re-emerging, now packed with modern-day features and capabilities. This piece will present an in-depth comparison of the Moto Razr 40 Ultra Flip and the Oppo Find N2 Flip – two newly released contenders in the flip phone market. These devices blend the vintage charm of flip phones with state-of-the-art technology for a unique smartphone experience.
Design and Form Factor
The Moto Razr 40 Ultra and the Oppo Find N2 Flip both adopt the flip design, offering the compactness of a smaller phone and the luxury of a larger screen when unfolded. The Moto Razr 40 Ultra edges past with its slimmer profile of 7mm compared to the Oppo Find N2 Flip's 7.5mm. Also, at 185 grams, it is slightly lighter than the Oppo model, which weighs 191 grams.
Buy here – Razr 40 ultra price
Screen Display
Both phones come with AMOLED screens, promising vibrant hues and deep blacks. However, the size of the external display sets them apart. The Moto Razr 40 Ultra comes with a larger external display, enhancing functionality. This proves especially beneficial for quick tasks, notifications, and even viewing multimedia content without fully unfolding the device, making it a potential game-changer for multitasking and productivity on the move.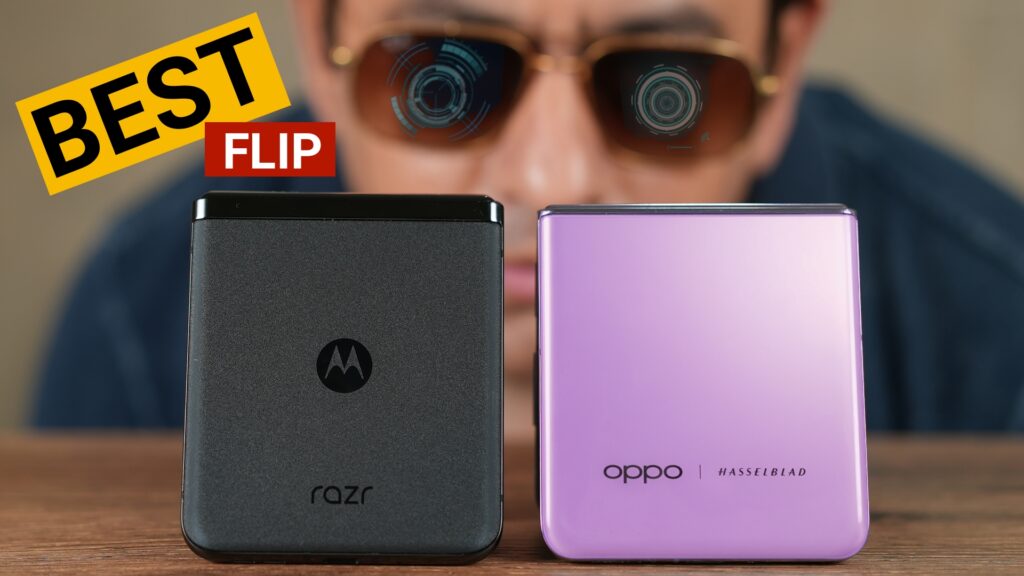 Functionality and User Interface
The Moto Razr 40 Ultra's outer display truly excels in terms of functionality. This additional screen offers enough room for managing apps, interacting with notifications, and even using certain apps and games without having to open the phone. The Oppo Find N2 Flip, however, offers limited functionality on its external display, potentially limiting some usage scenarios.
Unique features such as an interactive pet option and exciting animations on the Moto Razr 40 Ultra's external display enhance user engagement and distinguish it from the Oppo model.
Photography and Creativity
The flip design allows for creative photography and videography options, with both phones enabling the use of the main camera for selfies and capturing images from varying angles. The Moto Razr 40 Ultra stands out with its steady hinge mechanism, giving a more secure feel when using the device in different positions. Furthermore, the Moto Razr 40 Ultra's camera quality appears to surpass that of the Oppo Find N2 Flip, delivering richer colors and superior dynamic range.
Hardware and Software
Both devices are equipped with powerful hardware, ensuring smooth operation and the capability to manage demanding tasks. The Qualcomm Snapdragon 8 Gen 1 in the Moto Razr 40 Ultra and the MediaTek Dimensity 9000+ in the Oppo Find N2 Flip promise a seamless smartphone experience. The near-stock Android experience and enterprise-grade security features of the Moto phone add to its allure, while the Oppo phone may contain some bloatware, potentially affecting the user experience.
Battery Performance and Charging
In terms of battery capacity and charging speed, the Oppo Find N2 Flip has a slight edge, boasting a larger battery size and quicker charging. However, the Moto Razr 40 Ultra holds up well in terms of battery endurance, making it a dependable choice for prolonged use.
Final Thoughts
In the flip phone showdown, the Moto Razr 40 Ultra makes a strong case for itself with its sleek form, advanced functionality via its external display, superior camera quality, and nearly pure Android experience. Its slimness, robust hinge mechanism, and engaging features make it an attractive option for users looking for a versatile and interactive smartphone.
The Oppo Find N2 Flip has its strong points too, including formidable performance and rapid charging, but its restricted external display functionality and possible bloatware might be deterrents for some users.
Ultimately, your preference between the Moto Razr 40 Ultra and the Oppo Find N2 Flip will hinge on your specific needs. If a larger and more functional external display, a near-stock Android experience, and innovative features appeal to you, the Moto Razr 40 Ultra could be the ideal choice. Conversely, if performance and battery life are paramount to you, the Oppo Find N2 Flip might be a better fit.