In the world of smartwatches, the boAt Wave Vivid stands out as an alluring and feature-rich choice. With a striking AMOLED display and a design reminiscent of a popular smartwatch, the Wave Vivid offers an exciting and budget-friendly alternative. Let's dive into what makes this smartwatch a promising companion for your daily life.
Buy here – https://www.boat-lifestyle.com/products/wave-vivid-amoled-display-smartwatch
An AMOLED Delight
The star of the show here is the gorgeous AMOLED display. It not only delivers vibrant and crisp visuals but also brings an undeniable premium quality to the device. The display design bears a striking resemblance to a certain market leader, making it a compelling Apple Watch alternative. You can call it the Apple Watch clone you've been looking for.
Affordable Elegance
The boAt Wave Vivid is a fantastic budget buy, priced at just Rs. 2,999. This cost-effective alternative offers a premium look and feel, unlike many other watches in the same category. You're not only saving money but also getting a product that doesn't compromise on quality.
Impressive Build and IP68 Certification
The smartwatch boasts a full-metal construction with a black matte finish. The choice of materials and finish lends it an elegant and sleek appearance, and it's durable too. It also comes with IP68 certification, making it resistant to dust and capable of withstanding submersion in up to 1.5 meters of water for 30 minutes.
Bluetooth Calling Feature
The boAt Wave Vivid packs the convenience of Bluetooth calling. With a built-in microphone and speaker, you can take calls right from your wrist, freeing you from the hassle of pulling out your smartphone when you're on the go.
Quality Unboxed
Upon unboxing, you'll immediately notice the premium quality. The metallic strap beautifully complements the watch's frame. It's all in the details, and boAt delivers impressively here. The smartwatch comes with various accessories, including a user manual, warranty card, and even a magnetic charging dock. The overall package gives you a feeling of completeness and satisfaction.
Effortless Strap Adjustment
With the boAt Wave Vivid, you have the option to adjust the strap length. This ensures that the watch fits perfectly on your wrist, providing both comfort and style. Adjustments are easy to make with the included tool, allowing you to find your ideal fit without any hassle.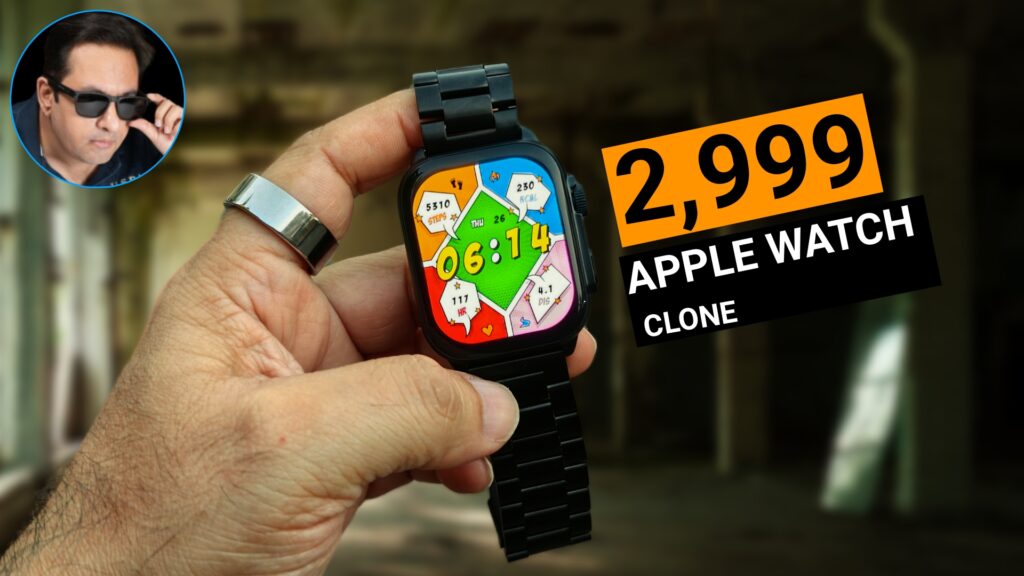 Smooth UI and Display Options
The smartwatch's interface is user-friendly and responsive. It offers a range of default watch faces to suit your style. Being an AMOLED display, you can expect vivid colors and deep blacks, providing an enjoyable viewing experience. Whether you prefer classic designs or something more vibrant, there's a watch face for every mood.
Feature-Packed Companion
The boAt Wave Vivid comes with a multitude of features, including heart rate monitoring, SPO2 tracking, and support for over 100 sporting activities. The device also has built-in games to keep you entertained and engaged during your downtime.
Smartphone Companion App
The boAt sync application is a valuable addition, offering insights into your fitness data and allowing you to customize your watch face. While it doesn't have built-in GPS, you can use your smartphone's GPS with the app to track your outdoor activities.
Calling Made Easy
The device's calling feature impresses with its volume and microphone quality, making hands-free calling a seamless experience. This feature comes in handy when you're in the midst of your activities and need to stay connected.
A Word on "Fake" Smartwatches
There's a recent trend of labeling some smartwatches as "fake," but it's crucial to understand the technology before using such terms. A smartwatch can be functional and yet not meet the expectations of some users. Instead of calling them "fake," consider assessing their consistency in delivering results.
Long Battery Life and More
The boAt Wave Vivid promises up to seven days of battery life. However, this varies with usage. If you rely heavily on the calling feature, you might get around five days of use from a single charge.
The Final Word
The boAt Wave Vivid is a smart choice for those who want an affordable, stylish, and feature-rich smartwatch. With a price tag of Rs. 2,999 and a design reminiscent of premium counterparts, it's a remarkable deal.
In conclusion, the boAt Wave Vivid offers a balanced package of features, style, and affordability. It caters to the needs of tech-savvy users looking for a versatile smartwatch that doesn't break the bank. So, if you're on a budget but don't want to compromise on quality, this smartwatch deserves a closer look.