If you're someone who loves delicious, crispy, and perfectly cooked food but wants to maintain a healthy lifestyle, you're in for a treat. The American Micronic Digital Air Fryer (AMI-AFD-65LDx-Digital) might just be your new best friend in the kitchen. With a 6.5-liter capacity, 8 preset menus, 1700W of power, and versatile cooking capabilities, it's a kitchen appliance that's about to revolutionize the way you cook.
Buy here – https://amzn.to/3SesRT6
Unboxing the American Micronic Digital Air Fryer
Before we delve into the culinary magic this air fryer brings to your kitchen, let's unbox it. Inside the packaging, you'll find an instruction manual that guides you through the setup and usage of the air fryer. But the real star of the show is the air fryer itself.
The American Micronic Digital Air Fryer comes with a sleek, metallic finish that exudes a modern and stylish aesthetic. Its black matte finish adds a touch of sophistication to your kitchen.
The key feature of this air fryer is the Turbo Tunnel Fresh Air Technology. This innovative technology ensures that hot air circulates evenly around your food, cooking it to crispy perfection without the need for excess oil. It's a fantastic choice for health-conscious foodies who want to enjoy fried, grilled, roasted, or baked dishes with minimal oil usage.
A Peek at the Air Fryer's Features
The air fryer boasts an easy-to-use touchscreen interface. It includes an on/off button, mode selection button, pre-heat function, and eight preset cooking modes. These preset modes cater to various dishes, such as frozen foods, pre-baked items, shrimp, pork chops, chicken thighs, and fish.
You also have the flexibility to manually set the cooking temperature, with a maximum setting of 200 degrees Celsius. Whether you're frying crispy chicken wings or roasting vegetables, this air fryer has you covered.
Cooking with the American Micronic Air Fryer
Now, let's put this air fryer to the test. We'll start with a classic favorite—french fries. You can refer to the recipe booklet included with the air fryer for guidance. The booklet is packed with an array of recipes that cater to your culinary cravings.
Simply select the preset mode for french fries, adjust the cooking temperature to your liking (max 200 degrees Celsius), and press the start button. The air fryer preheats in just 3 minutes, ensuring your food gets the perfect treatment.
The air fryer's spacious basket can easily hold a substantial amount of food. You'll be amazed by how many servings you can cook in one go. It's perfect for family gatherings or when you're hosting friends.
The results? Crispy, golden-brown french fries with minimal oil usage. If you're trying to cut back on unhealthy fats but don't want to sacrifice taste, this air fryer is a game-changer.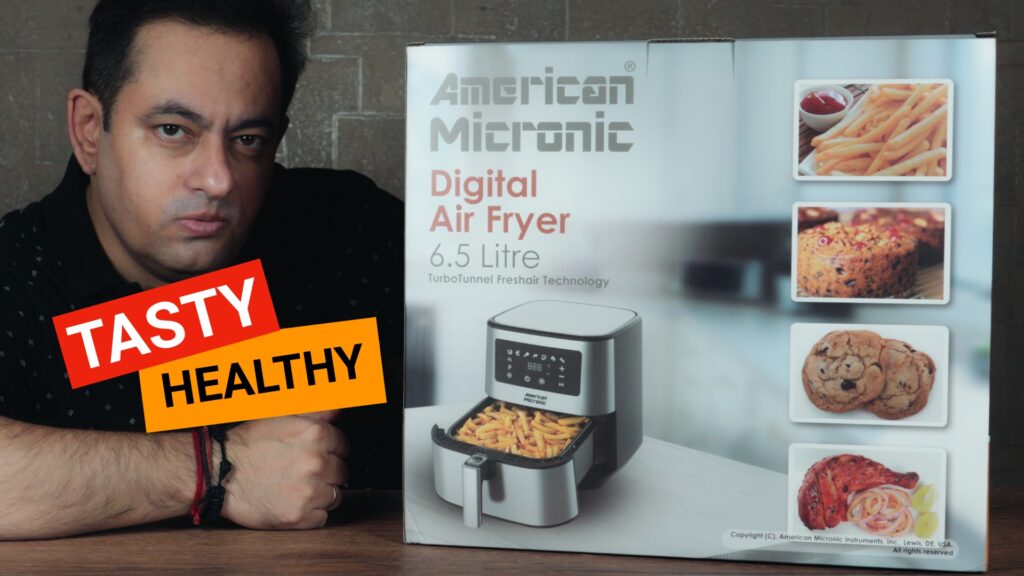 Additional Cooking Experiments
Now that we've nailed the french fries, let's continue our culinary journey. You can use the air fryer for a wide range of dishes, from chicken nuggets to cheesy snacks. The air fryer not only delivers great taste but also maintains a health-conscious approach to cooking.
The capacity of the air fryer allows you to cook multiple servings at once, making it a versatile addition to your kitchen. Whether you're cooking for yourself or a crowd, this air fryer can handle the challenge.
Ready to Transform Your Cooking?
The American Micronic Digital Air Fryer has proven its capabilities in delivering delicious and healthy dishes. If you're ready to elevate your cooking and embrace a healthier lifestyle without sacrificing taste, this air fryer is an excellent choice.
Its versatile preset menus, adjustable temperature controls, and user-friendly touchscreen interface make it an accessible option for both beginners and experienced cooks. The included recipe booklet offers inspiration, and the optional accessories, like cake pans, pizza pans, and egg bite molds, can take your culinary creations to the next level.
So, if you're intrigued by the idea of cooking with less oil while maintaining the crispy goodness of your favorite dishes, consider adding the American Micronic Digital Air Fryer to your kitchen. To purchase this fantastic kitchen appliance, check out the link provided in the video description.
Prepare to embark on a culinary adventure and savor the flavors of delicious, healthy cooking with the American Micronic Digital Air Fryer.