Meet the American Micronic Foot Massager – your one-stop solution for alleviating pain and enhancing blood circulation, right from the comfort of your home. Expertly crafted with superior quality and an imported design, this cutting-edge foot massager provides a lavish massage experience for your feet, ankles, and calves simultaneously, effectively striking deep muscle tissues.
Buy here – https://amzn.to/3DCmu3z
The American Micronic Foot Massager comes loaded with features, such as a potent kneading action that delves deep into the muscles of your feet, ankles, and calves, guaranteeing comprehensive relaxation and rejuvenation. Equipped with flexible kneading discs designed to mimic a professional massage, you can delight in a customized experience with three kneading massage programs, along with vibration and heating modes to match your preferences.
Reap the additional benefits of reflexology as the pressure nodes under your feet stimulate the reflex points on your soles, encouraging overall wellness. The harmonious blend of kneading and vibratory actions provides not just relaxation but also enhances the appearance of your feet.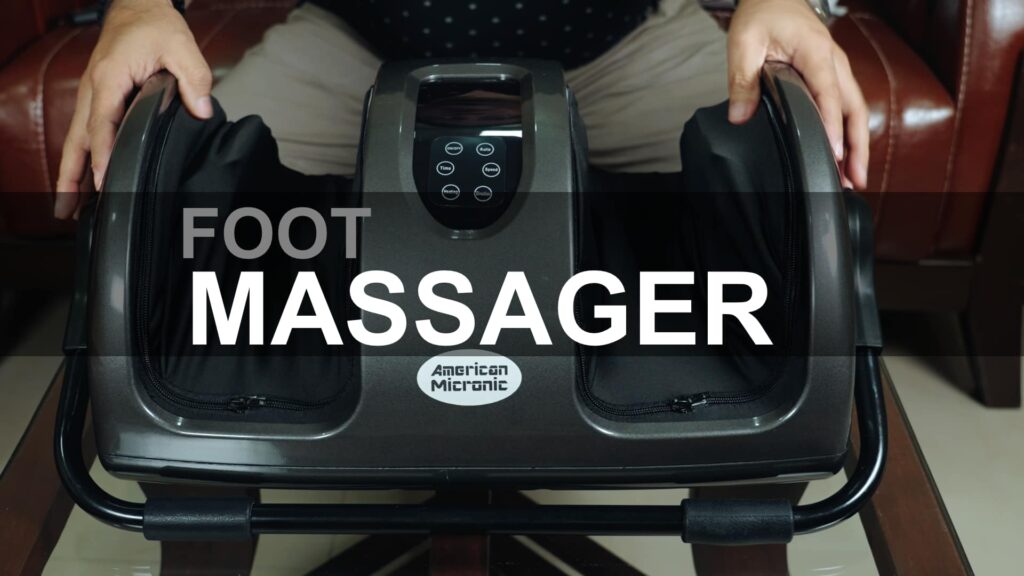 Safety is paramount, and the massager is fitted with an auto-shutoff feature that activates after 15 minutes of use. Furthermore, the device includes a pair of detachable fabric covers with zippers, ensuring effortless maintenance and optimal hygiene.
American Micronic, an Indian-owned brand with global ambitions, has its headquarters in Delaware, USA. The brand's vision is to become a world-class manufacturer of home appliances, offering unmatched product quality, efficient service delivery, and extraordinary value for money. Their objective is to rival multinational giants in advanced markets like the USA, Europe, and the Middle East, delivering top-tier products that set new standards of excellence.
With a price tag of just Rs. 6,475 in India, the American Micronic Foot Massager represents a wise investment in your well-being and relaxation. Bid farewell to foot pain and discomfort, and embrace a revitalizing massage experience as part of your daily routine with this exceptional home appliance.