Marshall Major IV Wireless Headphones: Uncompromised Sound Quality and Remarkable Battery Life.  If you're in search of wireless headphones that not only deliver exceptional sound quality but also provide an impressive battery life, then the Marshall Major IV is the perfect choice for you. With over 80 hours of battery life, a comfortable fit, and Marshall's signature sound support, these headphones offer a premium audio experience that's hard to match. In this review, we'll take a closer look at what makes the Marshall Major IV a standout product.
Buy here – https://amzn.to/3ufCczQ
Unboxing and Design:
The unboxing experience of the Marshall Major IV is as delightful as the headphones themselves. Available in two classic color options, brown and black, the packaging exudes a premium feel. The reviewer in the video showcases the brown variant, highlighting its quality and aesthetic appeal. It's worth noting that while the headphones support wireless charging, you'll need to purchase a wireless charger separately.
Comfortable and Lightweight:
One of the immediate impressions is the comfort and lightweight design of the Major IV headphones. The reviewer points out that the square-shaped ear cups may not fit everyone perfectly, but on the ears that they do, they provide a snug and comfortable fit. Additionally, the headphones' lightweight build ensures that you won't even feel like you're wearing them.
Sound Quality and Performance:
Despite the absence of advanced features like active noise cancellation (ANC) or touch controls, the Major IV headphones make up for it with exceptional sound quality. Marshall's signature sound support ensures a balanced audio experience, suitable for music, movies, and entertainment on the go. The reviewer emphasizes that these headphones are perfect for those who prioritize audio quality and don't require ANC.
Impressive Battery Life:
The standout feature of the Marshall Major IV is undoubtedly its extraordinary battery life. With over 80 hours of playback on a single charge, these headphones can easily last for days on end, even with a few hours of daily usage. This extended battery life makes them an ideal companion for long journeys or busy days without access to charging points.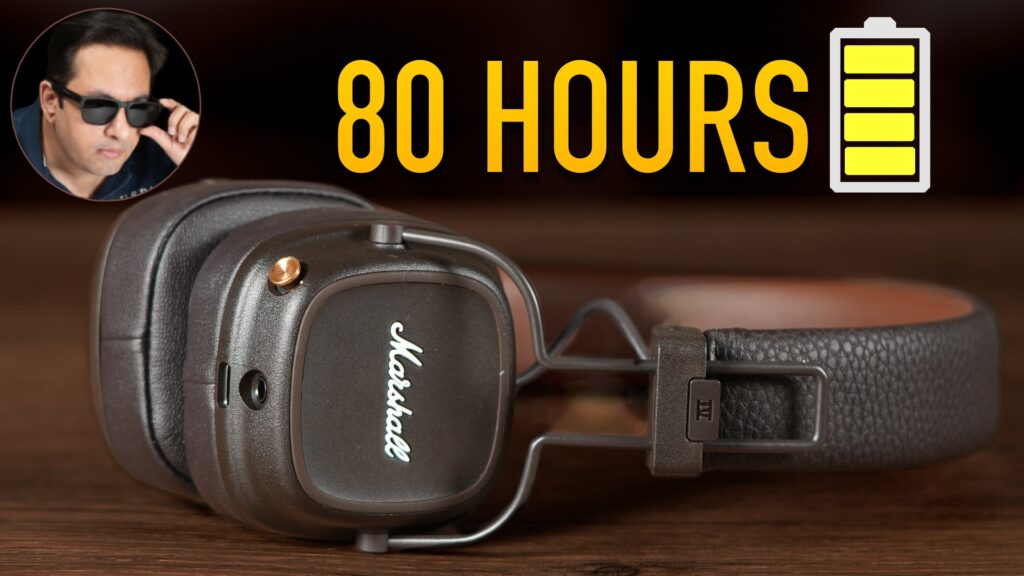 Bluetooth 5.0 Technology:
The headphones employ Bluetooth 5.0 technology, ensuring stable and seamless connectivity with your devices. While they may lack advanced features found in newer models, they deliver a reliable and consistent wireless audio experience.
Comfort Over Extended Use:
The reviewer notes that, after extended use, some users may experience discomfort where the ear cups touch their ears. However, it's highlighted that this discomfort is minimal and tends to fade as users become accustomed to wearing the headphones.
Conclusion:
The Marshall Major IV wireless headphones are all about uncompromised sound quality and remarkable battery life. While they may not come with the latest bells and whistles, their audio performance is exceptional and resonates with Marshall's legacy in sound systems. Priced at Rs. 11,999 and available on Amazon, these headphones are a fantastic choice for audiophiles and music enthusiasts who appreciate a balanced sound profile and are looking for a long-lasting audio companion.