Sony is known for its commitment to innovation and quality. The Sony SRS-XV800 X-Series is no exception. This wireless portable Bluetooth karaoke party speaker is designed with unique features that make it the perfect companion for any party or gathering. With its IPX4 splash-resistant rating, 25-hour battery life, and built-in handle and wheels, this speaker is built to entertain for hours on end.
Buy here – https://amzn.to/3Pd5OG9
Omni-directional Sound
The Sony SRS-XV800 X-Series offers a powerful omni-directional sound that is sure to fill every corner of your room. Feel the beat of your track from all directions, creating an immersive audio experience like no other.
TV Sound Booster
Enhance your audio/visual experience by connecting this speaker to your TV. The TV Sound Booster feature ensures a brilliant, high-quality sound that complements your viewing experience.
Built-In Battery
With up to 25 hours of battery life, you can enjoy non-stop music and keep the party going for as long as you want. No need to worry about charging in between, just turn it on and let the good times roll.
Ambient Lighting
Set the mood with the ambient lighting feature. Illuminate the floor with colorful lights, creating a vibrant and energetic atmosphere that's perfect for parties.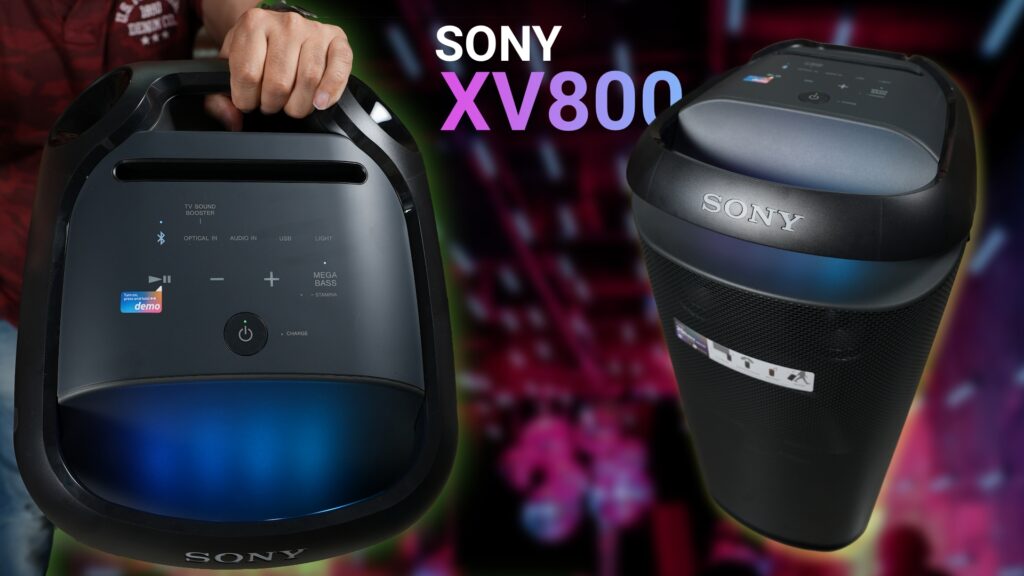 Splash Proof
The IPX4 splash resistance rating means the XP700 speaker can stand up to splashes and spills. Whether it's a pool party or a rainy day, you can enjoy your music without any worries.
Sony Music Center App
Control the party right from your smartphone with the Sony | Music Center app. Adjust the volume, change the track, or even control the lighting – all with a few taps on your screen.
Karaoke & Guitar Input
Unleash your inner rockstar with the karaoke and guitar input features. You can also control the lighting and turn it on/off using motion control gestures on your smartphone screen.
X Balanced Speaker
Sony's unique X Balanced Speaker provides rich, powerful bass and higher sound levels while maintaining clarity. This ensures a high-quality sound experience that will impress your guests.
Bluetooth Connectivity
Stream your party playlist with ease thanks to the speaker's Bluetooth connectivity. Simply connect your device and start playing your favorite tunes.
Priced at Rs. 45,800 in India, the Sony SRS-XV800 X-Series is a worthwhile investment for anyone looking to enhance their party experience. With its impressive features and superior sound quality, this speaker is sure to be the life of the party.