Experience the world's most immersive sound with the Sennheiser AMBEO Soundbar Plus, meticulously designed and tested in real-world conditions for unparalleled audio performance. Developed in collaboration with the Fraunhofer IIS Institute, this soundbar brings the spaciousness of a movie theater right into your living room.
Buy here – https://amzn.to/3KRRP6i
The Sennheiser AMBEO Soundbar Plus will be available at a price of INR 1,39,990 and AMBEO Sub at INR 69,990 for sale starting today across online platforms such as www.sennheiser-hearing.com, Amazon.in and other leading electronic outets
The Sennheiser AMBEO Soundbar Plus stands at the intersection of aesthetics and functionality. Its sleek design complements any home decor, while its user-friendly interface ensures an effortless user experience. What's more, it is compatible with all major hardware, codecs, wireless protocols, and voice assistants, making it a versatile addition to your home entertainment setup.
With Dolby ATMOS, DTS:X, 360 Reality Audio, and MPEG-H audio support, the AMBEO Soundbar | Plus delivers an immersive 3D sound experience unlike any other. Whether you are watching a movie, playing a game, or listening to your favorite music, you'll be drawn into the heart of the action.
The soundbar boasts state-of-the-art AMBEO virtualization technology, co-developed with the Fraunhofer IIS Institute. This innovative feature recreates a full 7.1.4 home theater system, enveloping you in rich, multi-dimensional sound. Its built-in 4″ dual-subwoofers produce thunderous bass, while its automated self-calibration learns the acoustics of your room for optimal sound quality.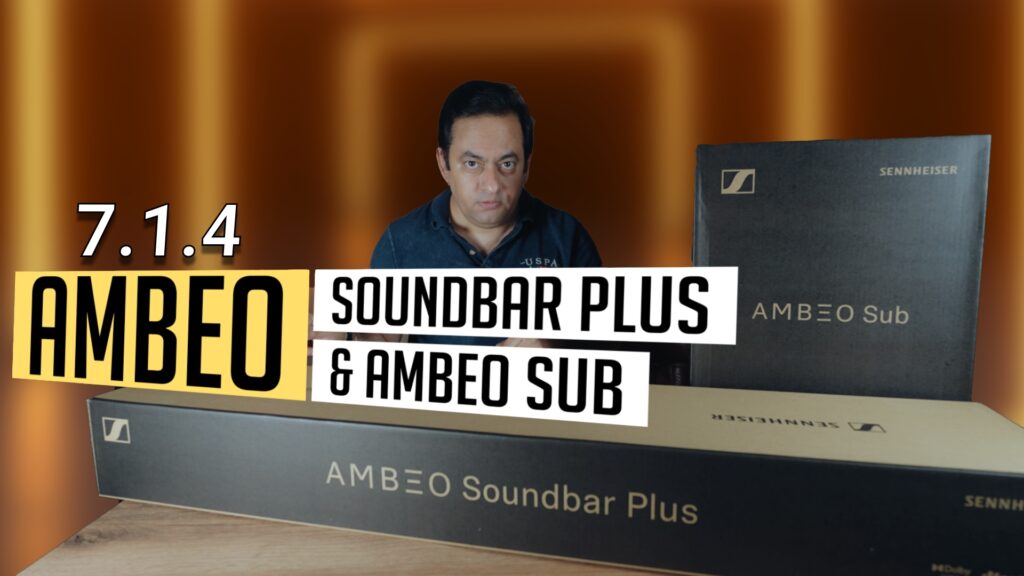 One of the standout features of the AMBEO Soundbar Plus is its ability to upmix any stereo content, creating a room-filling sound stage. Its seven high-end aluminum cone full-range drivers, driven by Sennheiser's audio DNA, deliver incredibly sharp fidelity and clear mid-tones.
Powered by the advanced AMBEO OS, the soundbar offers a range of connectivity options, including Bluetooth, Apple AirPlay 2, Spotify Connect, Tidal Connect with Dolby ATMOS Music support, and built-in Google Chromecast. It also allows you to easily adjust and customize presets with the EQ and select from three different AMBEO virtualization levels (Light, Standard, Boost).
Additional features include voice enhancement for better speech clarity and a Night Mode for discreet listening. And with Alexa built-in and compatibility with Google Home and Apple HomeKit, the AMBEO Soundbar Plus fits seamlessly into your smart home ecosystem.
In conclusion, the AMBEO Soundbar Plus offers an unparalleled home theater experience. Its blend of cutting-edge technology, intuitive design, and outstanding sound quality makes it the ultimate choice for those seeking to elevate their home entertainment setup.