The Ola S1 Air, priced at Rs. 1,19,999, is the newest addition to Ola's electric scooter lineup. While it retains the familiar design of its predecessors, it introduces new features that set it apart.
One of the significant changes is the addition of grab rails, enhancing comfort and safety for rear passengers. Another noticeable change is the flat footrest. This contrasts with the previous versions, which had a bump in the middle area, making it more comfortable for the rider.
The Ola S1 Air excels in terms of storage capacity. Its flat footrest design allows for easy storage of items, and with a generous boot space of 34 liters, you can easily store a helmet and other essentials. Whether you're riding or parked, this scooter provides ample storage space.
The scooter boasts a twin telescopic front suspension and dual shock absorbers on the rear side, ensuring a smooth ride. Although it doesn't feature disc brakes, the drum brakes it comes with are perfectly adequate for city riding conditions.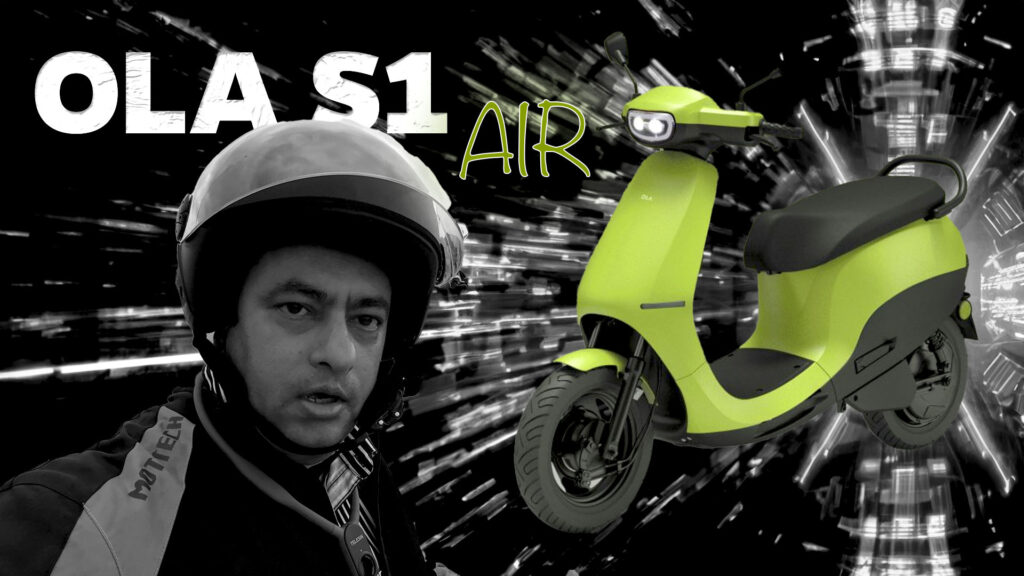 I had the opportunity to test ride the Ola S1 Air at Ola's future factory. The ride was comfortable and stable, thanks to its Gen 2 platform. The pick-up was impressive, and the scooter offers Eco, Normal, and Sports modes for varied driving experiences. However, it lacks a Hyper mode.
The Ola S1 Air is powered by a 3 kWh battery, offering a claimed range of 150 km on a full charge. It can reach a maximum speed of 90 kmph and goes from 0-60 kmph in just 5.7 seconds. It uses 2.7 kWh hub motors and takes about 5 hours to fully charge.
In terms of aesthetics, the scooter shines with its fluorescent green and black colors. The quality is top-notch, from the steel wheels to the buttons that are similar to those found on other Ola scooters.
During the test ride, the scooter performed well in both Normal and Sports modes. In Normal mode, it reached a maximum speed of 60 kmph, while in Sports mode, it accelerated quickly and offered a thrilling ride. The scooter also features a regenerative braking system, charging the battery slightly when braking.
The Ola S1 Air runs on Move OS 3.1 and provides essential information about the battery stats. If you're considering buying an electric scooter, especially for city riding conditions, the Ola S1 Air is a fantastic option. You could use it on the highway, but its strength lies in city use. With its impressive features and affordable price, the Ola S1 Air is setting a new standard in the electric scooter market.