Introducing the ROG Flow X13, the epitome of flexibility, power, and portability in a single device. With its ultra-slim 13″ chassis weighing just 1.3kg, this upgraded powerhouse is designed to deliver exceptional gaming performance and exceed your expectations. Equipped with the latest 4nm Ryzen™ 9 7940HS CPU boasting Phoenix architecture, the Flow X13 takes your gaming experience to new heights.
One of the standout features of the Flow X13 is its optional XG Mobile eGPU, which provides an unprecedented graphics boost on demand. With support for up to an NVIDIA RTX 4090 mobile GPU, you can now immerse yourself in stunning visuals and unparalleled gaming experiences. The XG Mobile effortlessly connects to the Flow X13 via a dedicated PCIe® Gen 3 X8 interface, ensuring seamless integration.
The ROG Flow X13's display is a game-changer in itself. Its high-resolution QHD+ panel, featuring a 165Hz refresh rate, allows you to see every detail with incredible clarity. The touch-enabled display is protected by scratch-resistant Gorilla Glass DXC, making it durable and long-lasting. Additionally, with MPP 2.0 stylus support, you can unleash your creativity and take notes or sketch with precision.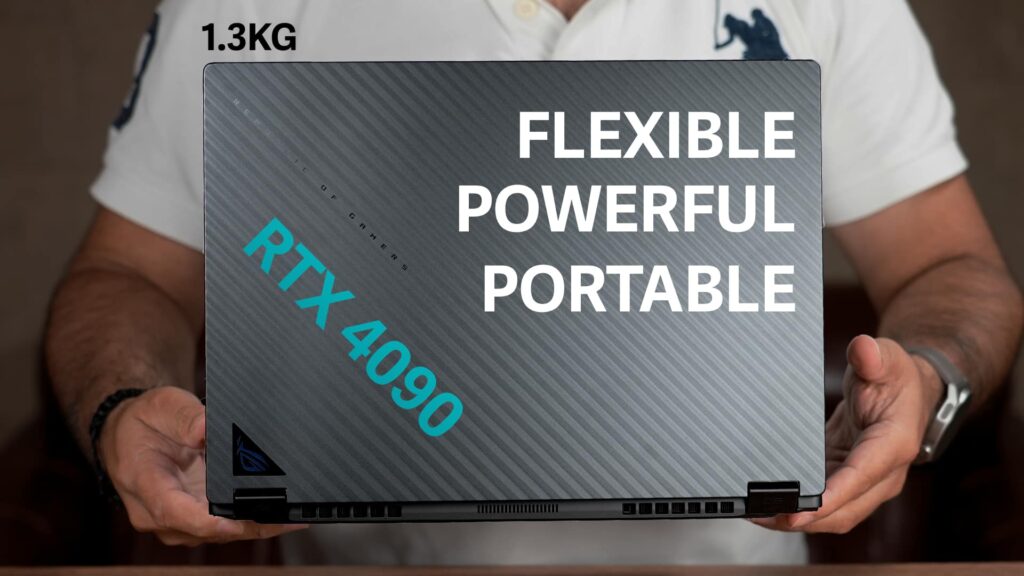 The 360-degree hinge design offers four different viewing configurations, including laptop, tablet, tent, and stand modes. This versatility allows you to adapt to any situation and work or play comfortably wherever you go. Furthermore, the one-touch power-on feature and the Full HD Camera upgrade with Windows Hello Face Unlock provide faster and more secure login options, saving you time and hassle.
Designed with convenience in mind, the Flow X13's lightweight and comfortable design effortlessly fits into crowded bags, leaving ample space for your favorite gaming gear. You no longer have to compromise on performance or portability.
The Flow X13's cooling system is space-age technology at its finest. With liquid metal compound on the CPU and an innovative 2-in-1 standing design that draws in cooler air, you can experience higher clock speeds with minimal noise. The additional fan outlets and heatsinks, despite the slim 16mm chassis, ensure sustained performance during intense gaming sessions.
Worried about battery life? Fear not. The Flow X13 offers all-day battery life and supports Type-C PD enabled charging. With over 14 hours* of battery life and compatibility with power packs and USB-C adapters up to 130W, you can stay productive and entertained throughout the day.
The ROG Flow X13 enhances your user experience with a full-sized 15″ like keyboard and a 56% larger trackpad compared to previous models. The premium Dolby Atmos sound support further elevates your gaming and multimedia experience. With Two-Way AI Noise Cancellation, you can immerse yourself in crystal-clear audio during calls and online meetings.
Connectivity is a breeze with HDMI 2.1, USB4.0, and Wi-Fi 6E support, ensuring high-speed data transfer and seamless online gaming experiences.
Priced at Rs. 1,74,990, the Asus ROG Flow X13 is a true testament to the combination of power, portability, and innovation. It redefines what it means to have a gaming laptop that can unleash your creativity anywhere you go. Whether you're a professional on the move or a gaming enthusiast seeking the ultimate gaming experience, the Flow X13 is the perfect companion to take your productivity and gaming to new heights.