Taking a significant step towards enhanced road safety, Indian tech company Qubo presents the Qubo Car Dash Camera Pro. This state-of-the-art device, designed and manufactured in India, aims to offer users an unparalleled driving experience while prioritizing their safety on the roads. Let's examine the exceptional features that set the Qubo Car Dash Camera Pro apart from its competitors.
Buy here – https://amzn.to/3OpWrmK
Exceptional Image Quality
Outfitted with a Full HD [email protected] camera and a Sigmastar Main Processor, the Qubo Car Dash Camera Pro delivers remarkable video clarity. Its 2 MP CMOS Image sensor and top-tier lens with an Infra-Red filter enable enhanced low-light performance, allowing drivers to record high-quality videos even during nighttime drives. Moreover, the wide field of view (FOV) ensures coverage of 4-6 lanes simultaneously, capturing every essential detail.
Advanced Night Vision
Setting new benchmarks for nighttime recording, the Qubo Car Dash Camera Pro boasts superior low-light performance and a Wide Dynamic Range (WDR) video system. The high-quality lenses and crystal-clear full high-definition video ensure that even in the darkest conditions, the camera records clear and detailed footage. Drive confidently, knowing that your journeys are documented with outstanding clarity.
Continuous Loop Recording
The Qubo Car Dash Camera Pro accommodates SD cards up to 256 GB, offering ample storage for your travel recordings. Its seamless loop recording system guarantees unlimited storage by automatically overwriting non-essential parts when the memory card is full. Eliminate the hassle of manual deletion and enjoy continuous recording on your adventures. (Note: SD card not included.)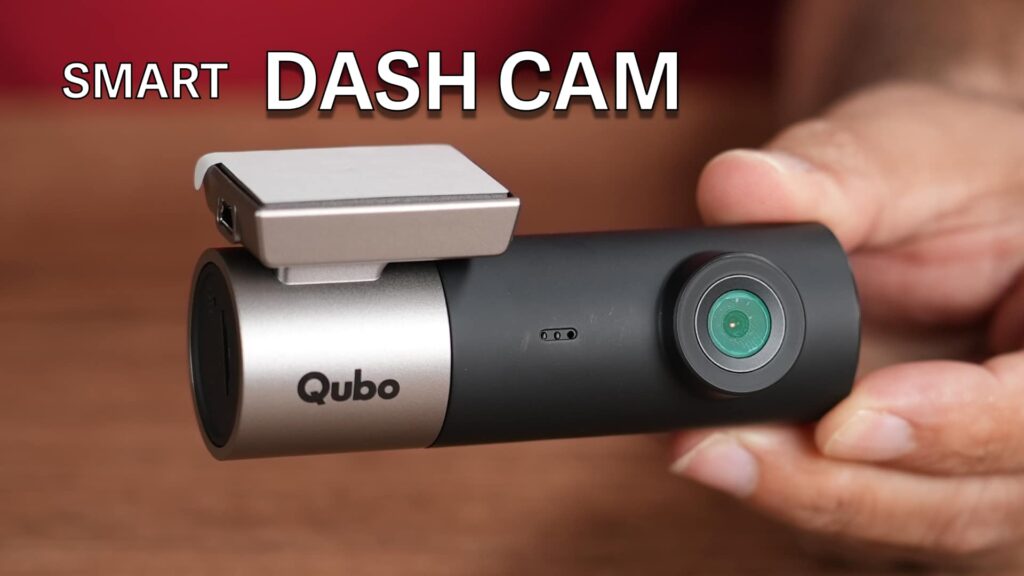 Resilient to Temperature Variations
Engineered specifically to endure extreme temperature fluctuations in India, the Qubo Car Dash Camera Pro functions flawlessly within a temperature range of -5 ⁰C to 65 ⁰C. Whether driving during scorching summers or freezing winters, this dashcam is designed to withstand and perform reliably, ensuring no moment goes unrecorded.
Wi-Fi Connectivity
Stay connected and in command with the Qubo Car Dash Camera Pro's Wi-Fi compatibility. By generating a 2.4 GHz Wi-Fi hotspot, the camera allows users to view live footage and download journey videos directly via the Pro App on their smartphones. Enjoy the convenience of real-time streaming and easy access to your recordings, all within your grasp.
Efficient CMOS Sensor & Battery Capacity
The Qubo Car Dash Camera Pro features a 2MP GC2053 CMOS sensor, guaranteeing outstanding video and picture quality while using minimal battery power. Its built-in 240mAh lithium-ion battery offers sufficient capacity for prolonged recording sessions, ensuring important moments are always captured during your journeys.
The Qubo Car Dash Camera Pro is more than just an ordinary dashcam; it's an all-encompassing safety solution that transforms the way we drive. Merging cutting-edge technology with user-friendly functionality, Qubo provides a dependable and innovative device made in India. Gear up and enhance your driving safety with the Qubo Car Dash Camera Pro – a true game-changer for drivers everywhere.