Samsung's new Galaxy M14 5G phone offers an unbeatable combination of features and affordability. Boasting a triple rear camera led by its 50MP, as well as 13MP front cam, this device is perfectly suited to capture all life's moments with impressive clarity.
But it doesn't stop there; the cutting-edge Exynos octa-core processor and fully optimised 5G compatibility are complemented by the 6000mAh battery that ensures up to 2 days' worth of usage time before needing recharge – you can even take advantage of 25W fast charging! Get ready for tomorrow today: unleash your creativity on Samsung's ultra powerful yet affordable flagship smartphone.
Samsung's Galaxy M14 5G is a sleek, lightweight device at only 9.4mm thick and 202g in weight that packs two impressive options – both with 128GB storage but 4GB RAM or 6GB RAM to choose from.
The M14 5G allows users to fully immerse themselves in their display experience with its 6.58″ Corning Gorilla Glass 5 screen and 90Hz refresh rate, offering bright, vibrant visuals at FHD+ resolution. Featuring a comprehensive range of features from the latest Android 13-based OneUI such as fingerprint sensors for secure access, voice focus technology and Samsung Wallet integration for easy financial transactions – this device offers high levels of security and privacy that keep your data safe!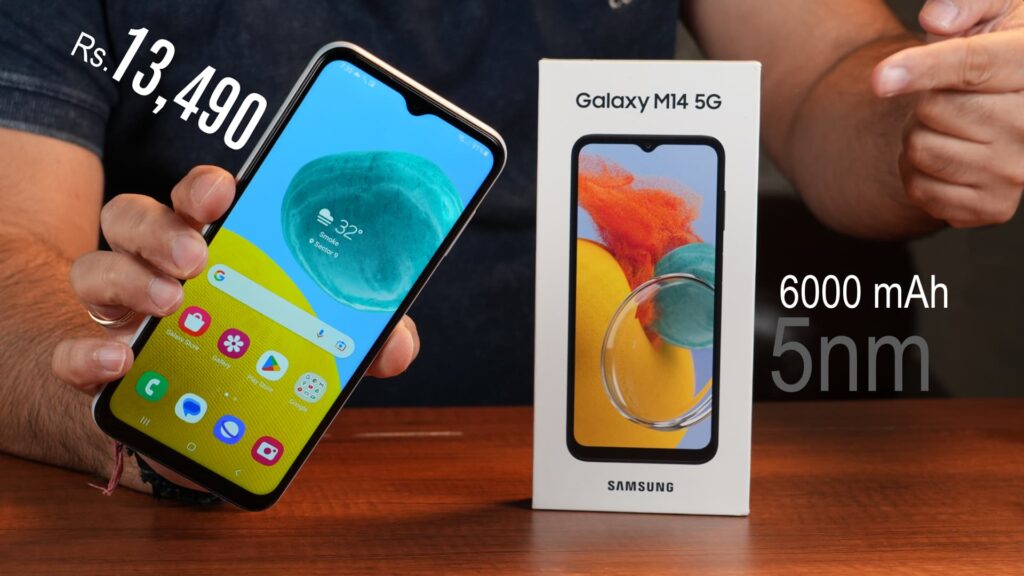 The Samsung Galaxy M14 5G is a reliable long-term investment, with two generations of OS updates and four years of security updates bundled in. Plus, its effective price under 14k makes it an unbeatable deal for budget conscious shoppers looking to experience the next level speeds offered by 5G technology.
If you're looking for a phone that won't break the bank, but still has all the features of newer models, look no further than Samsung Galaxy M14 5G. This budget-friendly device offers fantastic battery life and reliable 5G support to keep users connected wherever they go – plus its powerful processor ensures smooth performance when playing games or streaming movies!