The Amazfit Cheetah series is a breakthrough in running technology, redefining expectations with its advanced GPS accuracy and intelligent functionalities. Designed to cater to the needs of runners, this series provides AI-generated training schedules customized to your unique characteristics and running objectives. In addition to its smart features, it offers a lightweight design meticulously crafted to satisfy all your running requirements. Let's delve into the exceptional attributes that set the Amazfit Cheetah series apart.
Buy here – https://amzn.to/3PmHzEh
Design and Display: A Harmonious Blend of Lightness and Brilliance
The Amazfit Cheetah watch marries innovation with comfort. Its fiber-reinforced polymer middle frame ensures a lightweight and snug design that's ideal for wear throughout the day, even during intense workouts. Equipped with a crown and button for easy control, this watch is designed with the active user in mind.
The 1.39-inch HD AMOLED display is truly mesmerizing. It provides exceptional clarity under any lighting conditions, ensuring uninterrupted access to your data and notifications. Panda-enhanced glass with an anti-fingerprint coating keeps the screen clean and smudge-free, maintaining pristine visibility.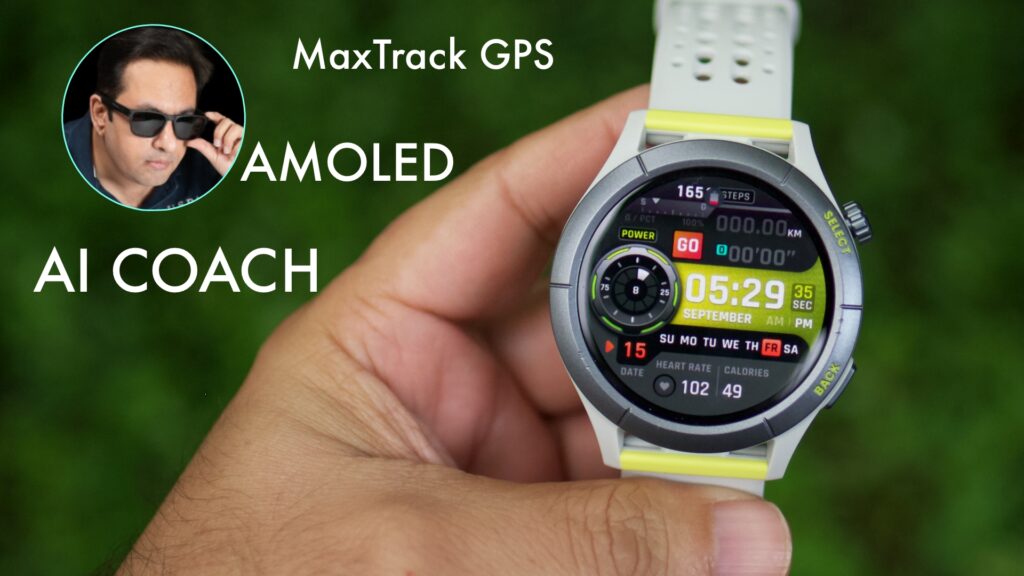 MaxTrack™ GPS: Accuracy at Every Turn
Accurate GPS tracking is critical for running watch users. The Amazfit Cheetah series introduces MaxTrack™, a dual-band circularly-polarized GPS antenna that offers 99.5% accuracy compared to a professional-grade GPS locator. MaxTrack™ revolutionizes positioning by reducing multi-path interference, making it perfect for cityscapes or shaded trails.
Supported by six satellite systems, this technology keeps you on course wherever you run. Import routes and offline maps from the Zepp App for pinpoint navigation from your wrist.
Personalized AI-Powered Running Coach: Tailored Plans for Your Race
The series features Zepp Coach™, an AI-powered coach designed for runners. Generate bespoke running plans for various race types based on your attributes and objectives. The plans adjust weekly according to your performance, mimicking a personal trainer optimizing your workouts.
In select regions, experience Zepp Coach™ AI Chat, an interactive chatbot that answers your sports-related queries via voice or text input. Combined with personalized training schedules, this chatbot creates an immersive coach-to-athlete experience.
Precise Route Navigation with Offline Maps: Stay on Track
Download maps from the Zepp App to your watch for accurate route navigation even in remote locations. Follow your intended path with real-time updates. Activate Automatic GPS Mode for optimized settings based on signal strength, preserving battery life without sacrificing accuracy.
Professional Device Connectivity: Enhance Your Workouts
Connect to external workout devices like a Heart Rate Belt and Power Meter through improved Bluetooth connectivity via Zepp OS 2.0. Capture multidimensional workout data for comprehensive fitness tracking.
Music On the Go: Your Smartphone Can Take a Break
Store between 270-470 songs on your watch for music playback during runs. Enjoy your playlist with Bluetooth headphones, eliminating the need for a smartphone.
Connect to 3rd Party Fitness Apps: Unified Fitness Data
Sync your run data with apps like Strava, Relive, and Adidas Running through the Zepp App. It also integrates with Google Fit and Apple Health for a comprehensive overview of your health and workouts.
Sports Modes & Smart Recognition: Adaptable and User-friendly
With over 150 sports modes, including automatic recognition of eight activities, the Amazfit Cheetah Series caters to every fitness requirement. From running to strength training, it's your ultimate workout partner.
Pricing and Availability:
The Amazfit Smartwatch Cheetah Series is available at an approximate price of Rs. 18,500 in India. It's not just a running watch; it's your running coach, navigator, and music player, all in one. Experience precision, innovation, and comfort like never before on your runs with the Amazfit Cheetah Series.