Introducing itel SuperGuru 400: A Feature Phone Revolutionized with UPI Payments. In the era of smartphones, the significance of feature phones often gets overshadowed. But, itel is rewriting this narrative with their latest entrant- the itel SuperGuru 400. This feature phone stands out for its groundbreaking feature, which until now was a smartphone exclusive – UPI payments.
buy here – https://amzn.to/48uyy59
A Revolutionary Move for Feature Phones:
As digital payments are becoming increasingly popular, UPI (Unified Payments Interface) has turned into an indispensable part of our daily transactions. Although smartphones have enabled millions to access UPI payments, feature phone users were missing out on this facility. But not anymore, as itel brings UPI support to the SuperGuru 400, marking it as the first feature phone to offer this feature.
Unveiling the SuperGuru 400:
The itel SuperGuru 400 feature phone comes in a sleek and stylish packaging. It guarantees exceptional after-sales service, resolving issues within 4 hours at dedicated service stations. The box contains the phone, a detachable battery, manuals, and a micro USB charging adapter.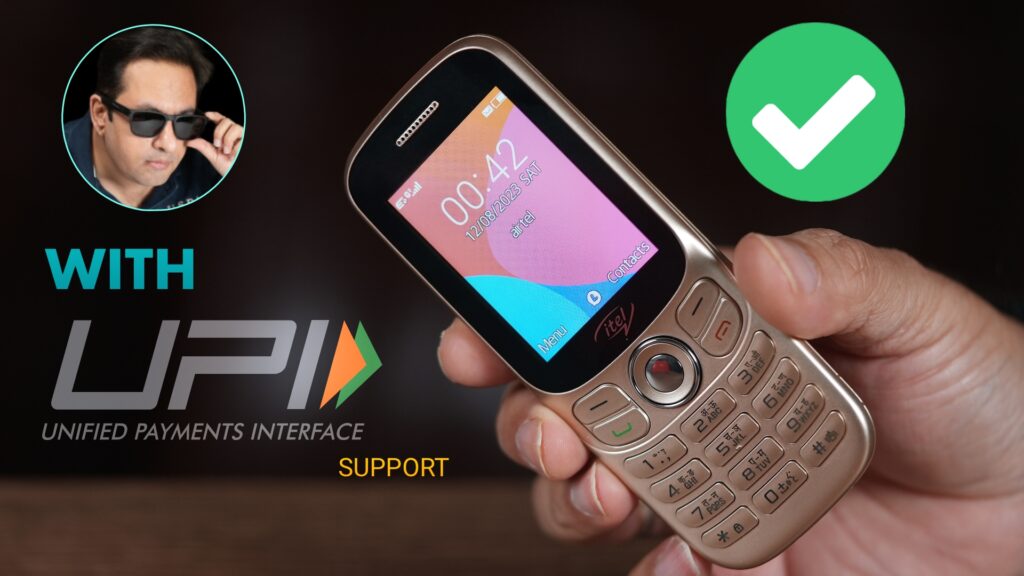 Elegant and Sleek Design:
The SuperGuru 400's slim, lightweight design is immediately noticeable and impressive. Its metallic finish adds an aesthetic appeal. Despite its slender frame, it boasts robust build quality ensuring durability.
Setting Up the Device:
Operating the SuperGuru 400 is simple. The phone sports a non-touch display, standard for feature phones, and relies on traditional buttons for navigation, making it especially user-friendly for older users. The menu offers support in nine different languages, catering to a diverse user base.
Seamless UPI Payments:
To activate UPI payments, users need to adhere to the instructions detailed in the GS Pay UPI payment app's manual. The process involves choosing the GS Pay option from the menu, registering your bank, and voila, you're ready for UPI payments. The setup is straightforward and doesn't necessitate advanced tech skills.
Entertainment Features:
The itel SuperGuru 400 isn't just about UPI payments. It also features an audio player, an inbuilt FM radio, and a variety of games. The loudspeaker delivers clear and powerful audio, augmenting the user experience. The phone also supports voice input for users who prefer it.
Long-lasting Battery Life:
Feature phones are renowned for their superb battery life, and the SuperGuru 400 lives up to this reputation. With a 1200mAh battery, it provides approximately 14 days of standby time, so you can stay connected without worrying about frequent charging.
Budget-Friendly Pricing:
The itel SuperGuru 400 comes with a price tag of just Rs. 1699, making it an affordable and accessible choice for those seeking a feature phone with UPI payment capabilities.
Conclusion:
The itel SuperGuru 400 has created a unique space for itself in the feature phone market. It has redefined the conventional perception of feature phones being basic by introducing UPI payments. With its sleek design, impressive battery life, and affordability, it offers a compelling choice for users desiring a simple feature phone without compromising on the convenience of digital payments. This move is a testament to itel's dedication to innovation and inclusivity in the ever-evolving mobile technology landscape.