PhonePe, a leading digital payment platform, introduces a groundbreaking feature that allows users to conveniently pay self-assessment and advance income tax. The 'Income Tax Payment' feature enables individuals and businesses to fulfill their tax obligations directly from the PhonePe app, eliminating the hassle of logging into the tax portal.
Partnering with PayMate, a prominent digital B2B payments and service provider, PhonePe ensures a seamless and efficient tax payment experience for its users. The app provides two payment options: users can make tax payments using their credit cards, with the added advantage of a 45-day interest-free period and reward points from select banks, or they can opt for the popular UPI mode.
Upon successful payment, taxpayers receive a Unique Transaction Reference (UTR) number within one working day as an acknowledgement. Additionally, the tax payment challan is made available to users within two working days, further streamlining the process.
Niharika Saigal, Head of Bill Payments and Recharge Business at PhonePe, expressed excitement about the new feature, stating, "Paying taxes can often be complex and time-consuming, but PhonePe now offers users a hassle-free and secure way to fulfill their tax obligations. We believe that this will transform the way our users pay taxes as we have made the process simple and easy."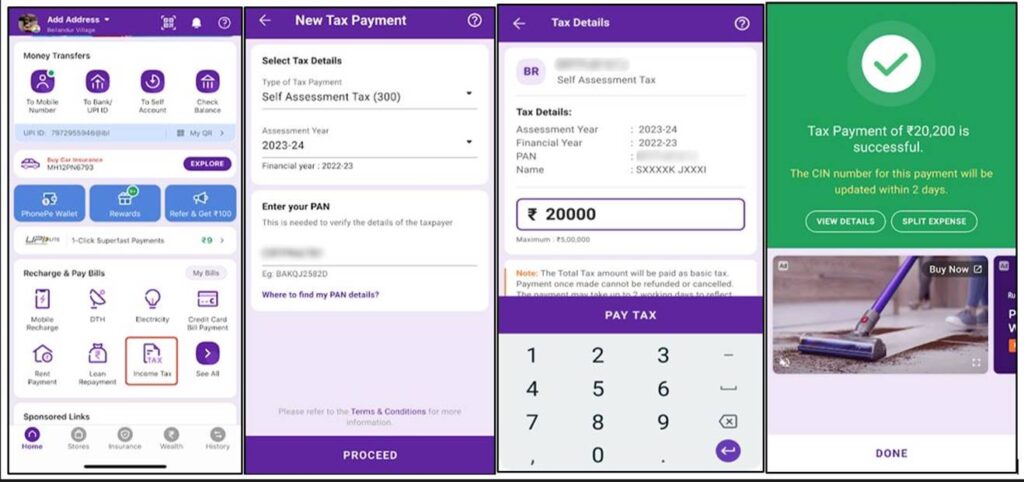 With just three simple steps, users can easily make their tax payments through the PhonePe app:
Open the PhonePe app homepage and tap on the 'Income tax' icon.
Select the Type of Tax, the assessment year, and provide PAN Card details.
Enter the total tax amount and pay using the preferred mode of payment.
The introduction of the 'Income Tax Payment' feature on the PhonePe app marks a significant step towards digitizing financial processes and promoting ease of taxation for millions of users in India. With its user-friendly interface and secure payment options, PhonePe continues to evolve and cater to the evolving needs of its customers.