Xiaomi, a brand known for its innovative tech products, has launched the Xiaomi Uniblade Trimmer. This trimmer stands apart from its predecessors with its unique design, compact size, and an array of features that make it an essential addition to your grooming kit.
Unboxing the Xiaomi Uniblade Trimmer reveals a user manual, a USB to Type-C cable, and the trimmer itself, all neatly packed in a compact box. The trimmer's design is notably different, boasting a sleek finish and ergonomic shape.
The trimmer comes with two accessories – a comb head and a special blade. The comb head features a dial that allows you to adjust the length of the cut, making it an ideal tool for haircuts or beard trimming. The special blade, on the other hand, can be used for a close shave.
Attaching the accessories to the trimmer is a straightforward process. The blade, which is the main component, locks securely into the trimmer after aligning the dots and twisting it slightly. Once attached, the blade remains firmly locked and does not detach easily.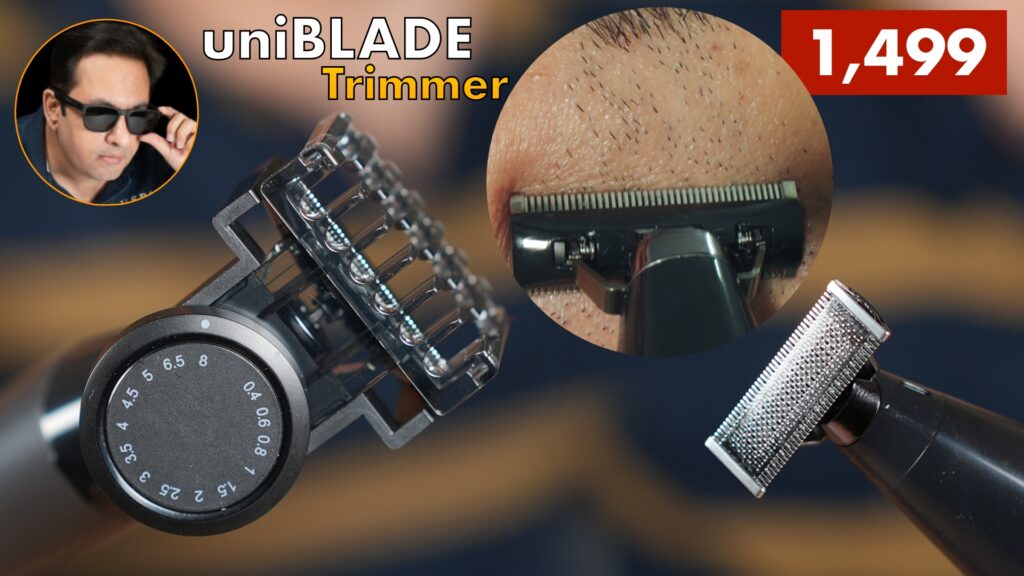 The Xiaomi Uniblade Trimmer is powered by a built-in battery, which can be charged using the provided Type-C cable. Upon pressing the power button, the trimmer starts vibrating, indicating that it is ready for use.
The standout feature of the Xiaomi Uniblade Trimmer is undoubtedly its special blade. Made of stainless steel, the blade is sharp yet safe enough to avoid cutting the skin while easily cutting through hair. The blade flexibility allows it to glide smoothly over the skin, ensuring a comfortable shaving experience.
The trimmer is also equipped with a 3-way precision shaving head, designed to provide a skin-friendly shave. Furthermore, the trimmer is IPX7 water-resistant, allowing for easy cleaning under running water.
The Xiaomi Uniblade Trimmer offers a smooth and irritation-free shave, although it may not provide an ultra-clean shave like a traditional razor blade. However, its versatility, ease of use, and the convenience it offers make it a commendable grooming tool. The trimmer's battery life is impressive, providing ample time for multiple grooming sessions on a single charge.
In conclusion, the Xiaomi Uniblade Trimmer is a unique and interesting addition to the grooming market. Its compact size, distinct blade system, and water-resistant feature, combined with its good battery life, make it a worthwhile investment for those seeking a versatile and reliable grooming tool.