The Zlade Ballistic trimmer is undoubtedly the best trimmer for balls and overall body grooming for men. This trimmer has been specifically designed to cater to men's intimate grooming needs, and its safe technology ensures no cuts or nicks while trimming. With detachable heads and comb, it offers versatility and precision for all your grooming needs.
The Zlade Ballistic body trimmer has garnered positive reviews, with many considering it the best body groomer for men in 2023. As personal hygiene and grooming have become essential aspects of a man's routine, the Zlade Ballistic Manscaping trimmer provides a grooming solution that meets all the requirements. Whether you are looking for a trimmer for your private area or want to groom your entire body, the Zlade Ballistic body trimmer is the perfect fit. So, upgrade your grooming game with the Zlade trimmer and achieve a clean and confident look.
Manscaping, a term used to describe the grooming of male body hair, has often been considered a taboo topic in our society. However, with the growing awareness around personal hygiene and the need for self-care, men's grooming has become an essential aspect of their daily routine. To cater to this need, Zlade has come up with an innovative product – the Zlade Ballistic Manscaping Full-Body Trimmer for Men.
With the latest technology and uniquely designed blades, the Zlade Ballistic Trimmer is a 5-in-1 trimmer that caters to all your manscaping needs. The detachable heads come with different settings and combs, which can be adjusted according to your grooming requirements. The trimmer is safe to use, and the blades prevent any cuts or nicks from happening, ensuring a smooth and hassle-free grooming experience.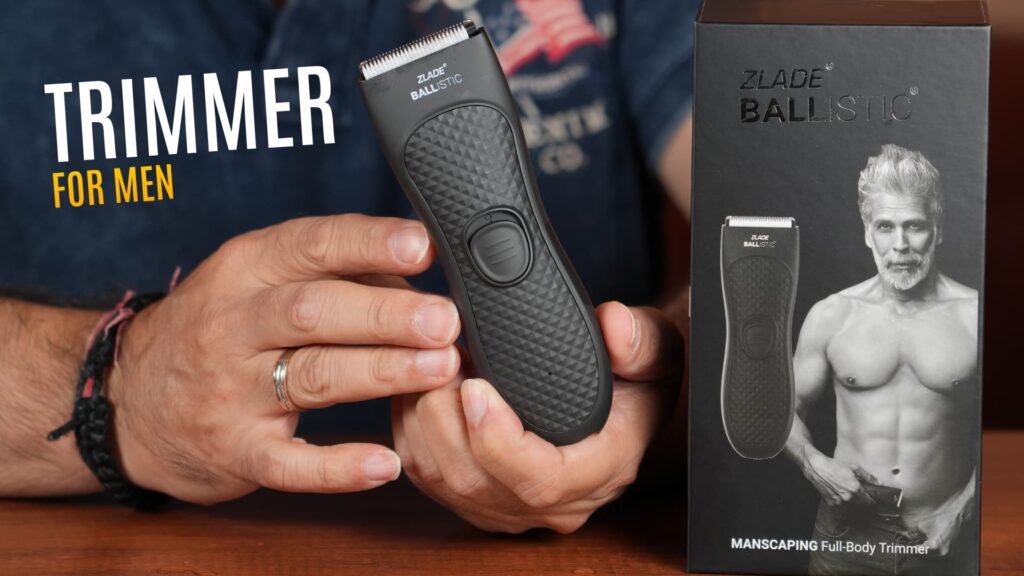 One of the key features of the Zlade Ballistic Trimmer is its rapid charging and extended runtime. With a runtime of over 90 minutes, the advanced lithium battery lasts really long, and the trimmer can be operated with or without a cord. The sleek and compact design of the trimmer makes it easy to carry around and use on the go. The robust ABS, anti-slip, and silicone body provide a perfect grip, while the IPX6 water-resistant feature ensures that the trimmer can be used in the shower or under running tap water.
As a brand, Zlade is committed to normalizing misconceptions surrounding manscaping and creating awareness about the problems created by a lack of care for it. To highlight the subject, Zlade has onboarded Milind Soman, a well-known personality in India, for its Zlade Ballistic Trimmers, aiming to create a change in this segment.
The Zlade Ballistic Trimmer is priced at Rs. 3,499/- and can be purchased on Zlade's website as well as other e-commerce portals like Amazon, Flipkart, Nykaa, etc. It gives the best-in-class grooming experience from head to toe and is perfect for those who want to keep their personal hygiene in check.
The quintessential trend of 'No Shave November' or 'Movember' dictates the forgo grooming to raise awareness around prostate cancer and other men's health issues. The influences of the west have encouraged Indian men to follow this month-long adventure. However, it is crucial to understand that personal hygiene and grooming are essential aspects of self-care and should not be ignored.
In conclusion, the Zlade Ballistic Manscaping Full-Body Trimmer for Men is an excellent product that caters to all your manscaping needs. With its advanced technology and safe-design, it provides a hassle-free grooming experience. As a society, we need to normalize conversations around personal hygiene and grooming and understand the importance of self-care. So let's take a step towards normalizing manscaping and make it a part of our daily routine.
Buy here – https://amzn.to/3zv56eE