Motorola has recently launched its new smartphone, Moto G13 in India, and it has already started to compete with the Poco C55. Both smartphones come with MediaTek Helio G85 octa-core processor and an IPS LCD display with HD+ resolution. However, there are certain features that make them different from each other.
To start with, let's talk about the design. The Poco C55 comes with a leather-type finishing that gives it a different look, and you can see the stitches too. On the other hand, the Moto G13 looks like premium segment smartphones. It has a flat back and uses acrylic glass with premium PMMA material. It also has the thinnest bezels and a coin vibrator. The design is subjective, and it is up to you to decide which one suits your preferences.
Both smartphones have different fingerprint sensors. The Poco C55 has a fingerprint sensor at the back, while the Moto G13 has a side fingerprint sensor. The weight and thickness of the Moto smartphone are great, and it is lightweight and slim compared to the Poco C55. The Moto G13 is also smaller, which might be an advantage for some people who prefer small phones.
When it comes to the display, the Poco C55 has a 6.71-inch display, while the Moto G13 has a 6.5-inch display. The Poco C55 supports a 60Hz refresh rate, while the Moto G13 supports a 90Hz refresh rate. The Moto G13 also supports 576Hz touch sampling, which means you will get a smoother experience on the Moto G13 smartphone, especially while playing games.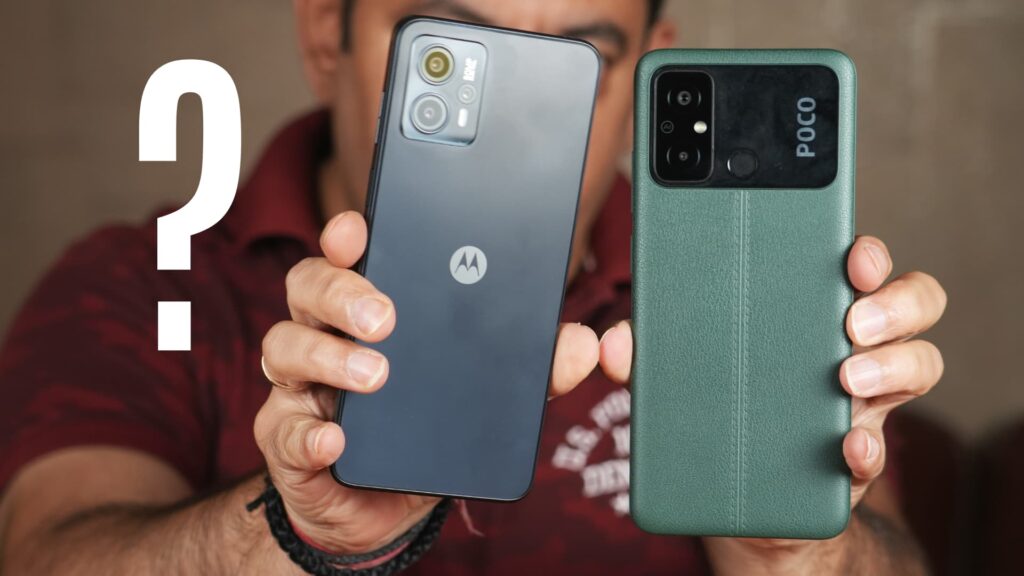 Both phones come with their own UI. However, you will get a stock Android experience on the Moto G13 smartphone. Additionally, the Moto smartphones come with a lot of gestures that make them unique. For instance, you can turn ON/OFF the light using a gesture, which is a unique feature that you get on the Motorola smartphones.
One of the significant differences between the two phones is their charging port. The Poco C55 comes with a micro USB port, while the Moto G13 comes with a Type C port. Both smartphones support 10W charging, but it might make a huge difference in usability. For instance, if you are traveling and you do not have a micro USB cable, you cannot charge your Poco C55, whereas you can charge your Moto G13.
Another advantage of the Moto G13 is that it comes with an IP52 certification, which makes it splash-resistant. Additionally, the Moto G13 has stereo speakers, while the Poco C55 has a single speaker. This means that you will get a better sound experience on the Moto G13 when watching videos or listening to music.
Both smartphones are powerful, and you can use them for gaming. However, games will run on low graphics quality. Both smartphones come with a 5000mAh battery, and 10W charging is supported. A 10W charger is given in the box for both phones.
The price for both smartphones is the same, Rs. 9999. However, the Poco C55 is the 6GB 128GB variant, while the Moto G13 is the 4GB 128GB variant. This means that there is a little difference in RAM, but it does not make a significant difference in performance.
In conclusion, both smartphones have their own pros and cons. The Moto G13 is better for those who prefer a smaller phone, a better sound experience, and an IP52 certification. The Poco C55 is better for those who prefer a larger display and are not bothered by the micro USB charging.