Looking for the ultimate solution to inefficient and inaccurate tyre inflators that take forever to inflate your vehicle's tyres? Look no further than the Qubo Smart Tyre Inflator! With a maximum pressure of 150 PSI, this handy inflator can fully inflate two car tyres or top up car tyres eight times on a single charge. It's compact, portable, and delivers 45.4% higher inflation performance compared to other inflators.
Buy here – https://amzn.to/41zO76L
Thanks to its digitally controlled air-pressure sensors, inflation accuracy is improved to ±1 psi, which means your tyres are always inflated to the correct pressure. The inflator is powered by an inbuilt 2000 mAH Lithium battery, meaning you can energize the compressor on-the-go with no need for external power sources.
The preset pressure feature makes it easy to set your tyre pressure, and the inflator automatically stops inflating your tyres when the desired pre-set pressure is reached, so you don't have to worry about overinflating your tyres. With an inbuilt LED light and SOS emergency flashing feature, this inflator is an excellent choice for any nighttime emergency.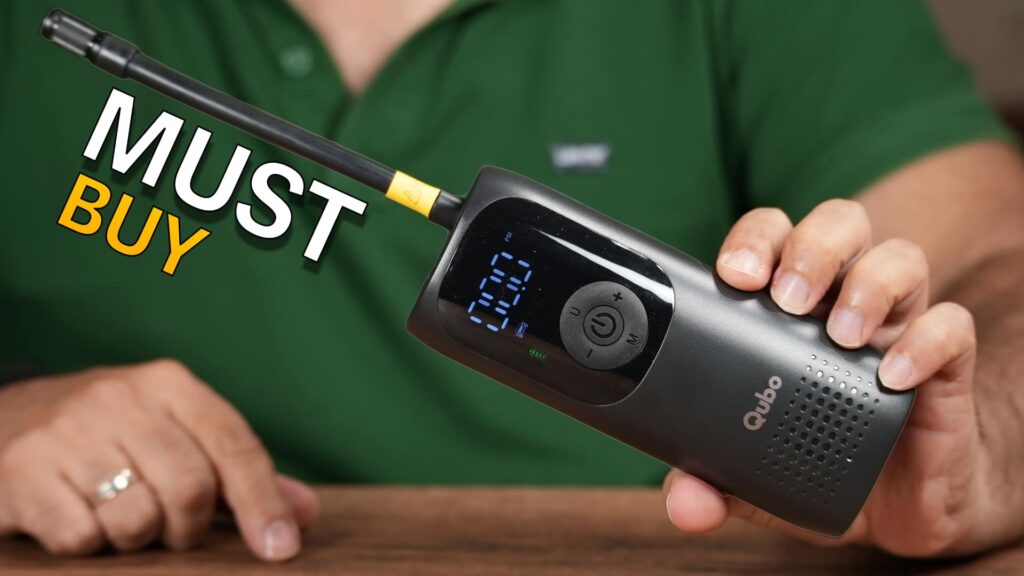 Plus, it comes with three extra nozzles making it a versatile tool that works on a variety of tyres, sports equipment, and inflatables. At just Rs.2790, this must-have Qubo Smart Tyre Inflator is affordable and perfect for every vehicle owner.
Why wait any longer? Order yours today and experience efficient, accurate and engaging inflation!