In an era where smartphones have become indispensable, finding a device that balances price with performance can feel like a Herculean task. Enter the POCO M6 Pro 5G, a budget-friendly smartphone that refuses to compromise on power, design, or functionality. Starting at just ₹10,999, this marvel of modern technology is sure to turn heads and elevate your mobile experience.
buy here – https://www.flipkart.com/
Turbocharged Performance with 4nm Snapdragon Processor
The POCO M6 Pro 5G is equipped with a robust 4nm Snapdragon 4 Gen 2 processor. Thanks to its advanced 4nm fabrication process, this smartphone delivers lightning-fast speeds and seamless multitasking capabilities, allowing you to switch between apps without any hiccups.
Multitask Like a Pro with Turbo RAM
The POCO M6 Pro 5G takes multitasking to new heights with its Turbo RAM feature. Offering up to 12GB RAM (6GB LPDDR4X + 6GB Virtual) in its top variant, this phone ensures quick and easy optimisation for all your tasks.
Dazzle with Premium Design
Boasting a premium glass design, the POCO M6 Pro 5G is as stylish as it is powerful. Its clean aesthetics and dazzling appearance are sure to make a lasting impression wherever you go.
Immersive Viewing Experience with Massive Display
With a massive 16.24 cm (6.79) display and a 90 Hz refresh rate, the POCO M6 Pro 5G ensures a smooth and immersive viewing experience. Whether you're gaming, streaming shows, or scrolling through social media, this phone delivers crisp visuals and seamless navigation.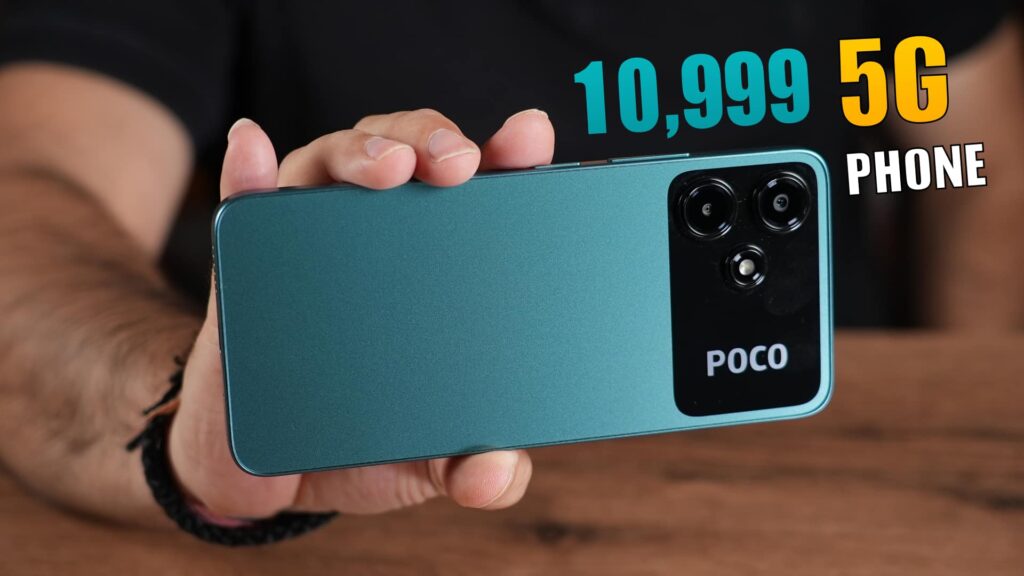 Capture Life's Moments with 50 MP Dual AI Camera
Armed with a 50 MP Dual AI Camera, the POCO M6 Pro 5G allows you to capture stunning photos and videos with ease. From Night Mode to HDR and portrait modes, this phone empowers you to unleash your creativity. It also features an 8 MP selfie camera and a 2 MP depth camera, catering to all your photography needs.
Stay Powered Up with 5000 mAh Mega Battery
Don't let a low battery interrupt your day. The POCO M6 Pro 5G is powered by a whopping 5000 mAh battery, enabling long hours of entertainment, gaming, or browsing. Plus, with a 18W Type-C charger included, you can recharge your device quickly and get back to enjoying your favourite activities.
In conclusion, the POCO M6 Pro 5G is a budget smartphone that doesn't skimp on features or performance. With its powerful processor, ample RAM, stunning design, large display, versatile camera, and long-lasting battery, it offers outstanding value for money. So why wait? Step into the future with the POCO M6 Pro 5G.
This video is about poco m6 pro 5g review and poco m6 pro 5g unboxing. The best sasta 5g smartphone in India. Or you may say this is the best 5G phone under 11,000 in India.