The realme Pad 2 marks a significant advancement in the tablet market, providing a notable upgrade designed to meet the demands of today's youth. Equipped with state-of-the-art features, it is poised to be the ideal tablet for the contemporary generation.
Buy here – https://buy.realme.com/in/goods/664?utm_source=pchome&feedback=pad2
A Whole New Level of Visual Pleasure: 29.2cm (11.5") 120Hz 2K Display
The realme Pad 2 showcases the largest 29.2cm (11.5") 120Hz 2K display in its class, redefining standards for visual excellence. The high 120Hz refresh rate ensures a seamless and enjoyable visual experience, particularly during gaming or content streaming. The tablet smartly adjusts the screen refresh rate to balance power usage and enhance display performance for various applications.
Boundless Viewing Experience: 11.5-inch 2K Display
Featuring an 11.5-inch 2K display, the realme Pad 2 transcends traditional tablet screen boundaries. Its nano-edge design not only provides an impressive 85.2% screen-to-body ratio but also promotes a limitless, immersive viewing experience. The 1200 x 2000 pixel resolution guarantees vibrant and sharp details for a superior visual feast.
Authentic Color Display: 1 Billion Colors and 01 Ultra Vision Engine
The realme Pad 2 impresses with its 1 billion original colors, a characteristic usually associated with premium tablets. This ensures accurate color representation, enhancing the viewing experience. Additionally, the tablet comes with the 01 Ultra Vision Engine, supporting video color enhancement for high-quality video playback.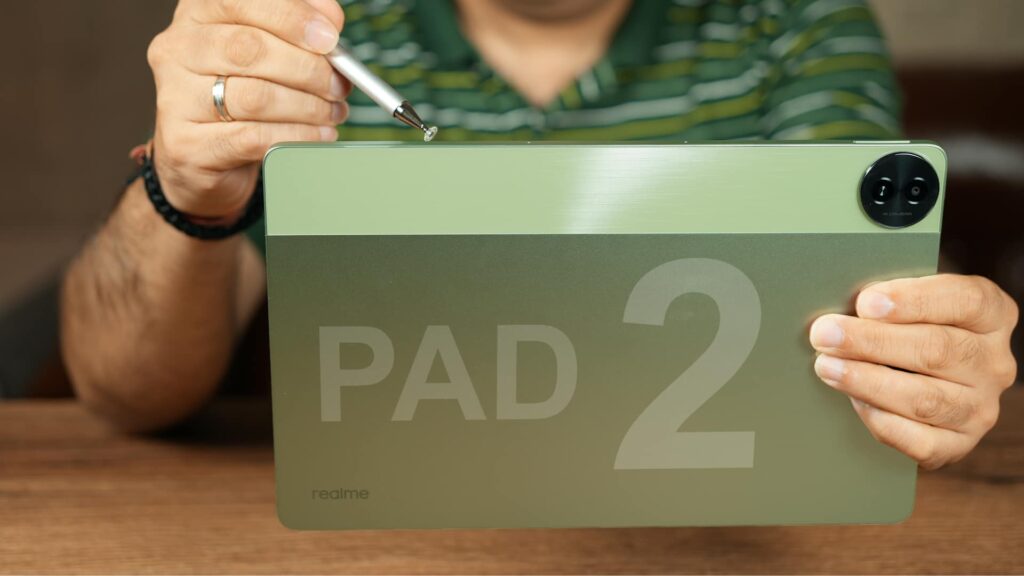 Eye Care for Prolonged Use
For those who spend extended periods on their tablets, the realme Pad 2 is equipped with several eye care features. The Eye Comfort Mode decreases blue light emission, lessening eye strain during prolonged use. The DC dimming technology allows for flicker-free brightness adjustments, reducing eye fatigue. Additional features like Dark Mode, Sunlight Mode, and Night Mode further improve the user's visual comfort in various environments.
A Comprehensive Productivity Powerhouse
The realme Pad 2 shines in the productivity aspect, thanks to its impressive hardware and software capabilities.
Mega Battery and Rapid Charging: The tablet comes with a substantial 8360mAh battery, offering up to 1347 hours of standby time. With the segment-exclusive 33W SUPERVOOC fast charge, users can charge up to 50% in just 50 minutes. Moreover, the realme Pad 2 supports reverse charging, serving as a power bank for smartphones.
Generous Memory and Dynamic RAM Expansion: Offering up to 8GB RAM and 256GB ROM, the realme Pad 2 establishes a new memory standard in its price range. The tablet also incorporates Dynamic RAM Expansion technology, delivering a 16GB-like experience. This facilitates effortless multitasking and smoother application transitions.
Potent Helio G99 Chipset: Powered by the Helio G99 octa-core chipset, the realme Pad 2 provides remarkable performance. The 6nm chipset guarantees improved power efficiency and quicker computing, making it perfect for gaming, social media, and everyday tasks.
realme UI 4.0 for Pad: Based on Android 13, the realme UI 4.0 introduces a variety of new and handy features to enhance the user experience. The Multi-screen Collaboration feature allows smooth communication between the tablet and compatible realme smartphones, enabling content synchronization and screen mirroring for boosted productivity.
Dolby Atmos Quad Speakers and Ultra-thin Design: Certified by Dolby Atmos and Hi-Res, the realme Pad 2 delivers a superior audio experience through its quad speakers. The tablet's slim 7.2mm profile, combined with a metal body, makes it portable and user-friendly.
The realme Pad 2 is set to transform the tablet experience for younger users, offering flagship-level features and robust performance at a reasonable price. Whether for entertainment, productivity, or creativity, the realme Pad 2 is crafted to fulfill the versatile needs of the modern generation.