A game changer indeed, well style changer to be precise the new Moto g84 5G looks will blow your mind and the price too. You can get this handset for 18,999 effective price.
Interestingly, the Moto g84 5G is the first phone under 20K to come with a 12GB + 256GB variant. Priced at Rs. 19,999, with an effective price of Rs. 18,999 after bank offers, this device offers excellent value for money. Additionally, Reliance Jio customers can avail benefits worth Rs. 5,000.
Buy here – https://www.flipkart.com/motorola-g84-comingsoon-jnd8oi3-k8ioi-store
In the current smartphone market, the demand for high-performance devices at affordable prices is peaking. Catering to this demand, Motorola has launched the new Moto g84 5G. This device comes with a host of premium features that are sure to capture the interest of tech enthusiasts and everyday users alike.
Pantone has once again demonstrated its brilliance in the world of design with a carefully curated selection of colors. Among these captivating hues, the Pantone Color of the Year, Viva Magenta, takes center stage. Viva Magenta represents a vibrant and lively shade that embodies creativity, energy, and innovation. It serves as an inspiration to designers, artists, and creators across various industries, encouraging them to infuse their work with the same vitality and spirit that this captivating color exudes. Pantone's commitment to setting the tone for design trends continues to shape the way we perceive and engage with colors, making Viva Magenta a symbol of both the present and future of design.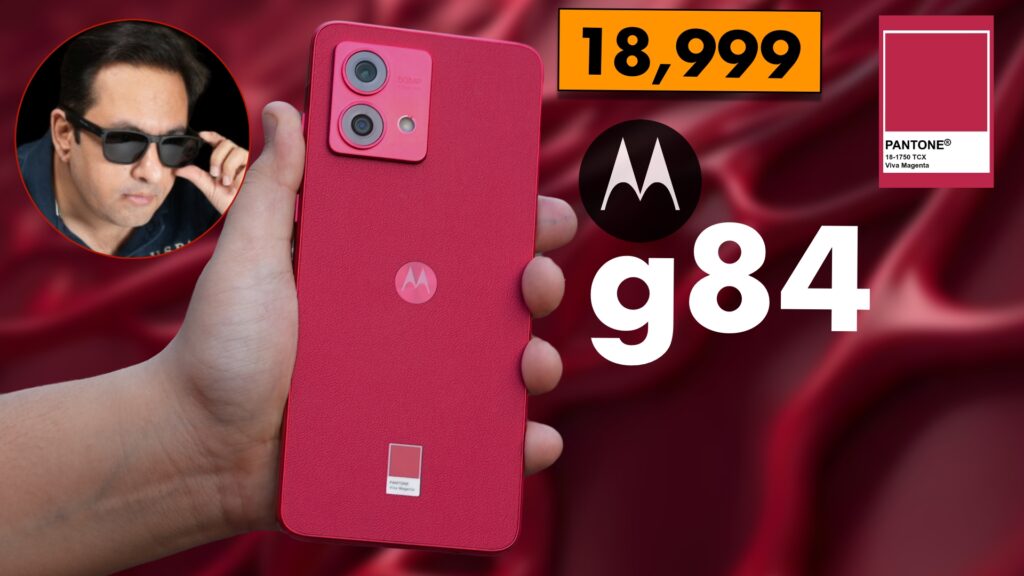 The Moto g84 5G boasts the latest Android™ 13 operating system, with an assured upgrade to Android 14 and security updates for three years. At its core, it is powered by the Snapdragon 695 processor, featuring an octa-core CPU and a 900MHz Adreno 619 GPU. With 12GB RAM and 256GB built-in storage, the device promises smooth performance and ample space for all your apps and media.
The design of the Moto g84 5G is both stylish and practical. It is available in two vegan leather variants and one 3D Premium PMMA variant, weighing just 168.3g. Its IP54 water repellent design ensures durability, while the 16.64cm (6.55″) pOLED 10-bit display provides an immersive visual experience with a 120Hz refresh rate and peak brightness of 1300 nits.
The Moto g84 5G is also equipped with a robust camera setup. The 50MP rear camera features an f/1.88 aperture, ultra pixel technology, and optical image stabilization. The device also houses an 8MP ultra-wide-angle camera and a 16MP front camera. Macro Vision and video stabilization further enhance the photo and video capabilities of the device.
The Moto g84 5G supports 5G and 4G LTE connectivity with multiple bands and dual SIM functionality. Additional features include dual stereo speakers, Dolby Atmos®, Moto Spatial Sound, Hi-Res Audio, Bluetooth® 5.1, Wi-Fi 802.11 a/b/g/n/ac/ax, Type-C port, various sensors, and an on-screen fingerprint reader.
Unique features like ThinkShield for mobile, Peek Display, Attentive Display, and gesture controls add to the user-friendly experience of this device.
The Moto g84 5G is a feature-packed device offering great design, brilliant display, robust performance, and impressive camera capabilities at an affordable price. Whether you're a tech enthusiast or a regular user looking for a reliable smartphone, the Moto g84 5G should be on your radar.