Estimated reading time: 3 minutes
If you're in the market for a new desktop monitor or extended display, then you might want to check out the OnePlus Monitor X 27. This sleek and stylish monitor packs a punch when it comes to performance, making it a great choice for gamers, creatives, and professionals alike.
One of the standout features of this monitor is its tear-free gameplay technology, powered by AMD Freesync Premium. This ensures that you get smooth and fluid visuals, without any screen tearing or jittering. The adaptive frame rates also match the game you're playing, so you can enjoy a pro-level gaming experience.
But it's not just about gaming. The OnePlus Monitor X 27 also boasts sharp 2K QHD resolution and bright DisplayHDR 400 color, making it ideal for streaming content, viewing images, or reading text. The wide 178° IPS panel also ensures that you can see the screen clearly from all angles.
Another impressive feature is the hyper-realistic visual experience, thanks to the 10-bit color and DCI-P3 95% color gamut. This adds brighter color and detail to everything you view, whether it's a photo or a fantasy world in your favorite RPG game.
But the OnePlus Monitor X 27 isn't just about performance. It's also designed with your comfort in mind. It's TÜV Rheinland certified for low blue light and flicker-free visuals, so you can work or game for hours without straining your eyes. Plus, the three-side bezel-less design and sturdy metal stand with integrated cable management keep your desktop clean and organized.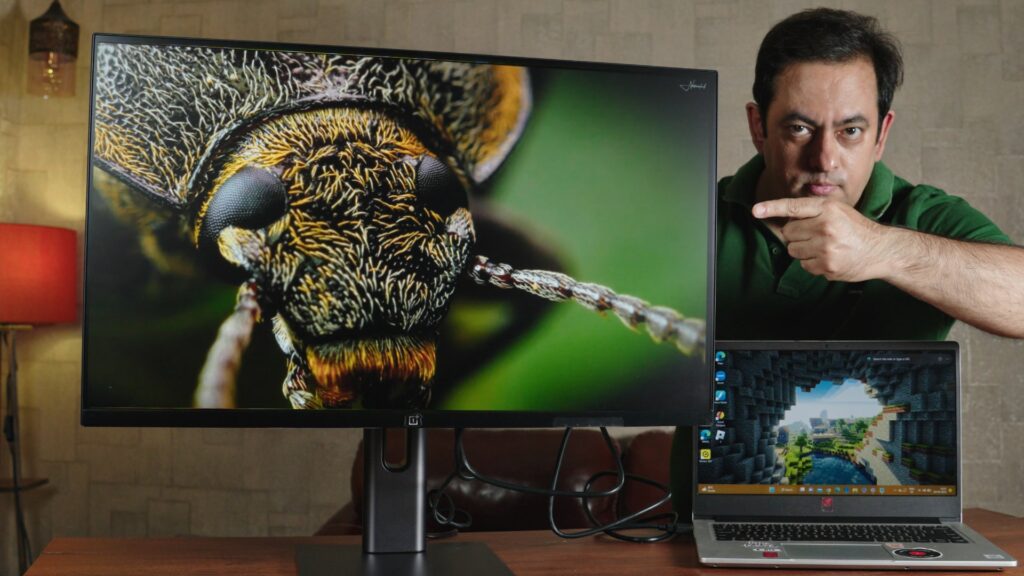 If you need to charge your laptop or display your phone or tablet screen, the Type-C port has got you covered. With 65W fast charging and the ability to transmit your display feed at the same time, you can say goodbye to messy power adaptors, cables, and dongles.
Customizing your viewing experience is also a breeze with five different modes, including Game mode with four optimized sub-modes for the best visuals, no matter what you play. And if you need to multitask, the dual PbP and PiP split screen modes let you view documents from two different devices side-by-side or stream a video from your phone in the top right corner of your screen.
All in all, the OnePlus Monitor X 27 is a great choice for anyone in need of a high-performance, versatile, and comfortable desktop monitor or extended display. At a price of Rs. 27,999 in India, it's definitely worth considering for your next upgrade.
Buy here – https://amzn.to/3SQm7sX