Amazfit Bip 5: The Smart Watch with Ultra Large Screen, Alexa Integration, and Health Tracking. Amazfit, a renowned name in the smartwatch industry, has launched its latest model, the Bip 5. This feature-packed smartwatch comes with a 1.91" ultra-large screen, Bluetooth calling, built-in Alexa, GPS tracking, health fitness tracker with heart rate and blood oxygen monitoring, and an impressive 10-day battery life.
Buy here – https://amzn.to/3qOHWQ3
Enthralling Display
The Bip 5 offers an immersive experience with its ultra-large 1.91″ display. The high-resolution LCD touchscreen boasts a pixel density of 260 PPI, delivering vibrant and crystal-clear visuals.
Seamless Connectivity
With a built-in microphone and speaker, the Bip 5 allows you to make or answer phone calls directly from your watch, using a Bluetooth connection to your smartphone.
Powered by ZEPP OS 2.0
The Bip 5 runs on the Zepp OS 2.0, which provides access to a rich ecosystem of over 70 apps and games. Whether you're looking for health, fitness, or daily life apps, this smartwatch has got you covered.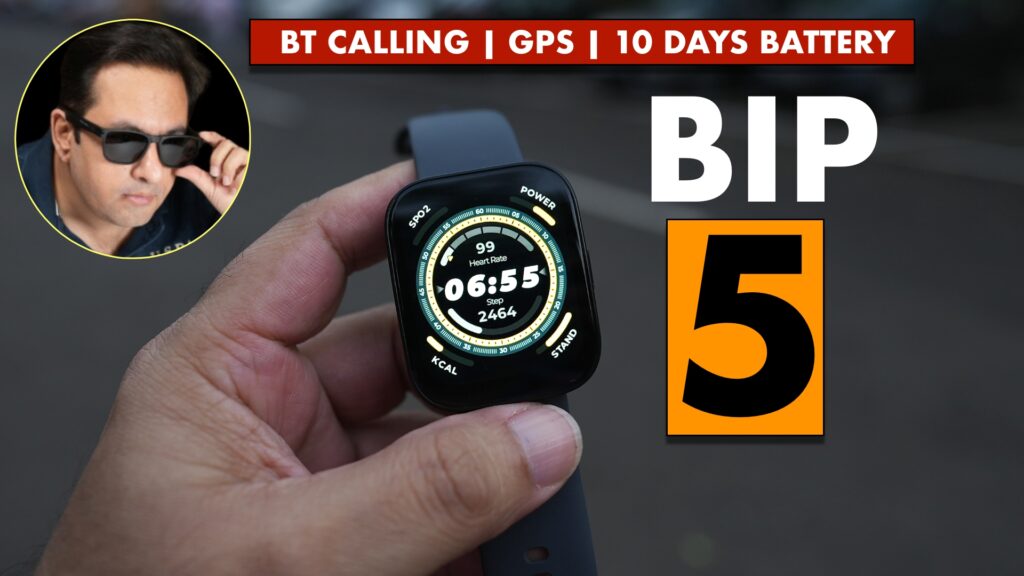 Personalized Watch Faces
Style your smartwatch your way with over 70 different watch faces. You can even personalize the home-screen with your own photos or switch between up to three uploaded pictures every time you wake up the display.
Alexa Integration
The Bip 5 comes with Amazon Alexa built-in, serving as your hands-free personal assistant. Check the weather, set an alarm, get translations, and more with just your voice commands.
Comprehensive Fitness Tracking
With over 120 sports modes, the Bip 5 caters to a wide range of workout preferences. It also features an auto-detect function for seven sports, allowing you to monitor your performance without any hassle.
Accurate GPS Tracking
The Bip 5 supports four satellite positioning systems, offering robust and precise GPS tracking during outdoor sports activities.
Smart Health Monitoring
Monitor your blood-oxygen saturation, heart rate, stress levels, sleep quality, and menstrual and fertility periods with the Bip 5. It also provides smart alerts for abnormal health readings.
Long-lasting Battery Life
The Bip 5 boasts a long battery life of up to 10 days with typical usage. In Battery Saver Mode, it can last up to a staggering 26 days.
Priced at Rs. 7,999 in India, the Amazfit Bip 5 offers a blend of style, functionality, and convenience. It's not just a smartwatch; it's a comprehensive lifestyle companion that keeps you connected and healthy.