In the world of athletics and outdoor sports, having the right equipment can make all the difference. With the fēnix 7 Sapphire Solar multisport GPS watch, athletes and outdoor enthusiasts alike can meet any challenge with confidence. This rugged watch is designed to withstand the toughest conditions and provide advanced training features, sports apps, and health and wellness monitoring sensors to help you achieve your goals.
One of the most impressive features of the fēnix 7 Sapphire Solar is its scratch-resistant Power Sapphire solar charging lens. This innovative technology uses the sun's energy to extend the battery life of the watch, so you can go longer between charges. With up to 22 days of battery life in smartwatch mode and up to 57 hours in GPS mode, this watch is designed to keep up with your active lifestyle.
In addition to its solar-powered battery, the fēnix 7 Sapphire Solar offers a range of features to help you track and improve your performance. Wrist-based heart rate monitoring and Pulse Ox technology give you real-time data on how your body is responding to your activities. The PacePro feature offers customized coaching based on the terrain you're running on, while MTB Dynamics tracks your performance on mountain biking trails.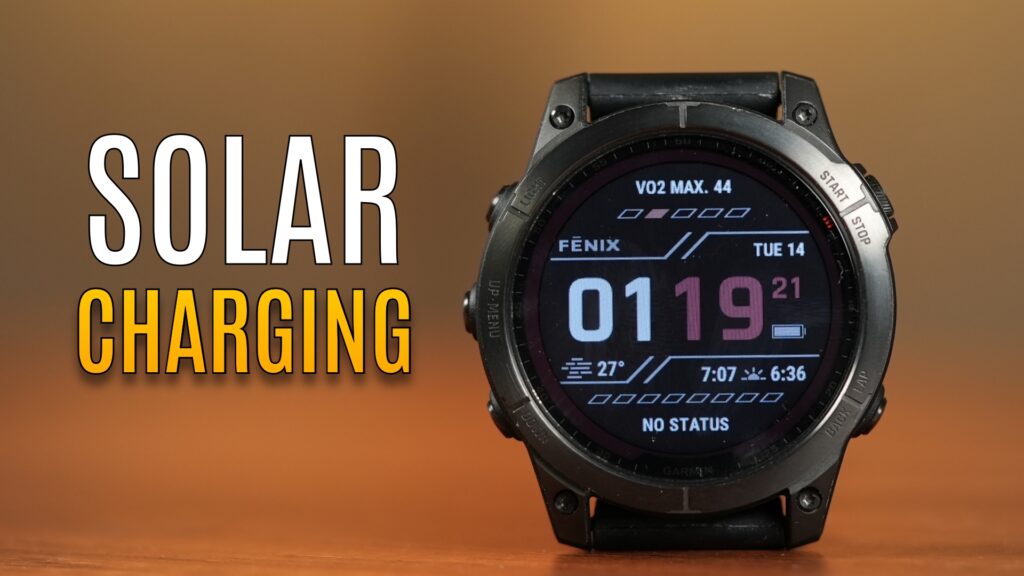 For runners, the Visual Race Predictor uses your training history and overall fitness level to estimate your pace for a given distance, while advanced training metrics like heat- and altitude-adjusted VO2 max and trail running adjustment help you fine-tune your training regimen. And with real-time stamina monitoring, you can avoid overexerting yourself and optimize your performance.
But the Garmin fēnix 7 Sapphire Solar isn't just for athletes. The watch's health and wellness monitoring features provide valuable data on your sleep quality, recovery, and training load, so you can make informed decisions about when to push yourself and when to take it easy. And with music on your wrist and no need to carry a phone, you can stay focused on your activities without distractions.
The fēnix 7 Sapphire Solar is designed for performance, with an ultratough athletic design that meets U.S. military standards for thermal, shock, and water resistance. The watch features trusted button controls that work in any environment, as well as a responsive new touchscreen interface for quick access to selections and functions. And with stylish DLC or titanium bezel options, you can customize the watch's look to fit your lifestyle.
Whether you're a serious athlete or just enjoy outdoor activities, the fēnix 7 Sapphire Solar multisport GPS watch is a must-have accessory. With its advanced features, rugged design, and solar-powered battery, this watch can help you meet any challenge and achieve your goals. So why wait? Go longer and get stronger seven days a week with the fēnix 7 Sapphire Solar.