Xiaomi India, the leading smartphone and smart TV brand in the country, has announced a new mission in partnership with United Way India, a renowned global philanthropy network. The objective of this collaboration is to empower five villages in the Palghar district of Maharashtra by providing them with convenient access to sustainable energy solutions.
The primary focus of this partnership is to equip these villages with reliable and sustainable energy through the implementation of Solar Photovoltaic (Solar PV) infrastructure. The initiative aims to promote clean and renewable energy by establishing a sustainable solar grid system in the villages. This will ensure a consistent and reliable electricity supply, significantly improving the quality of life for the villagers.
Muralikrishnan B, President at Xiaomi India, expressed his enthusiasm for the partnership, stating, "At Xiaomi, we are dedicated to creating a brighter future for all, and we are proud to join forces with United Way India to turn this vision into a reality. Our solar electrification project is a step towards promoting green energy that is not only sustainable but also reduces the environmental impact."
He further added, "Moreover, our latest initiative will empower rural communities and create opportunities for growth. Through this partnership, we are committed to promoting sustainable solutions that benefit society and the environment, ultimately working towards eradicating energy poverty in the Palghar District."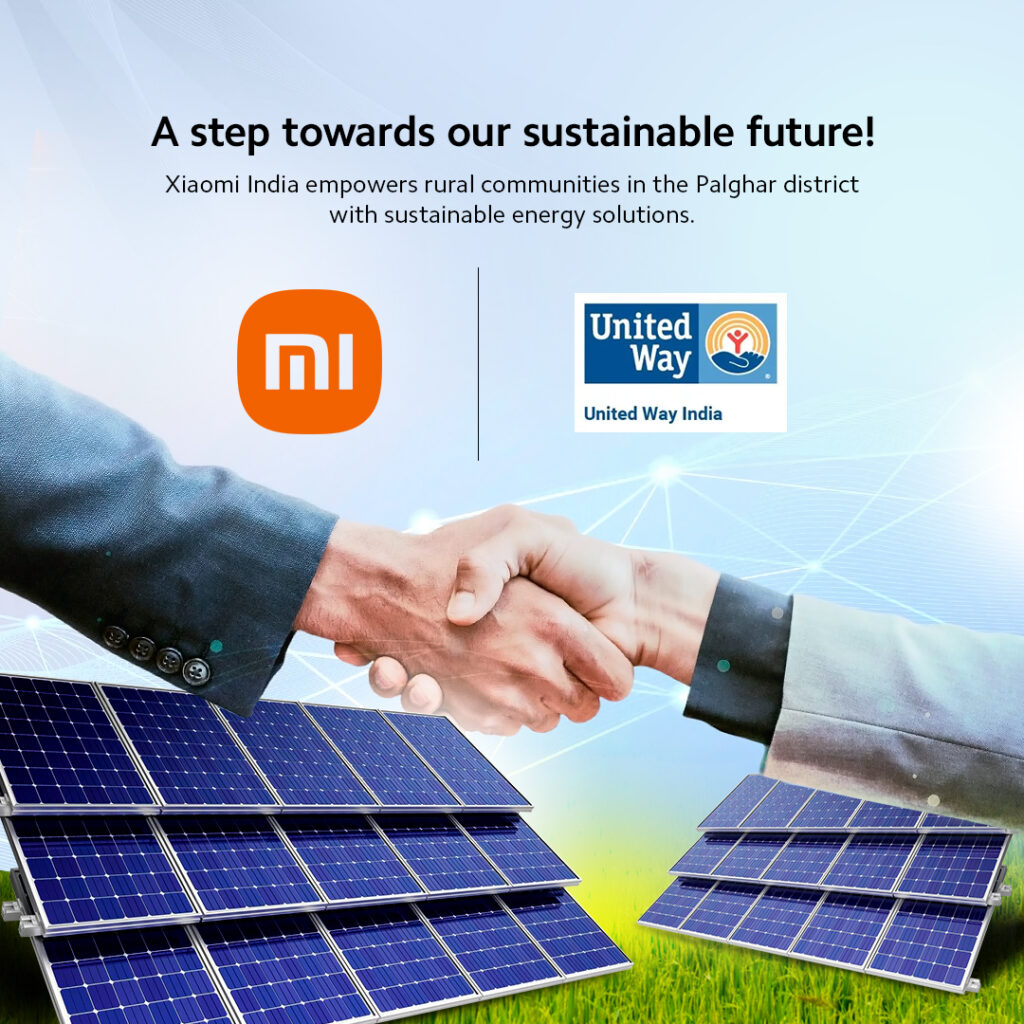 Jayanti Shukla, CEO of United Way India, expressed her views on the collaboration, saying, "The transformation of rural India through the provision of solar power will not only impact homes, education, health, social security, and livelihood opportunities but also empower villagers to sustain this change and become self-sufficient. This collaboration is a perfect opportunity to give back to our community. We are delighted that Xiaomi is supporting us on this journey towards a self-reliant India through interventions that align with our integrated community impact model, helping offset carbon emissions, keeping the environment clean, and uplifting rural communities."
The problem of inadequate and unreliable electricity supply has been a longstanding issue for over 150 villages in Palghar and nearby districts of Mumbai and Pune. These remote villages experience frequent power outages, lasting 6-10 hours each day. This deficit has significantly impacted the residents' quality of life, particularly children who face challenges in accessing basic amenities, hindering economic growth.
By providing access to reliable and affordable electricity, this intervention will facilitate various initiatives such as zero wood/zero fossil fuel cooking, clean water availability, sustainable agriculture, and the achievement of Sustainable Development Goals (SDGs), ultimately leading to the creation of net-zero energy communities for over 1,500 people.
The initiative also aims to provide green energy to approximately 150 homes, ensuring access to basic necessities such as lighting for children to read, write, and learn, as well as 24/7 clean drinking water. Furthermore, the solar infrastructure will serve as a platform for livelihood activities and income generation, enabling solar-powered cold storage, solar-powered tailoring, and other income-generating opportunities.