Estimated reading time: 3 minutes
These sunglasses are not just any ordinary eyewear. The sunglasses' frames are crafted from post-consumer plastic waste that is conventionally believed to be unrecyclable. This waste material encompasses chip packets, chocolate wrappers, and other types of multi-layered packaging (MLP) that are not typically recycled on a global scale.
Firstly, they are UV polarized which means they provide protection to your eyes from the sun's harmful rays. Additionally, they are lightweight and have a trendy thick look, while weighing only 26 grams. They are also durable and flexible, adapting easily to your face shape and can withstand damage from accidental falls or impacts.
These sunglasses are unisex, medium-sized, and come in a suave Charcoal Black color that is exclusive to this product. 
But that's not all; these sunglasses are also the most sustainable sunglasses you can own. The QR code on the side of the sunglasses allows you to scan and learn about the impact you are creating. You can see where the waste material came from, which waste-pickers collected it, and worked on it.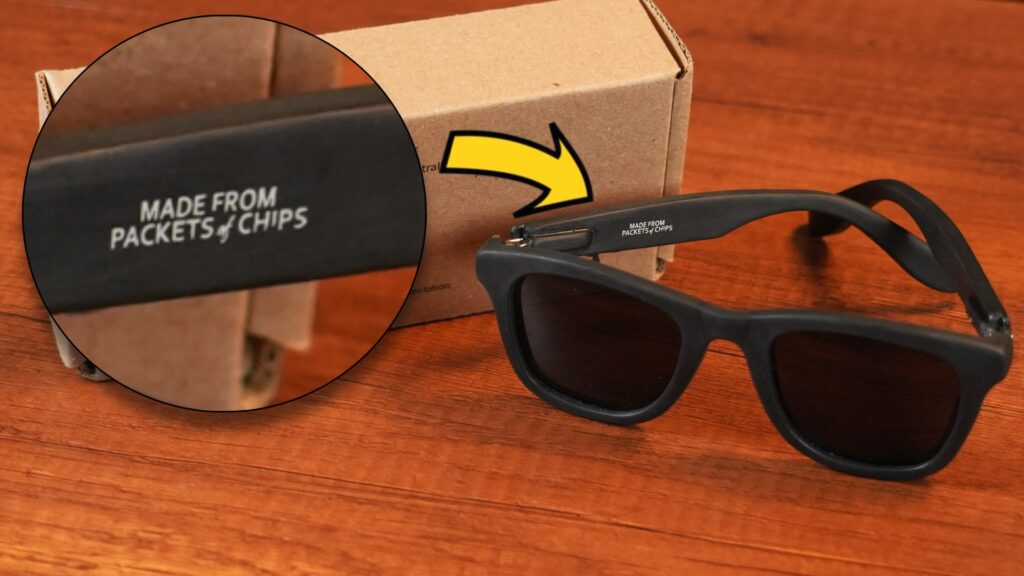 The frames of the sunglasses are made from post-consumer plastic waste, which is traditionally considered impossible to recycle. These waste materials include packets of chips, chocolate wrappers, and other multi-layered packaging (MLP) that is typically not recycled globally. However, the company have found a way to recycle them and you can contribute by purchasing these sunglasses. These are the world's first recycled sunglasses made from packets of chips, where one frame represents five packets of chips recycled.
In addition, 10% of all sales go towards school scholarships for children of waste-pickers. The company has also incorporated waste-pickers into the supply chain and pay them a premium for the waste they collect, which no one else buys.
The packaging is plastic-free and sustainable from The MEND Packaging, and the carbon footprint of the delivery is neutralized through Climes.io. If the sunglasses ever break, you can send them back for free, and company will recycle them for you.
By wearing these sunglasses, you are not just wearing a fashion accessory, but you are also promoting positive change.
These are world's first recycled sunglasses made from packets of chips.
buy here – https://ashaya.in/product/r-sunglasses/