In the fast-paced world of digital photography, where images are taken and forgotten in an instant, there's something undeniably charming about the tangible nature of instant prints. Fujifilm, a name synonymous with quality and innovation in the world of photography, presents the Fujifilm INSTAX Mini 90 Camera, a true gem for photography enthusiasts seeking to capture cherished memories in a unique and delightful way.
Buy here – https://amzn.to/3KbgUbP
The Fujifilm INSTAX Mini 90 Camera is designed to deliver high-performance results while retaining the nostalgic charm of instant prints. One of its standout features is the ability to optimize exposure, making it the ideal companion for capturing alluring night views and mesmerizing light streaks that come alive in every shot. Whether you're gazing at a city skyline or exploring a starlit landscape, the Mini 90's Bulb exposure mode lets you unlock your creativity, resulting in photographs that are nothing short of magical.
To cater to a wide range of photographic interests, the camera comes equipped with various shooting modes, each tailored to specific scenarios. The party mode brings life to your social gatherings, kids mode captures the playful innocence of children, the landscape mode captures the grandeur of nature, and the macro mode delves into the intricate world of close-up photography. With these versatile modes at your disposal, the possibilities for stunning photos are limitless.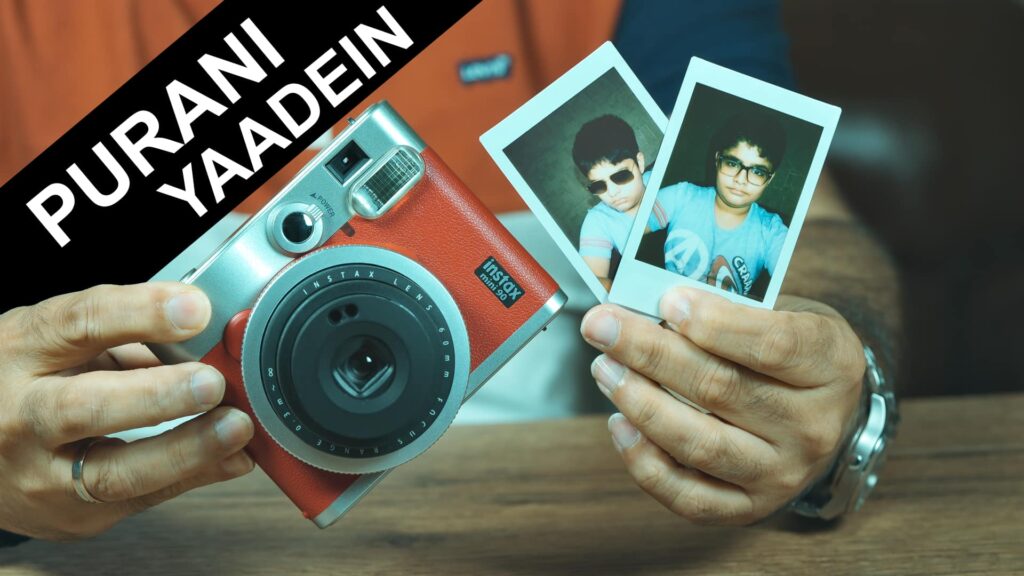 One of the key appeals of the Fujifilm INSTAX Mini 90 Camera lies in its convenient and user-friendly design. The pocket-sized 62 x 46mm prints it produces, using 86 x 54mm Instax Film, make it easy to carry and share your memories with loved ones. The inclusion of a selfie timer mode and flash on/off option ensures that capturing selfies or group photos is a breeze, allowing you to be a part of the memory-making process.
Navigating through different modes and functions is made simple with the intuitive MODE dial. While looking through the viewfinder, you can effortlessly rotate the dial to switch between shooting modes, making it easy to adapt to various shooting conditions on the fly. Moreover, the camera's tripod socket mount enables you to attach it to a tripod for added stability, ensuring shake-free shots, especially in low-light situations.
The Fujifilm INSTAX Mini 90 Camera is thoughtfully designed to accommodate different shooting preferences, offering two shutter release buttons for added convenience and flexibility. Whether you prefer capturing photos with your index finger or thumb, the camera caters to your individual shooting style.
Beyond its creative shooting modes and user-friendly design, the Fujifilm INSTAX Mini 90 Camera also boasts a variety of photographic modes to experiment with. From double exposure for captivating artistic blends to the bulb mode for extended exposure times, this camera lets you push the boundaries of your creativity.
Hailing from the land of innovation and craftsmanship, Japan, the Fujifilm INSTAX Mini 90 Camera showcases the dedication to excellence that has become synonymous with Japanese products. It comes with an NP-45A rechargeable battery and a BC-45C battery charger, ensuring you have the power needed to capture your memories whenever and wherever inspiration strikes.
The Fujifilm INSTAX Mini 90 Camera is priced at Rs. 9,199, offering exceptional value for its unique features and outstanding performance. For those looking to explore the world of instant photography without breaking the bank, Fujifilm also offers other models starting from Rs. 4,999 onwards, making the joy of instant prints accessible to everyone.
In a world flooded with digital images, the Fujifilm INSTAX Mini 90 Camera stands out as a creative tool that brings joy, nostalgia, and a touch of magic back to the art of photography. With its ability to capture attractive night views, dazzling light streaks, and the essence of every moment, this camera is sure to become the perfect companion for anyone with a passion for preserving memories in a timeless and tangible form. So, grab your Fujifilm INSTAX Mini 90 Camera and embark on a journey of creative expression that will make your memories truly unforgettable.