Moto G84 5G vs. OnePlus Nord CE 3 Lite 5G – A Clash of Stunning Smartphones. In the world of smartphones, aesthetics often play a crucial role in our decision-making process. The Moto G84 5G and OnePlus Nord CE 3 Lite 5G are two contenders that aim to captivate users with their stunning designs. In this comparison, we'll delve into their respective features to help you decide which one deserves the title of India's most stunning smartphone.
Design: Moto G84's Unparalleled Elegance
Moto G84 5G immediately stands out with its breathtaking design. Adorning the Pantone color of 2023, Viva Magenta, and boasting pure vegan leather, this smartphone exudes luxury. The vegan leather not only provides a premium feel but also repels fingerprint smudges, ensuring it stays immaculate. The sleek and slim profile of the Moto G84 further enhances its appeal, making it hard to believe it comes at such an affordable price.
OnePlus Nord CE 3 Lite 5G, on the other hand, offers a good design but appears slightly bulkier in comparison. Its glass-type finish can be a bit slippery and prone to fingerprints, requiring frequent cleaning. While OnePlus certainly holds its ground, Moto G84 takes the lead in the design department.
Display: Moto G84 Shines Brighter
The disparity between the displays of these two smartphones is evident. Moto G84 boasts a 6.5-inch FHD+ POLED display with a 120 Hz refresh rate and a remarkable 10-bit display. With a dazzling 1300 nits of brightness and an in-display fingerprint sensor, it outshines the OnePlus Nord CE 3 Lite 5G's 6.72-inch IPS LCD display with 120 Hz, 8-bit, and 550 nits. This means the Moto G84 5G remains clearly visible even in direct sunlight, offering a superior viewing experience.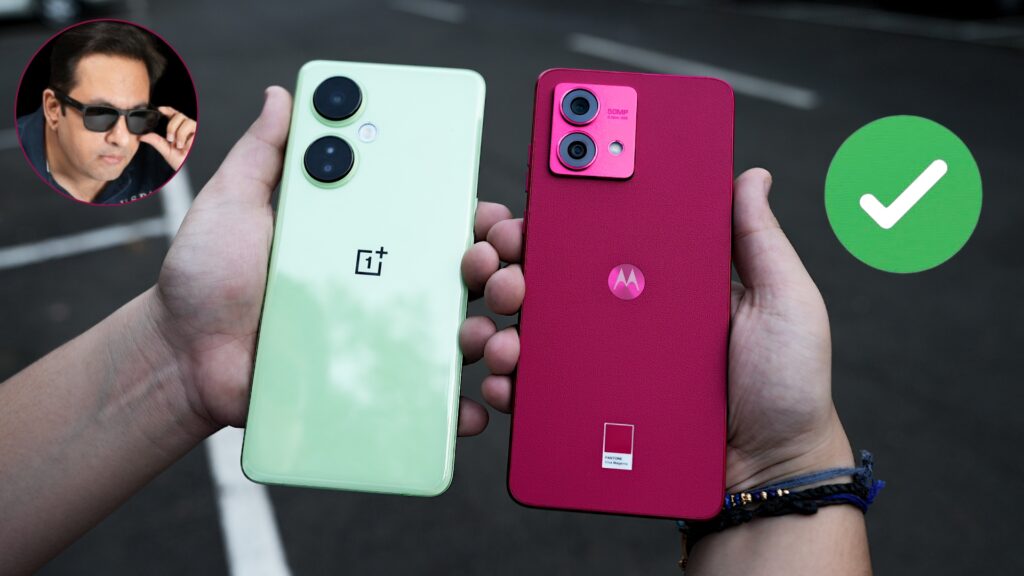 Performance: A Slight Edge for Moto G84
Both phones employ the Snapdragon 695 5G processor, resulting in similar Antutu benchmark scores. However, the Moto G84 5G shines brighter in this department. With 12GB of RAM and 256GB of storage, it offers a smoother gaming experience compared to the Nord CE 3 Lite's 8GB RAM and 128GB storage. The Moto software also adds several useful features, ensuring a near-stock Android experience.
Battery and Charging: OnePlus Takes the Lead
While both smartphones feature a 5000mAh battery, the OnePlus Nord CE 3 Lite 5G gains an advantage with its 67W charging support compared to the Moto G84's 33W. This means quicker refueling for your device.
Camera: Moto G84 Impresses with Versatility
In the camera department, Moto G84's 50MP OIS + 8MP dual-camera setup delivers impressive results. The inclusion of a wide-angle option provides versatility. In contrast, the OnePlus Nord CE 3 Lite 5G features a 108MP + 2MP + 2MP triple camera setup, offering slightly different results. While the OnePlus camera can be adjusted to match the Moto's output, the Moto G84's point-and-shoot capabilities are generally superior.
Conclusion: Moto G84 5G – A Stunning All-Rounder
In this head-to-head comparison, the Moto G84 5G emerges as the winner, offering a winning combination of exquisite design, superior display, strong performance, and versatile camera capabilities. With an attractive launch offer price of Rs.18,999, it becomes an even more compelling choice for those seeking a stunning and feature-packed smartphone.