Xiaomi has officially launched MIUI 14 in an online event in India after its announcement in China in December and the global launch yesterday. MIUI 14 is designed to be more efficient with optimized storage, offer more intuitive interactions, have new on-device privacy features, and allow users to be more connected than before.
According to Xiaomi, MIUI 14 significantly reduces the space occupied by the firmware. With a reduction of approximately 4GB in the space occupied by MIUI, users can now use their ROM for the things that matter most to them.
MIUI 14 uses 200MB less boot-up memory than MIUI 13, resulting in the fastest boot-up speeds ever on a Xiaomi device. Additionally, foreground apps use up to 11% less RAM, and background apps use up to 6% less RAM than they did on MIUI 13.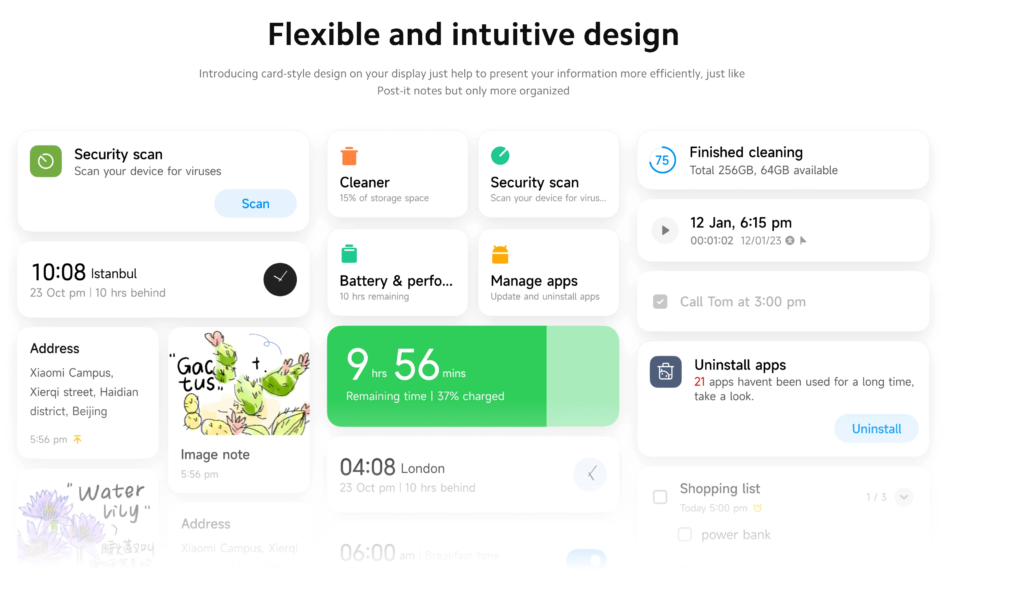 MIUI 14 also adds 14 new wallpapers, three new clock styles, and new widgets for the gallery and weather. Users can also enjoy new widgets for battery, step counter, cleaner, security, and more. The enlarged folder lets users open an app without opening the folder, while tabular icons offer more information in a 2 x 1 picture widget for apps such as sleep tracker and step counter.
The aesthetics of MIUI 14 are enhanced through a redesigned settings page that reduces the number of redundant entries, narrower line spacing, and more recognizable icons, making it easier than ever to find the settings users want.
The gallery has a new option to copy text from photos, remove people, lines, and shadows from images with the built-in editor, and add a protective watermark option to images. The new cut-out feature allows users to cut out an image and add a different background.
The camera app has a voice shutter feature that allows users to capture images by saying "cheese." Additionally, the MIUI video editor has new features.
Overall, MIUI 14 is designed to be more user-friendly and efficient than its predecessor, making it an attractive option for Xiaomi device users.
Xiaomi has announced the timeline for MIUI 14 updates for its devices in India. The first batch of devices, including Xiaomi 12 Pro, Xiaomi 13 Pro, Redmi Note 12 Pro 5G, and others, will receive the update in Q1 2023. The second batch, which includes Redmi Note 10, Redmi Pad, and others, will receive the update in Q2 2023. The third and final batch, which includes Redmi 10, Redmi Note 11, and others, will receive the update in Q3 2023. Check out the full list of supported devices and their respective update timelines.