FASTag is an electronic toll collection system implemented by the National Highway Authority of India (NHAI) that allows vehicles to pay toll fees through an RFID-based prepaid card. This system helps to eliminate long queues at toll booths and ensures a hassle-free travel experience.
However, recently, there have been reports of FASTags being blacklisted by certain banks and payment gateways. So, what are the reasons behind this issue, and how can one avoid it? Let's dive into the intricacies of FASTag and its working to find out more.
FASTag Blacklisted?
FASTag facilitates the automatic deduction of toll charges from a prepaid or savings account linked to it. When a FASTag is labeled as "blacklisted," it means that the particular tag is no longer valid for use at toll plazas and will not function for toll payments.
There are several reasons why a FASTag could get blacklisted, and we will explore each of them in detail.
Insufficient Balance
One of the most common reasons for a FASTag to be blacklisted is when there isn't enough balance in the linked account to pay the required toll fees. In this case, the validators at toll plazas mark the tag as blacklisted, rendering it unusable until the user replenishes the balance.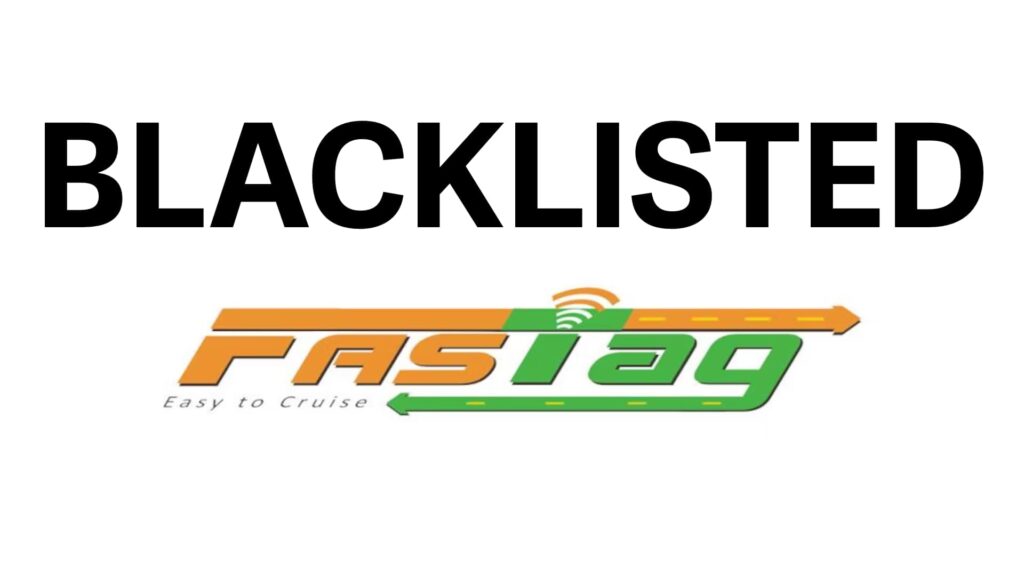 Tampering or Improper Installation
Improper installation or tempering of the FASTag can lead to malfunctioning or faulty readings at toll plazas. If a person attempts to tamper or modify the RFID tag to avoid toll payments, the tag could easily be blacklisted.
Multiple Violations
If a FASTag user consistently violates toll plaza rules, such as speeding through toll booths or attempting to use the tag on unauthorized vehicles, the tag may be blacklisted due to multiple violations.
Tag Misuse
Misuse of a FASTag, like using a forged or duplicated tag, will be flagged by the toll plaza system, and the tag will be blacklisted instantly to prevent any further incidents.
Non-Compliance
Non-compliance with the FASTag terms and conditions, such as not updating personal details, vehicle information, or payment details, can also result in the tag being blacklisted.
How To Avoid FASTag Getting Blacklisted
To avoid facing the inconvenience of a blacklisted FASTag, users should adhere to the following recommendations:
Maintain sufficient balance in the linked account and periodically review the account for any discrepancies.
Install the FASTag correctly, following instructions provided by the issuing authority or bank.
Avoid any violations or misuse of toll plazas or the FASTag system.
Comply with the terms and conditions as laid down by the authorized issuer.
By being vigilant and responsible, FASTag users can avoid the issue of blacklisted tags and continue to enjoy a seamless and hassle-free drive through India's highways.