Perfect time to buy check out the Xiaomi Fan Festival 2023 for some amazing deals on smartphones, smart TVs, and more. Xiaomi has announced that this six-day event will begin April 6 and conclude on April 11th 2023; during which you can receive discounts up to Rs 36,000 off various products such as smartphones, tablets, wearables, smart TVs and other smart home appliances.
One of the major highlights of this year's Xiaomi Fan Festival is the release of both Redmi 12C and Note 12 smartphones. Starting at Rs 8,999 for 4GB + 64GB variant and Rs 10,999 for 6GB + 128GB, these two phones can be had at an introductory price of Rs 8999 per device with an ICICI Bank cardholder getting an additional discount of Rs 500 on purchases. For those purchasing Redmi Note 12, prices begin at Rs 14,999 (6GB + 64GB variant) and Rs 16,999 (6GB + 128GB variant). Again, with your ICICI Bank card you'll receive an additional discount of Rs 1,000 plus an exchange bonus of Rs 1.5,000.
head on to Amazon check out offers
Xiaomi is offering discounts on a wide variety of products in addition to smartphones. The Xiaomi 13 Pro can be had for Rs 71,999; budget smartphones such as Redmi A1 and Redmi 11 Prime 5G will start at Rs 5,899; Pad 5 and Redmi Pad are both priced at Rs 24,499 and Rs 12,999, respectively; Xiaomi and Redmi Smart TVs also get discounted up to Rs 26500.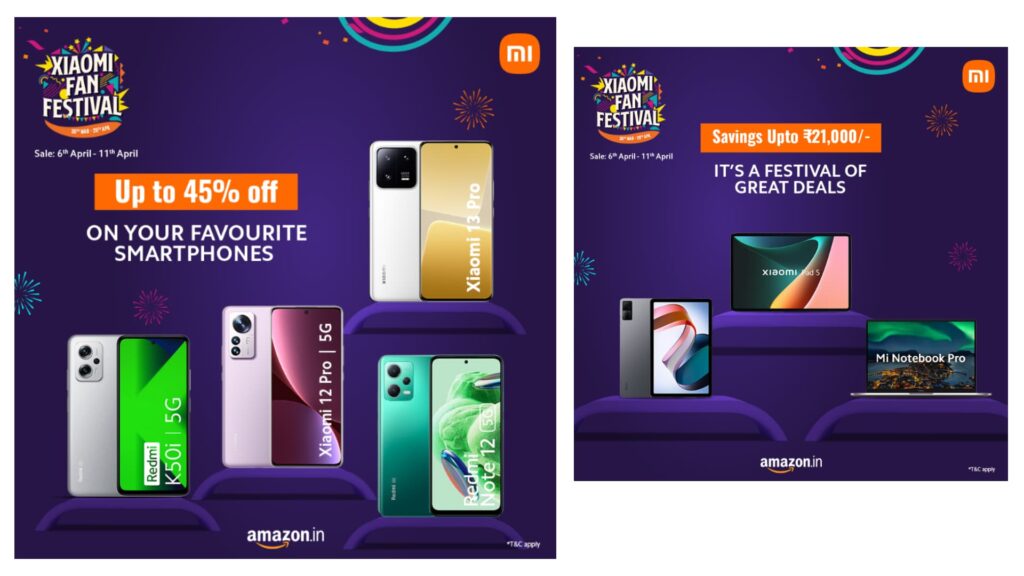 Xiaomi is offering a flat 25 percent discount on all Device Care Plans, such as Mi Extended Warranty, Mi Screen Protect and Mi Complete Protect. ICICI cardholders can take advantage of an additional discount up to Rs 8,000 plus cashback offers on Paytm Wallet – giving the Xiaomi Notebook Pro 120G an effective cost of Rs 68,999 after which it will become available for Rs 68,999; additionally the Xiaomi Smart Air Fryer (3.5L) gets discounted by Rs 3,000 to become available for Rs 5,999.
On top of these incredible offers, Xiaomi will also host daily contests and engagement activities during the Fan Festival – where interested buyers could win devices for as low as Rs 10. So make sure to mark your calendars for April 6th to take advantage of some great deals on gadgets and appliances during Xiaomi Fan Festival 2023!
head on to Amazon check out offers