Vu Televisions, a leading TV brand in India, has introduced the Vu Premium TV 2023 Edition, a new model that caters to a broad audience with its cutting-edge features and universal appeal. The latest addition to its product portfolio comes in sizes 43" and 55″, making it a perfect entertainment partner for any room in the house. The 43" and 55" versions of the Vu Premium TV 2023 Edition are priced at INR 23,999 and Rs.32,999, respectively, and will be available on Amazon, Flipkart, Vutvs.com, and retail stores across India.
The Vu Premium TV 2023 Edition boasts a high bright IPS panel with a grade A+ 400nits, providing an unparalleled viewing experience. Its built-in 50W soundbar with Dolby Audio enhances the audio quality and eliminates the need for additional speakers. Powered by the latest Google TV Operating System, the TV comes with a voice-activated hotkey remote control, making it easy to navigate and use. The logomania-inspired bezel adds to the TV's appeal, making it more attractive to younger customers.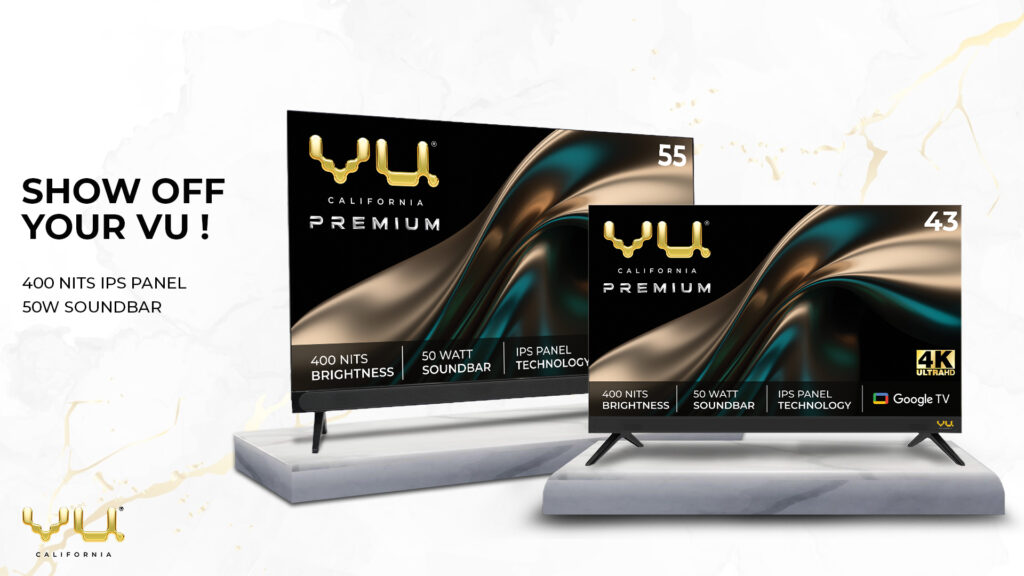 Devita Saraf, Founder, Chairman, and CEO of Vu Televisions, said, "At Vu, we take great pride in our commitment to providing the best customer care and service in the industry. As the only television brand that does its entire customer service, warranty, and repairs in-house from our ISO 9001-certified 24×7 customer support centre, we are able to offer unparalleled levels of support to our customers."
Saraf added, "We are thrilled to launch our latest product, the Vu Premium TV 2023 Edition. It has been designed to bring an exquisite viewing experience to a wide audience, and with a sales projection of 30,000 units on launch, we are confident that it will be quite a success. Our goal is to continue being the highest-rated TV brand in India, and we are confident that our latest product will help us achieve that goal." With a reach of over 19,000 pin codes across India, Vu Televisions remains committed to providing its customers with the best experience possible, from start to finish.