The Sony FX30 camera is a groundbreaking addition to the world of cinematography, designed to meet the demands of professional filmmakers and videographers. It offers cutting-edge technology, unparalleled versatility, and exceptional image quality. In this article, we will dive into the features and benefits of the Sony FX30, illustrating why it's a must-have tool for anyone looking to push the boundaries of their creativity.
Unmatched Image Quality
The Sony FX30 boasts a full-frame 35mm Exmor R CMOS sensor that delivers breathtaking image quality with exceptional detail, dynamic range, and low-light performance. It can capture stunning 4K footage at up to 120 frames per second, ensuring smooth and lifelike motion. With enhanced color science and wide color gamut, filmmakers can achieve vibrant and true-to-life visuals.
Advanced Autofocus and Stabilization
Powered by Sony's Real-time Eye AF technology, the FX30's advanced autofocus system provides precise and reliable focus tracking, even in challenging shooting conditions. The camera also has a 5-axis in-body image stabilization mechanism that minimizes camera shake and enables smooth handheld shots. These features are critical for capturing professional-grade footage without additional stabilization equipment.
Versatile Shooting Capabilities
The Sony FX30's multitude of shooting options allows filmmakers to unleash their creativity. It supports multiple recording formats, including XAVC S-I, XAVC HS, and XAVC S, for flexible workflows and post-production options. With the camera's S-Cinetone color profile, users can achieve beautiful cinematic looks straight out of the box, simplifying the grading process. Moreover, it supports anamorphic lens shooting, providing additional creative possibilities and unique aspect ratios.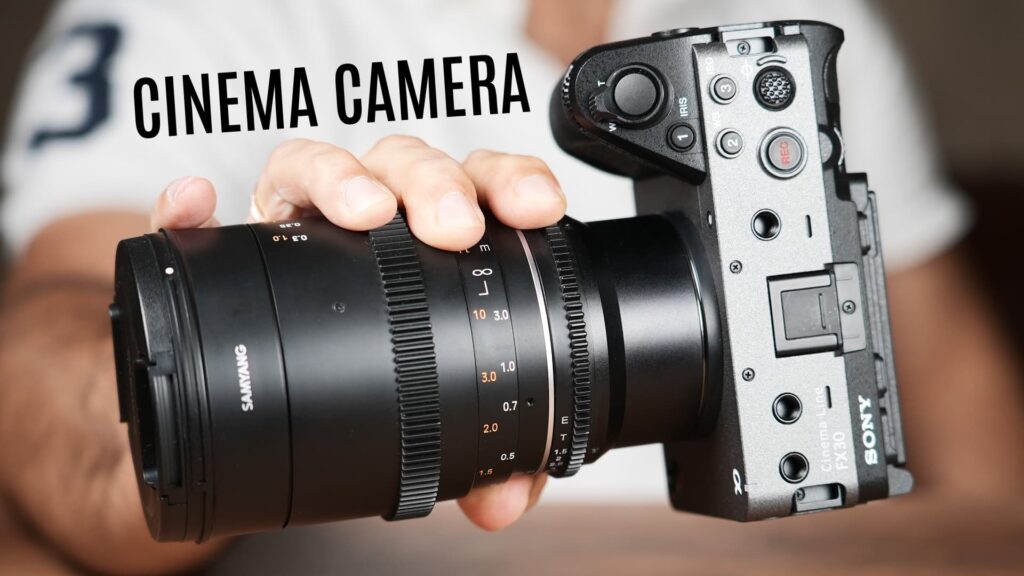 User-Friendly Design
The FX30's design prioritizes ergonomics and ease of use, especially during long shooting sessions. Its compact and lightweight build makes it highly portable and comfortable to handle. The camera features a high-resolution 3.5-inch LCD touchscreen for intuitive menu navigation and quick access to essential settings. Additionally, it includes customizable buttons and assignable functions, empowering filmmakers to personalize their shooting experience.
Professional Connectivity
The Sony FX30 offers various connectivity options to enhance workflow efficiency. It has dual CFexpress Type A card slots for high-speed data transfer and simultaneous recording during extended shooting sessions. The camera also supports professional audio inputs with XLR connectors, facilitating the use of external microphones and audio devices. Furthermore, it features HDMI output for uncompressed 16-bit RAW footage to be outputted to external recorders for maximum post-production flexibility.
Conclusion
The Sony FX30 is a game-changer in cinematography, providing professional filmmakers and videographers with an unrivaled tool to actualize their creative visions. Its exceptional image quality, advanced autofocus and stabilization, versatile shooting capabilities, user-friendly design, and professional connectivity make it an indispensable asset for capturing cinematic excellence. The Sony FX30 is an excellent choice for anyone seeking to take their storytelling to new heights. Embrace the power of the Sony FX30 and unlock your true creative potential.