In today's world where devices play a vital role in our everyday lives, a dependable power source is essential. Enter the Ambrane 25000 mAh Power Bank (Powerlit Ultra) – a portable powerhouse designed to keep you connected wherever life takes you. Boasting remarkable features and a massive battery capacity, this power bank efficiently charges a wide variety of devices, making it an indispensable accessory for tech enthusiasts.
Buy here – https://ambraneindia.com/products/powerlit-ultra
The Ambrane Power Lit Ultra Power Bank offers a rapid charging output of 100W, enabling it to charge high-powered devices like laptops. With a 20W USB output, it can also swiftly charge smartphones, tablets, and other USB-powered devices. This versatility makes it the perfect companion for professionals, travelers, and anyone requiring reliable power on the go.
A standout feature of the Ambrane Power Bank is its compatibility with Type-C laptops, allowing you to easily recharge your laptop without needing a traditional power outlet. Whether working in a café, attending meetings, or exploring nature, this power bank ensures your laptop remains charged and ready for action.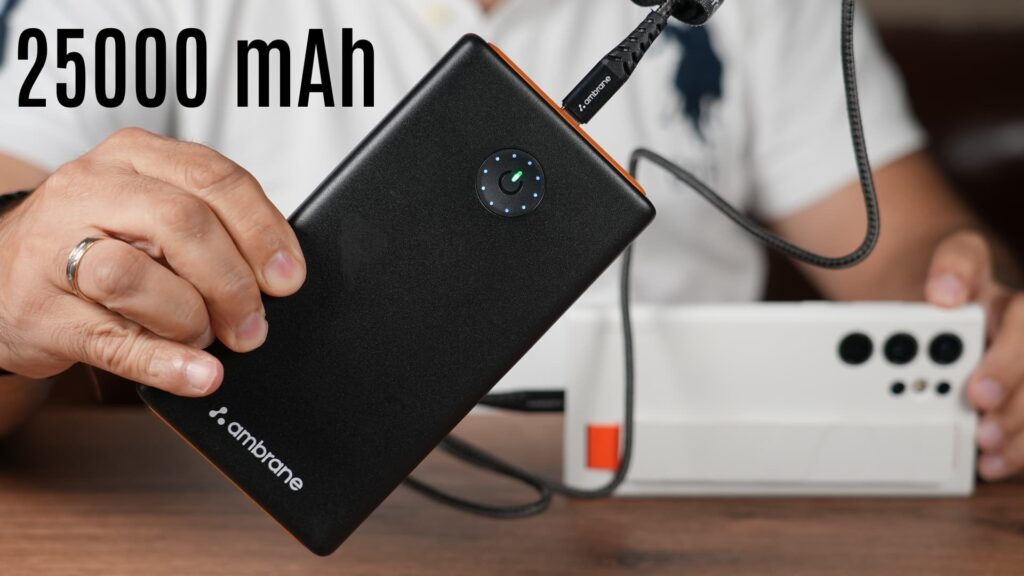 Featuring a massive 25000 mAh battery capacity, the Ambrane Power Bank can deliver multiple charges to your devices before requiring a recharge itself. This allows for uninterrupted device usage without worrying about running out of power. The lithium-ion battery type guarantees reliability and durability, ensuring the power bank's longevity.
When it's time to recharge the power bank, it offers a high-speed input of up to 100W, enabling quick recharging so it's always prepared to provide a power boost when needed. The portable design further enhances its convenience, making it easy to carry in your bag or pocket.
The Ambrane Power Bank incorporates cutting-edge technologies to improve charging efficiency. With Power Delivery Technology (PD) and Quick Charge 3.0, you can expect faster charging times for compatible devices – meaning less time waiting for your devices to recharge and more time enjoying their features.
Safety is paramount, and the Ambrane Power Bank is BIS certified, ensuring it meets the highest industry standards. The power bank also includes 11 LED indicators, allowing you to effortlessly monitor the remaining battery capacity and stay informed about the available power.
In summary, the Ambrane 25000 mAh Power Bank is a reliable and feature-rich portable power solution. With its fast charging output, Type-C laptop compatibility, immense battery capacity, and advanced technologies like Power Delivery (PD) and Quick Charge 3.0, it's a versatile accessory that caters to the power requirements of various devices. Ideal for frequent travelers, busy professionals, or anyone who values uninterrupted device usage, this power bank is an essential companion. Stay connected and powered with the Ambrane Power Lit Ultra Power Bank.