Are you searching for the perfect earbuds? OnePlus Nord Buds 2 are the ideal audio product to check out. These earbuds boast powerful sound, active noise cancellation and an impressive battery life – giving you everything you need to elevate your listening experience to the next level.
The Nord Buds 2 feature the BassWaveTM algorithm to dynamically enhance your sound for a balanced listening experience with deeper bass and clear vocals. Boasting an impressive 12.4mm driver and titanium-coated diaphragm, these earbuds deliver powerful yet clear audio that will make you feel like you're at a live concert.
But that's not all. The Nord Buds 2 also feature active noise cancellation (ANC), making them the first Fast and Smooth Nord audio product with up to 25dB of ANC. A dual-mic design combined with AI Clear Calls algorithm filter out background noise so calls sound crystal clear. And if you need more awareness of your environment, just turn on Transparency mode for added safety and awareness.
The Nord Buds 2 feature an individual rear cavity design to reduce background noise and capture every detail of your audio for a stunning, multi-layered listening experience. Plus, when paired with your OnePlus phone, you'll get ultra-immersive audio thanks to Dolby Atmos sound and the built-in Dirac Audio Tuner.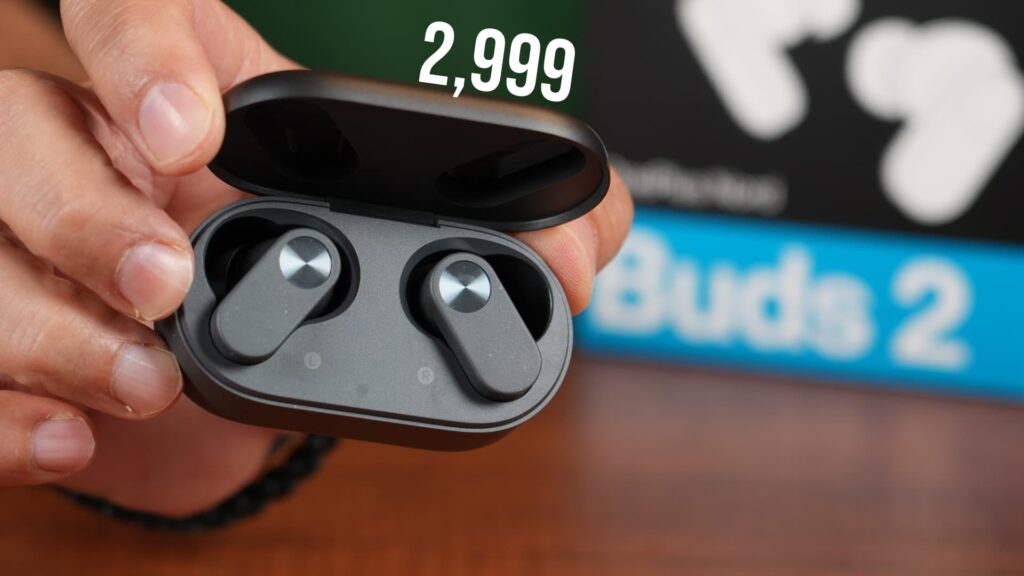 The Nord Buds 2 offer up to 7 hours of battery life on the buds and 36 hours with the charging case, giving you plenty of listening time throughout your all-day jam sessions. And if you're short on time, their fast charging feature gives five extra hours in just 10 minutes!
Finally, the Nord Buds 2 boast an IP55 sweat and water resistance rating so that you can dance your way through rainy days or intense workouts without fear of damaging your earbuds. Plus, their sleek design made from eco-friendly recycled materials ensures they look as fashionable as they perform – perfect for both style and functionality!
In India, the OnePlus Nord Buds 2 are priced at Rs. 2,999, making them an accessible option for anyone seeking high-quality earbuds. So don't wait any longer; get in the groove with the OnePlus Nord Buds 2 and experience powerful sound and ANC like never before.
Recently, OnePlus released their TWS earbuds, the OnePlus Nord Buds 2, in India. Boasting an elegant design made from eco-friendly recycled materials and delicate speckled accents, the Nord Buds 2 look stylish and contemporary. The Nord Buds 2 come equipped with Active Noise Cancelling (ANC), making them a standout purchase under 3000 INR. Charge the earbuds once for up to 7 hours of continuous playback or extend that duration up to 36 hours when using the charging case.
The charging case supports fast charging, providing five hours of playback time with only 10 minutes of charging. The OnePlus Nord Buds 2 boast a powerful 12.4mm driver with titanium coating for crystal clear sound and deep bass. The OnePlus Nord Buds 2 boast an impressive set of features and performance at an affordable price point. If you're searching for affordable TWS earbuds with great sound quality, ANC, and a stylish design, then the Nord Buds 2 should definitely be taken into consideration.
buy here – https://amzn.to/3m4R94o