Nothing, the forward-thinking tech company, has officially announced the launch of Nothing Phone (2), their latest flagship smartphone. With a mission to make the smartphone experience more mindful and less distracting, Phone (2) introduces the innovative Glyph Interface and a revamped Nothing OS 2.0.
Order / Buy here – https://in.nothing.tech/pages/phone-2
Nothing Phone (2): Availability, Pricing, and Exciting Offers
Nothing has officially announced the availability and pricing of their latest flagship smartphone, Phone (2). Available in both white and dark gray, users can choose from three different variants:
8GB/128GB in Dark Gray priced at ₹ 44,999
12GB/256GB available in both colors for ₹ 49,999
12GB/512GB available in both colors for ₹ 54,999
Pre-Order Details
Pre-order pass buyers in India can choose their preferred variant and place their order from 9 PM IST on 11th July until 11.59 PM IST on 20th July via Flipkart. Additionally, they will also have exclusive early access to purchase the all-new Ear (2) Black for ₹ 8,999 starting from 9 PM IST on 11th July.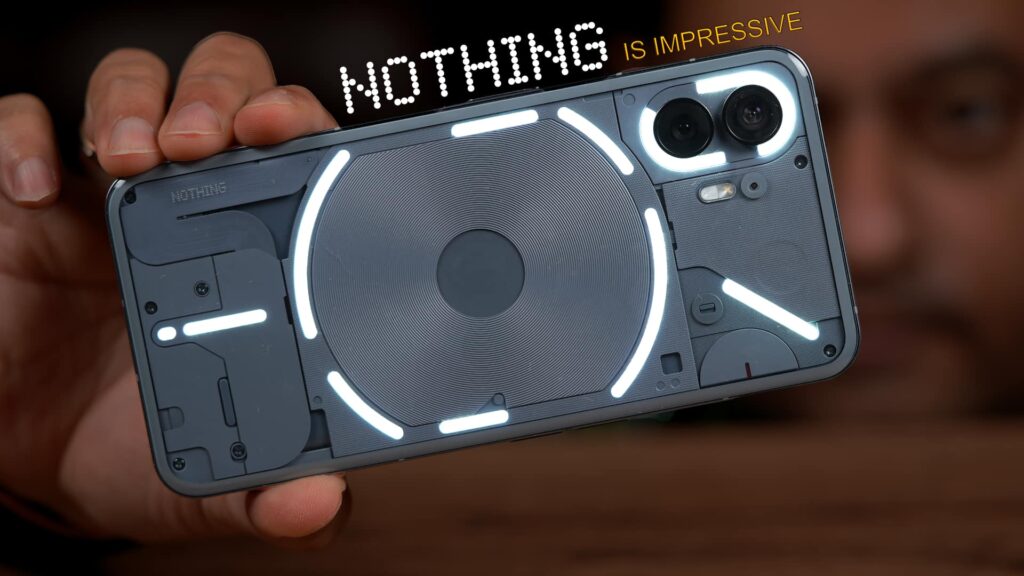 Special Offers
Nothing is offering a limited-period offer for pre-order pass buyers, which includes an instant discount of Rs. 3000 on Axis and HDFC debit and credit cards. Moreover, they can purchase the Phone (2) Case for ₹ 499, Screen Protector for ₹399, Power (45W) Adaptor for ₹ 1,499, Ear (stick) for ₹ 4,250, and Ear (2) for ₹ 8,999. Please note that these offers are subject to terms and conditions and are valid until stocks last.
Accessories
Along with the Phone (2), official accessories are also available for purchase. These include the Phone (2) Case for ₹ 1,299, Screen Protector for ₹ 999, and Power (45W) Adaptor for ₹ 2,499.
Open Sale
Phone (2) will go on open sale in India from 12 PM onwards on Friday, 21st July, via Flipkart and select retail outlets.
Redefining Smartphone Design
Phone (2) is meticulously designed with a keen focus on aesthetics and functionality. The enhanced design features a symmetrical approach and offers an ergonomic experience with a thinner midframe and a pillowed glass back.
The Glyph Interface: Less Screen Time, More Life
Designed to encourage users to be more present in their everyday life, the Glyph Interface provides key information without the need to constantly check the screen. It now serves as a visual countdown, progress tracker, volume checker, and timer. Additionally, it allows users to assign personalized light and sound sequences to contacts and apps.
Nothing OS 2.0: A Smooth, Distraction-Free Experience
Nothing OS 2.0 is built to reduce distractions and deliver a fast, smooth user experience. It features a monochrome layout, the option to remove app labels, and widgets for easy access to key functions. In terms of speed, the app opening time is twice as fast as that of Phone (1), and over 500 transitions and animations have been refined.
Camera Upgrades: True-to-Life Photography
Boasting a 32 MP front camera and a dual 50 MP rear camera system, Phone (2) delivers an unparalleled photography experience. The advanced HDR algorithm and Motion Capture 2.0 ensure precise focus and intricate detail in every frame. The phone also supports 4K video recording at 60fps, further enhanced by EIS and OIS for flawlessly smooth results.
Premium Performance and Stunning Display
Powered by the Snapdragon® 8+ Gen 1 Mobile Platform and a 4700 mAh battery, Phone (2) offers fast performance and long-lasting battery life. The fast wired charging reaches 50% power in just under 20 minutes.
The edge-to-edge 6.7-inch LTPO OLED display with adaptive refresh rate ensures optimal power consumption and peak performance without compromising on battery life.
In conclusion, Phone (2) by Nothing offers a mindful, distraction-free smartphone experience backed by cutting-edge technology and impeccable design. This device is set to redefine our interaction with technology, making it more intentional and less intrusive.