Are you looking for wireless earbuds that offer excellent sound quality and personalized features? Look no further than the Nothing Ear (2). This pair of earbuds boasts an innovative design and advanced technology that promises to deliver the ultimate listening experience. In this review, we'll take a closer look at the features and performance of the Nothing Ear (2) and explore whether it lives up to the hype.
Truly Authentic Sound
One of the standout features of the Nothing Ear (2) is its ability to deliver truly authentic sound. Thanks to its dual-chamber design and powerful 11.6 mm custom driver, the Ear (2) promises to reveal every detail of your music, transporting you to the recording studio, no matter where you are. We found that the Ear (2) delivered on this promise, providing clear and immersive sound quality that exceeded our expectations.
Re-Engineered Brilliance
The Ear (2) also offers a range of features that are designed to optimize your listening experience. Its Personal Sound Profile adjusts the equalizer in real-time, ensuring that content is optimized for your individual hearing preferences. This feature is especially useful for those who have trouble hearing certain frequencies or want to enhance certain elements of their music.
We were also impressed with the Ear (2)'s Dual Connection feature, which allows you to stay connected to multiple devices at the same time. This feature is particularly useful for those who like to switch between their phone and computer while listening to music or taking calls.
Personalized Active Noise Cancellation
The Ear (2)'s Active Noise Cancellation (ANC) technology is another standout feature. With ANC up to 40 dB, you can block out unwanted noise and distractions, making it perfect for use in noisy environments or during travel. The Ear (2) offers three levels of ANC or you can let it take control with its Adaptive Mode, which detects distractions in your environment and adjusts the noise cancellation accordingly.
We were especially impressed with the Ear (2)'s Personalized ANC, which tailors the noise cancellation to the exact shape of your ears. This feature ensures that you get the most effective noise cancellation possible, making it ideal for those who want to block out noise while on the go.
Iconic Design
In addition to its advanced features, the Ear (2) also boasts a sleek and stylish design. Its transparent veneers showcase the beauty of raw technology and expert craftsmanship, and the charging case has been re-engineered with a stronger, pressure-resistant material that gives it a premium feel.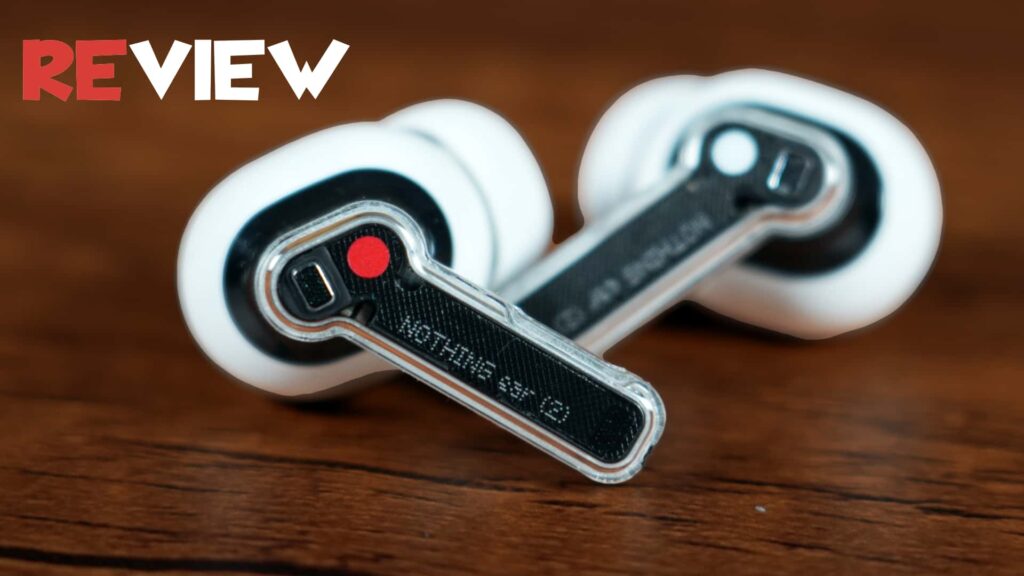 Enhanced Performance
The Ear (2) is also optimized for enhanced performance. With up to 36 hours of music playback with the case and 8 hours after just 10 minutes of charge, you can enjoy uninterrupted listening for longer periods. The Low Lag Mode is perfect for seamless gaming, and the Ear (2) is water and sweat-resistant, making it perfect for workouts and outdoor activities.
Power in Minutes
The Ear (2) also features fast charging, allowing you to get 8 hours of music playback in just 10 minutes with the case. It supports up to 2.5W (Qi certified) for wireless charging and can even reverse charge on compatible devices, like Phone (1).
Nothing X App
Finally, the Ear (2) comes with the Nothing X app, which allows you to customize settings like EQ and gesture controls. You can create your Personal Sound Profile and even get the perfect seal with an Ear Tip Fit Test. The app is easy to use and provides a convenient way to manage your Ear (2) settings.
Conclusion
Overall, we were extremely impressed with the Nothing Ear (2) and its advanced features. The Ear (2) will rate it 4.8 / 5 truly amazing earbuds, priced at Rs. 9,999.