The EMotorAD X2 E-Bike is a versatile, unisex, and eco-friendly mountain bike that is perfect for city cruising and escaping traffic. With a powerful 250w rear hub motor, this e-bike offers instant acceleration and effortless handling that makes riding through the city an absolute breeze. Whether you're commuting to work, running errands, or simply taking a leisurely ride around town, the X2 has got you covered.
Buy here – https://bit.ly/40TztXN
One of the standout features of the X2 is its high tensile step-through steel frame. This design makes it incredibly easy to step through and ride effortlessly, no matter your height or size. Additionally, the adjustable telescopic seat ensures ultimate comfort even during long rides. With this frame design and the ability to adjust the seat, the X2 is an excellent choice for all ages and types of riders.
The X2's smart performance is enabled by a 36V 250W motor and an ultra-capacious 7.65Ah battery. This combination provides a premium electric assist that gives you the power to ride ceaselessly and effortlessly. The battery offers a range of up to 40 km on PAS and up to 30 km on throttle, ensuring that you can ride further and longer without worrying about running out of power. The bike also comes with a P9 LCD display that shows you all the essential information, including speed, battery life, and distance covered.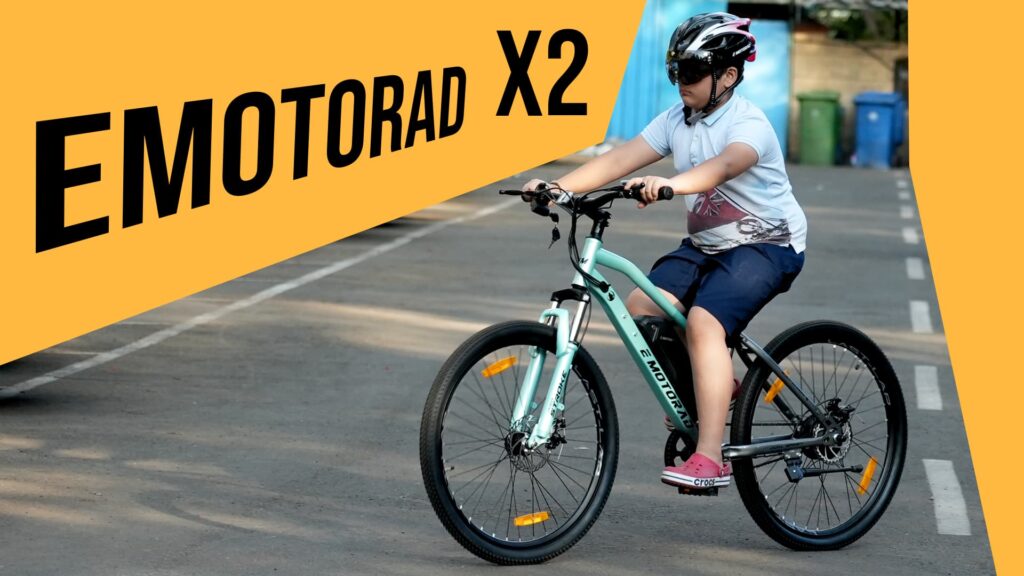 The X2's dual disc brake setup with auto cut-off provides reliable and efficient stopping power, even when riding over rough terrain. The bike's front suspension with 100mm travel offers a comfortable escape from traffic, making it an excellent choice for both city and mountain riding. The Hartex 27.5″x2.1″ Xtra Action Tyres offer excellent traction and stability, allowing you to ride confidently over all types of terrain.
In terms of specs, the X2 is a hardtail MTB e-bike with a 16″ high tensile step-through steel frame. It comes with a front fork suspension with 100mm travel, dual mechanical disc brakes with auto cut-off, a single speed free wheel 18T ATA derailleur, and an aluminium alloy rim. The bike's handlebar is made of steel, and it has a front hub of 36H, OLD 100mm, disc brake mounted. The X2's motor is a powerful EMotorad 36V 250W rear hub motor, and it comes with a 36V 7.65Ah Li-Ion removable battery. Additionally, the bike has a front light with an integrated horn (optional) and a 2A charger.
The EMotorAD X2 E-Bike is a fantastic investment for anyone looking for an eco-friendly and versatile mode of transportation. At a price of Rs. 28,999 in India, it is an affordable option that offers a range of features and specs that make it stand out from other e-bikes on the market. Whether you're looking to ride through the city, explore the mountains, or simply enjoy a leisurely ride, the X2 has got you covered. With its powerful motor, excellent battery life, and comfortable design, the X2 is the ultimate electric mountain bike for city cruising.