Asus, a leading name in the world of gaming technology, has once again pushed the boundaries of portable gaming with the release of the ROG Ally (2023). This latest handheld gaming device is powered by AMD's brand-new Ryzen Z1 Extreme Processor, promising to redefine mobile gaming with its extraordinary performance and graphics capabilities.
Starting from July 12, the device will be available for purchase at ASUS Exclusive Stores, ASUS Eshop, and Flipkart
Asus ROG Ally Price in India is Rs. 69,990
The ROG Ally (2023) represents a significant leap forward in handheld gaming technology. It features powerful RDNA 3 graphics, thanks to AMD's Ryzen Z1 Series processors, delivering an unparalleled gaming experience on a handheld device. The processor's Zen4 architecture boasts 8-cores and 16 threads, offering blistering speed and smooth gameplay even for the most demanding games.
The ROG Ally's compact design does not compromise on display quality. With a stunning 7-inch FHD 120Hz touch display, gamers can enjoy vibrant visuals and fluid motion. The 1080p resolution ensures sharp, clear images, immersing players into their virtual worlds like never before.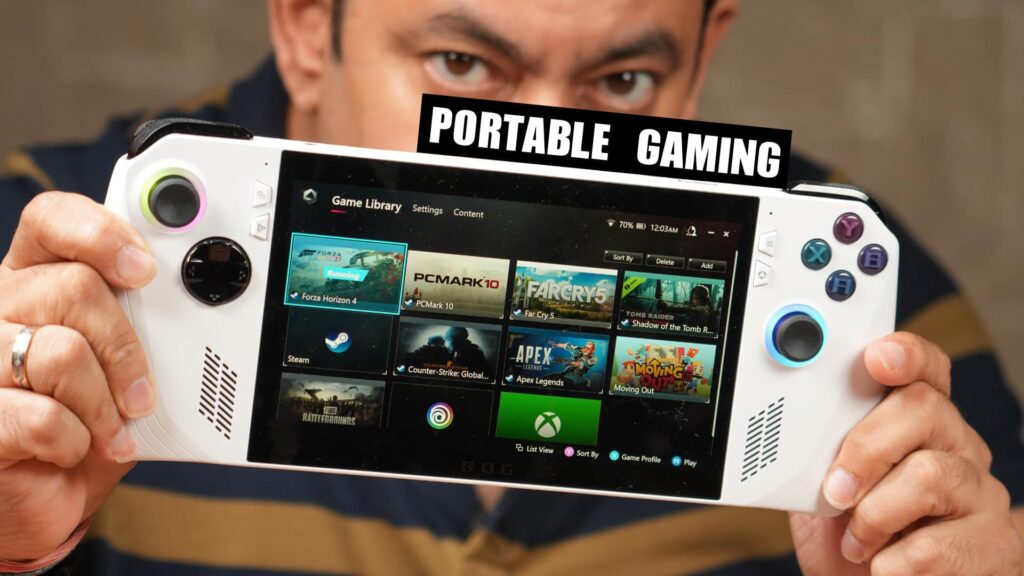 A notable feature of the ROG Ally (2023) is its impressive storage capacity. Equipped with a 512GB PCIe® 4.0 NVMe™ M.2 SSD, it provides ample space for an extensive gaming library. Coupled with 16GB of LPDDR5 onboard RAM, this handheld console guarantees quick load times and seamless game transitions.
Asus has also integrated AMD Radeon™ Graphics into the ROG Ally, further enhancing its gaming prowess. These graphics deliver breathtaking visuals, ensuring every detail of your game is brought to life. Whether you're exploring vast open-world landscapes or engaging in high-octane races, the ROG Ally offers a gaming experience that rivals many traditional consoles.
The ROG Ally (2023) runs on Windows 11 Home, providing a familiar interface for users while also offering the flexibility of a full operating system. This means you can not only play a wide range of games but also use other software and apps, making the ROG Ally a versatile handheld device.
In summary, the Asus ROG Ally (2023), powered by AMD's Ryzen Z1 Extreme Processor, is set to revolutionize handheld gaming. Its top-notch performance, coupled with its superior graphics and high-resolution display, makes it a must-have for any serious gamer. While it is smaller than the likes of the Steam Deck, it more than matches it in terms of power and gaming capabilities.